How One Advisor Leveraged Supplier Side Experience to Build a Multi-Million Dollar Agency
by Dori Saltzman /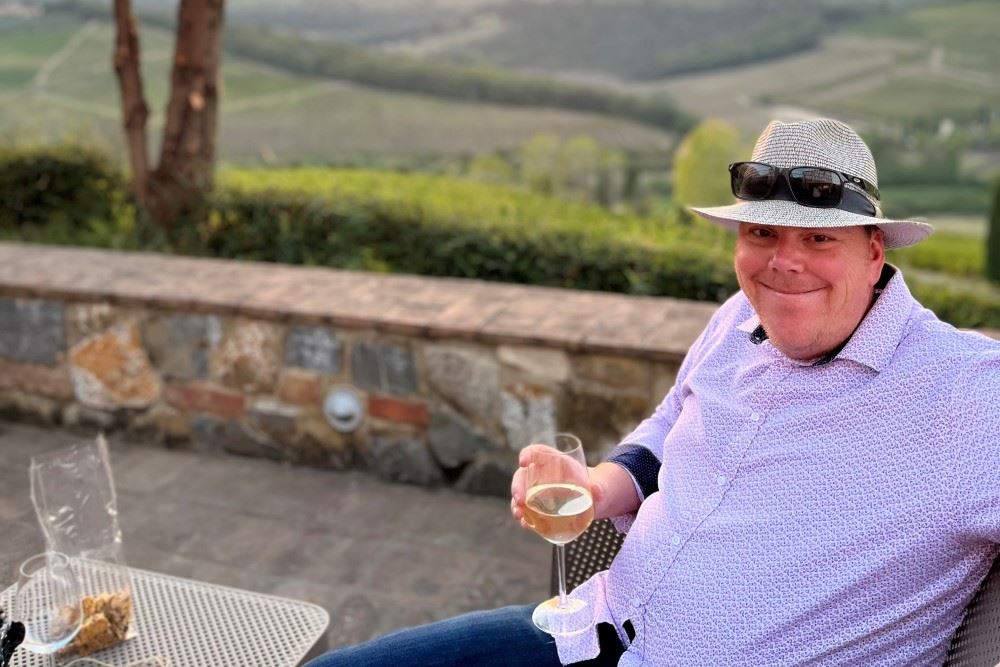 Agency Name: Alternative Travel Services
Location: Highlands Ranch, CO
Employees: 2 | ICs: 4
Lars Federhar, owner of Colorado-based Alternative Travel Services, likes to joke that he started in the travel business back when he was 7 years old, pressing buttons for people on hotel elevators.
"Pretty much at the age of 7, I knew I was going to do something in hospitality and service," he told TMR.
Like so many who eventually find their place in the industry as a travel advisor, Federhar's journey was long and winding, starting with customer-facing roles at Disney and several hotels, including the Westin Kierland in Scottsdale where he started as an actual cabana boy.
He eventually switched over to the trade side. He planned and oversaw meetings as a catering & convention service manager with the Hyatt in Orange County, Calif., served as corporate sales manager at the Red Lion in Colorado, and finally landed as a regional business development manager with Sandals and Beaches Resorts.
Anything they can do…
At Sandals, Federhar's job was to train travel advisors on how to sell Sandals and how to make more money. He was amazed, he told TMR, at how many of the advisors he worked with were mere order takers.
"Literally 80% of my book of business were those travel agents that basically sat there, waited for the phone to ring, write down the information, say 'here you go. Thank you very much. Have a nice day,'" he said.
With a one-year old at home, flying "a hundred thousand miles a year," and rapidly burning out, Federhar looked at what the advisors he worked with were doing and saw an opportunity.
"If these agents that are just order takers are making a living off of this, I could dance around them all day long and make a really good living," he said.
Rocky start
He left Sandals at the end of October 2015 with an offer from Destination Weddings to come onboard. On Nov. 1, Destination Weddings went on a hiring freeze.
"I left my job thinking I'm going to start being an independent contractor for Destination Weddings," he said. "That first year, I took every single Hilton booking I could. I took every single car rental and every piece of business I could just to make a couple dollars to keep the lights on."
Speaking of the difficulty of those early days, Federhar expressed a sentiment many early-career advisors do.
"The hardest thing for travel agents – and I really wish some of the big hosts would look at this – is finding a way to support the travel agent at the beginning."
Even after Destination Weddings took him on as an IC (two years after he started his agency), it wasn't easy.
"That first year I was with DW, I was still scraping peanuts," he said, referring to the need to wait for commissions to come until after his clients had traveled. "I had to keep telling my wife, I have $300,000 of business on the books for next year."
Though his first year was rocky, Federhar had a slight head start. Rather than starting his agency from scratch, he partnered with an advisor he'd worked with at Sandals. Struggling with failing health, this other advisor essentially gifted his agency – and his knowledge of the industry – to Federhar.
Even with an established agency, Federhar had to find most of the new business on his own.
"I went through my cell phone and drafted a big email and started calling people in my cell phone," he said.
"I took it from probably $50,000 in revenue to now, I think this year we're going to do almost two and a half million," Federhar said.
Today, Alternative Travel Services has two employees (including former ASTA president Chris Russo) and four ICs, with 80% of its business coming from destination weddings.
Clear cut messaging
Federhar doesn't mince words in his communications with clients.
"A lot of times when I talk to my clients, I'll say, you think you know what you want, but you really don't. That's my job, to help coach you through the process…
"I flat out tell my clients, you want something pretty, you want something nice, you want your guests to have a good time."
All that isn't to say he doesn't want to hear what his clients are looking for. If they're dead set on something, he wants to know, but he's always clear with his clients that he's the expert. It's his job to steer them in the direction he believes will do the best job.
He's also not shy about letting them know he'll often steer clients in the direction of resorts he's got the tightest connections, resorts at which he's got the hotel manager on speed dial and can ask for preferential treatment "because they know the business that I put there."
Lessons he picked up on the supplier side
Having worked on all sides of the travel equation puts him in a unique position, Federhar told TMR.
"Most travel agents don't have the operation background," he said. "I know what a hotel can and can't do."
He gave an example of working with an all-inclusive at which the sales rep told him something couldn't be done. Based on his experience working with Sandals, he knew that wasn't true.
"I said, let me talk to the director of convention services… he and I had about a 10-minute conversation and they did it flawlessly."
He added that's not an uncommon problem when working with all-inclusives.
"They don't think outside of the box, because it's just turn, burn. This is what they do day in, day out, and they don't think about what else can we do? That's where I step and try to help."
It's easier to get the resorts to think outside of the box, when you ensure they're taken care off too. That means making sure the room lists are in on time and making sure room blocks are getting booked.
"If the hotel is taken care of, guess what? There aren't going to be issues for the clients. So long as the hotel feels happy and confident, it's going to be a lot easier for the client."
Best advice
Federhar has two pieces of advice for other advisors: charge fees and find a good host.
"The biggest advice I can give, and they cannot be afraid of this. They need to charge a service fee."
He told TMR he was sort of doing this before the pandemic, but wasn't really enforcing his own policy. But the endless cycle of cancel, rebook, cancel, rebook of the pandemic, changed that.
"I told my clients, if you want me to be here, I need service fees. Because, guess what? I don't get paid until 30 to 90 days after your trip. All that service fee does is barely keep my lights on so I can operate."
He also fell back on his old Sandals training, and what he used to tell the advisors he was training. "If you had a plumber come to your house, would he just show up and not charge you anything?"
His second piece of advice is to find a good host. And possibly even a host that's a member of a larger host.
Referring to some of the more well-known hosts, he says they're good, but refers to them as having "cookie cutter" programs.
"But are they really going to be there when you need the support because they have a thousand agents or are you better off finding a small host?"
Smaller hosts, he added, have more time to provide personalized attention to each IC.