Testing the Waters with Dori: Are You a Travel Agent? AI Is Coming for You
by Dori Saltzman /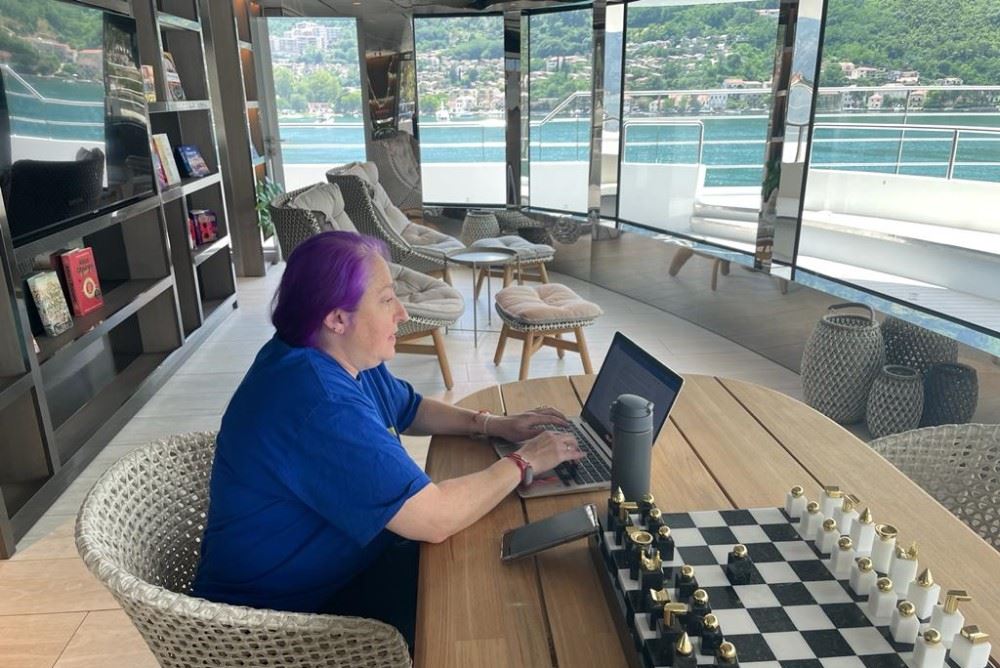 "The world is a book and the people who travel are not just a page."
That's a translation (many times over – English to Japanese to Swedish to Yiddish to Greek and back to English) of Augustine of Hippo's famous quote: "The world is a book and those who do not travel read only one page."
It's a pretty good translation, but not perfect, making it a tick in the column of why artificial intelligence won't be taking your job just yet. (Thanks to Nolan Burris at Signature for the fun Google translate "telephone game" to play.)
Artificial intelligence (or A.I.) has been front of mind for many people recently, including those in the travel agency community. Some are embracing how it can enhance their daily lives. Others are ignoring it entirely because, when you're already too busy, trying to figure out an entirely new technology seems daunting.
Yet others are terrified of what it can do – and whether it holds the potential to replace them.
It's not an unfounded fear.
At the recent Ensemble Travel conference, president Michael Johnson started the conference asking ChatGPT to pull up a three-day itinerary for a family visiting Paris for the first time. The results were instantaneous, and as Johnson pointed out will soon include booking, payment, and document distribution.
It's also a message I see in my inbox nearly every week from some new A.I. tech company or another.
"Travelers are starting to use AI to plan all aspects of their trip, up to and including the destination."
"…a platform that connects every dot in a traveler's journey, offering personalized recommendations along the way."
It's true that some of what A.I. spits out is inaccurate or makes no sense. At the Signature Travel conference, presenter Nolan Burris showed a ChatGPT-created itinerary for a few days in Vancouver. Not only did it want him to go back and forth between the city and Victoria by ferry in way less time than it actually takes, it suggested he have a hot dog for breakfast.
However, with the information that A.I. systems have access to getting broader by the minute, and an ability to learn how to better mine that data for what's most relevant and makes most sense, those types of errors will become fewer and farther between making the potential of A.I. downright terrifying for travel agents…
… but not for travel advisors.
As Johnson said during his opening remarks at the Ensemble conference, the goal of A.I. in travel is to help travelers plan trips more quickly and do it most cheaply.
Let's stop for a moment on that. Is that your primary purpose?
If it is, then, yes, be terrified. A.I. is coming for your job. If your clients are only coming to you for cheap deals for things they can otherwise book themselves, then, yes, your time might be limited. That's what travel agents do, and quite frankly, at least in the U.S. and Canada, there's no future there.
But – if you go beyond cheap pricing, one-off bookings, and obvious travel plans; if your personalized service and human attention to your clients is part of the reason they come back to you and refer others to you, go ahead and shrug off any concerns.
A.I. might be able to ask why a traveler is planning a vacation, but it will never be able to understand how a person feels who just rang the bell on their last cancer treatment. Or how important it is to someone to do the bucket list trip their parent never got to do.
If you see your clients in person, A.I. will never be able to reach across the desk and squeeze a client's hand or give them a hug.
A.I. also won't have the general manager's phone number in its pocket to ask for that little something extra you know your client will appreciate. AI can't taste test every taverna on the island of Milos in order to recommend the best place to see the sunset – from personal experience.
A.I. can do the big things, but it will never be able to do all the little things that make travel advisors invaluable to their clients.
But here's the catch. If you're not already providing high-touch service to the clientele you've selected, you need to make the change now. Because AI is galloping forward and it will overtake travel agents sooner rather than later.
What do you think? Are you worried? What are some of the things your clients love about working with you that A.I. will never be able to replicate? Let me know at dsaltzman@travelmarketreport.com.