Wake-Up Call: Wellness Travel Is Having a Moment and Sleep Tourism Is the Newest Standard
by Laurie Wilson /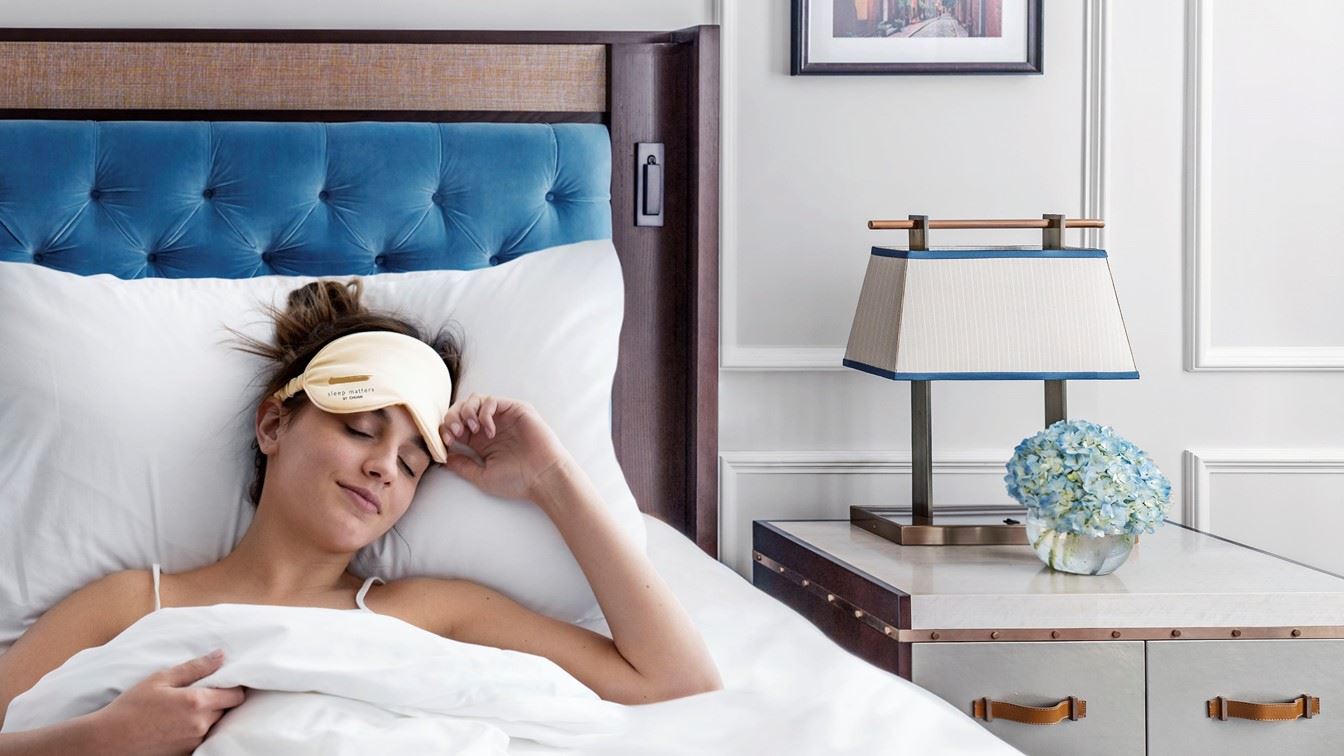 From gimmicky to medicinal to nature (think sleeping under the stars), hotels are beginning to wake up to the idea that guests aren't willing to compromise one thing—a good night's sleep. Studies show that Americans are sleep deprived, and the days of going on vacation to return home exhausted from the vacation are no longer on the map.
"Rise of sleep-focused programs in hotels comes as no surprise as travel rebounds," says Falitaa Chhabra, Director of Sales & Marketing at the Westin Hotel, Toronto Airport. "Home used to be the refuge where one would get a good night's sleep, but it has now become an office with hybrid/remote working models. As a result, people are now looking to travel and leave their home to find a sanctuary elsewhere, and the pandemic exasperates this change."
Here are some lights-out spots:
Saratoga, New York
The REM Reboot Package at Saratoga Arms Hotel is a winning bet for a good night's sleep. The deal features a pre-check-in guest room personalization which includes customized preferred room temp to optimize sleep; pillow and blanket options (including weighted blankets); white noise machine; essential oil diffuser and choice of calming oil; Sweet Dreams Kit (sleep masks, ear plugs, Melatonin sleep gummies, Blue light blocking glasses, calming face/sheet masks); shower steamers for nighttime aromatherapy experience; elegant delivery service of evening herbal tea and accompanying bedtime affirmation, meditation prompt, or journal prompt.
Langham Hotels
Sleep Matters is a popular, in-room wellness program at Langham—including the four U.S. properties (Boston, Chicago, New York, and Pasadena). The Sleep Matters Turndown Kit features herbal tea; SOM, an all-natural, drug-free sleep aid drink; ear plugs; cushioned sleep mask; and Sleep Tips Cards courtesy of World Sleep Society, a non-profit, professional membership organization dedicated to advancing sleep health worldwide. Also, guests can order items off the Sleep Matters Menu, including a yoga mat and fitness ball for pre-sleep stretching; weighted blankets, a selection of pillow options; white noise sleep machines; and Chuan elemental oils and lavender bath products. And, a bedtime reading QR code, features restful breathing exercises and custom content created especially for The Langham Hotels brand in collaboration with the World Sleep Society.
New York City
The City That Never Sleeps is tired. These hotels dreamed up some amenities to help.
Park Hyatt New York, steps from Central Park, has debuted its refreshed Bryte Restorative Sleep Suites, with "sleep-enhancing amenities''. The bed: Bryte Balance, the next-generation version of The Restorative Bed by Bryte. The king-sized Bryte Balance is powered with Restorative Intelligence and offers Somnify, a multi-sensory relaxation experience that synchronizes calming sleep-inducing sounds and motions, as well as a Rebalancing™ system for personalized support and comfort via "intelligent" cushions. Complimentary amenities include a Vitruvi Essential Diffuser and signature "Sleep" Essential Oil blend, sleeping masks, and sleep-related books.

Photo: Park Hyatt New York
The Royal Sonesta Benjamin Hotel, also in midtown, has a Rest and Renew program led by sleep medicine expert Dr. Rebecca Robbins, as well as a sleep concierge, a menu choice of ten pillows—buckwheat, anti-snore, lullaby (ultra-thin speakers in the pillow,) Swedish memory molding pillow—on-demand meditation sessions, sleep masks, noise machines and more.
The Goodnight Conrad Sleep Care Package at the Conrad New York Downtown includes silk sleep masks, Byredo Night Routine Kit (facial toner, eye cream, lip balm, and hand cream), Scentered Sleep Well Therapy Balm, and a Bedside Reading Meditation Card (links to a QR code for meditation exercises). Also, a Yogasleep Dohm Natural White Noise Machine, and an optional add-on, Jo Malone Lavender & Moonflower Pillow Mist.
Kitzbühel, Austria
Family-owned Stanglwirt resort is keen on reconnecting guests with the primal energy of nature to aid in recharging their own personal batteries during each stay, in effect, enhancing sleep.
Guests can request Swiss stone pine bedding from HEFEl—the Swiss stone pine bedding set features pillows, comforters, and mattress toppers filled with Swiss stone pine flakes. The pine scent is believed to have an energetic effect on the body by lowering the heart rate, thus inducing deeper sleep. Also, the pine scent aids in circulation believed to reduce stress/anxiety disorders and lessen sensitivity to changes in the weather. The Swiss stone pine bedding/pillows look and feel the same as regular bedding—it is the scent that works the magic. Also, no beds are located on electromagnetic fields, because it is thought that these fields are known to interfere with the body's melatonin production and circadian rhythm. Sleep, on that.

Photo: Preidlhof
Italy
In northern Italy, under the supervision of Dr. Med. A. Angerer, the wellness resort Preidlhof offers a personalized 7-day Sleep Better Retreat to help guests find their personal sleep rhythm. Treatments include sleep analysis (a small device is worn for the duration of a guest's stay and analyzed on their final day,) a sleep massage, dolomitic sleep rituals, acupuncture, and sound and quartz classes. Bonus: "comfy" beds on each suite balcony, giving guests the opportunity to sleep under the Italian night sky.
Orlando, Florida
A couple years of ago, the Meliá Orlando Celebration launched ten Stay Well by Delos suites. Each suite features a guided meditation from interactive medicine/wellness pioneer Dr. Deepak Chopra, mood-enhancing aromatherapy, dawn simulation to wake easier, air purification, subtle night lighting, and a soundscape machine, and access to online health and well-being programs from the Cleveland Clinic. This suite experience is also offered at Meliá Punta Cana Beach Resort.
Orlando's Lake Nona Wave Hotel is home to a dedicated room category, Well+ech, hardwired with a rotating roster of inventions—including the AI-powered Restorative Bed via Bryte and accessories like snoring aid Smart Nora. Also, installed throughout the hotel, View Smart Windows use artificial intelligence to automatically adjust in response to the sun, to increase access to natural light, leading to better sleep. The hotel offers guests private access to certified sleep therapist Kristina Grabnickas who creates daily itineraries to help achieve optimal sleep.

Photo: French Quarter Inn
Charleston, South Carolina
The 50-room French Quarter Inn features a Suite Dreams package: "Sound Sleep" pillow menu (seven styles), nighttime "Sleepy Tea", two Deep Steep lavender body products, lavender sachet for pillow scents, two eye masks, and guaranteed 1 pm check out. Also, new in-room sleep guides with tips curated by SleepSpace founder Dr. Daniel Gartenberg.
Los Angeles, California
Hotel Figueroa is home to a Rest & Recovery Suite—guests pre-order customized pillows from Pluto Pillow™, and the suite features an Eight Sleep mattress with smart adjusting for temperature on both sides of the bed throughout the night. Also: Air purification from Molekule's Air Pro system and a GammaLight Therapy Revive RedLight, which provides 670nm red-light to optimize sleep quality,, as well as a Loftie Lamp, for a "personal sunrise" with dawn simulation. Swedish-made Happy Ears Eco-friendly Earplugs, an environmentally-conscious brand made utilizing ocean plastics, are also included.
The hotel also recently launched a Slumber In Style Package—guests receive an OSEA Vagus Nerve Travel Set to prepare for restorative sleep.
Maui, Hawaii
The Next Health Maui team is offering a new customized Sleep IV therapy, which is proprietary to the Four Seasons Resort Maui and was launched at the start of National Sleep Awareness Month in March. The Sleep IV is a blend of Vitamin B Complex, Vitamin B12, Taurine, and Magnesium that helps promote a healthy sleep cycle and stress relief. The resort also features a Sleep Well Massage—chamomile flower extract, magnesium, and sweet almond oil.

Photo: Carillon Miami
Miami, Florida
For guests who experience slumber troubles, whether it be falling asleep, staying asleep or other issues, Carillon Miami Wellness Resort's new Touchless Wellness Sleep Circuit helps to reset circadian rhythm.
Additionally, the rooms have Bryte Beds (each mattress has 90 intelligent cushions that sense, adjust to, and alleviate the body's pressure points), and two control settings (warm and cool) for each side of the bed. The mattress also has sensor technology that tracks and provides sleep statistics/insights that can be accessed on the guest's phone.
Westin Hotels & Resorts
Westin was the first brand to create, name, and market a superior bed product, with the introduction of the Westin Heavenly® Bed. And the chain recently launched the next-generation Heavenly Bed—a bed that has been completely reimagined with a new mattress and "plush-filled goods". Also, Sleep Well Lavender Balm, is a complimentary in-room amenity. Cute: Heavenly Dog Beds, too.
Tahoe, Nevada
Edgewood Tahoe on the shores of Lake Tahoe, has awoken to the sleep tourism trend. Guests are lulled to sleep while listening to Sleepy Podcast host Otis Gray guide listeners through the natural soundscape of Lake Tahoe. And when it's rise and shine time, a complimentary Après Sleep Cart greets guests in the Lodge's great room—freshly brewed Naturopathica tea or a glass of fresh green juice to awaken the senses.
Barbados
O2 Beach Club Barbados offers a new Sleepy Time treatment—guests indulge in a moonlight massage on their guest room balcony before the spa technician tucks guests into bed with a lavender-scented pillow and an infused tea to aid sleep.

Photo: Sensei Lanai, Four Seasons
Sensei Wellness Retreats
Sensei recently debuted Rest & Recovery, a well-being program focused on sleep and stress management.
Available for booking at both Sensei Lana?i, a Four Seasons Resort in Hawaii, and Sensei Porcupine Creek in Rancho Mirage, California. "Improving sleep and reducing stress are two of the most common intentions that we encounter when working with our guests," says Dr. Vishal Patel, Sensei co-president and chief medical officer.
In the structured five-day program, guests work with a guide and team of practitioners to analyze their current physical and mental state, learn stress management techniques and re-examine their personal movement, nourishment, and rest practices. Using historical and real-time data captured by a complimentary WHOOP 4.0 band, each Sensei Guide helps to interpret key biomarkers of rest and recovery—sleep quality, heart rate variability, blood pressure, and heart rate recovery.
Arizona
Mountain Shadows Resort Scottsdale's Moon & Stars package includes an evening cup of Golden Moon Milk, a 90-day sleep journal, and a morning practice for analyzing the prior night's sleep. Bonus: StarDust Pillow Mist added to the pillow and a cooling mulberry silk Brooklinen constellation eye mask.
Dallas, Texas
Not unlike some of the other sleep-focused initiatives at some hotels, the highlight of the Sleeping Lounge inside Richard's Falt, Virgin Hotels' Dallas' largest suite, is a technological Bryte Bed.
The Bryte Balance™ mattress is controlled by an app or in-room tablet—guests can program silent wake assist, see their sleep insights, and customize the details of their bed in terms of temperature, position, etc.