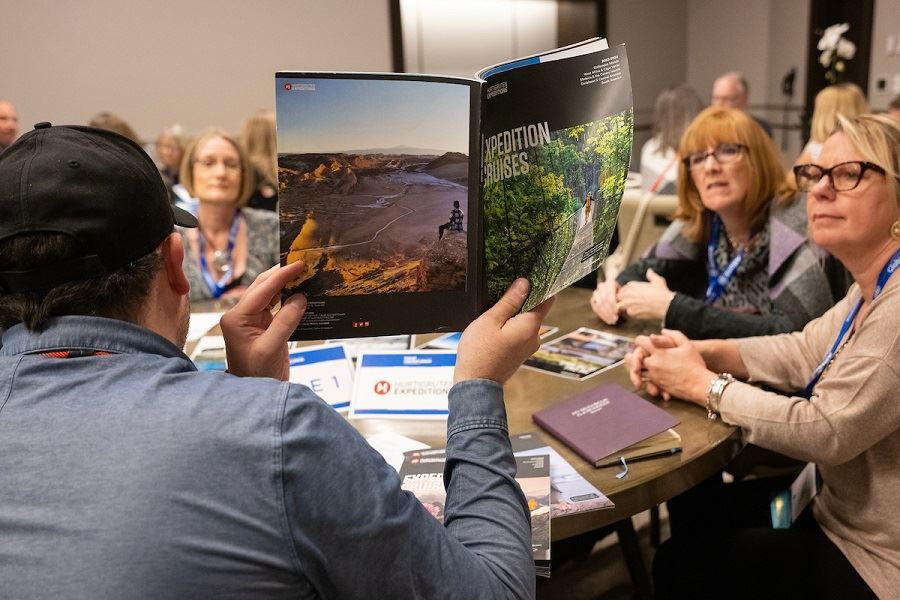 Last week in Vancouver, the team at Travel Market Report celebrated its Travel Market Place conference at the JW Parq Marriott. The conference was the busiest TMP West ever, bringing out more than 250 agents and 100 supplier representatives for a two-day show.
On the day prior to the show's opening, I had the incredible pleasure of sitting in amongst suppliers for our Ambassador program during the conference. The program brings 60-plus of Vancouver's best travel advisors, vetted by the TMR team, together with 14 suppliers for three hours of small group meetings and then one-and-a-half hours of networking time over dinner and cocktails.
Being able to connect some of the area's best travel advisors with suppliers, especially after the last three years we've had, is something the team looks forward to every year. And having the chance to sit in and talk to those advisors, was equally a great opportunity for the TMR team.
Here's some of what we learned from those conversations:
1. Demand is Still Very High
There is no shortage of travel demand out there in the world—advisors spoke about having to turn down business, a good problem to have, simply because they don't have the time or staff to properly service clients. Advisors also told me that they are becoming more discerning with clients by boosting their service fees or even having a spend minimum per booking.
"I've been learning to say no to a lot of business that is going to waste my time," one advisor said.
2. Pricing Isn't Discouraging Travelers
Consumers aren't happy about the increase in prices, but the shift in consumer spending from goods to services like travel continues, according to those I spoke to during TMP West. Advisors are pricing higher-than-average trips for just about every segment of travel, and while some consumers are shifting their preferences, saving some costs by moving airlines or moving cabins or dates, most clients are prepared to spend on travel.
Younger travelers seem to have more flexibility than their older counterparts, the advisors said—destinations could shift depending on price and availability, for instance, or even time of travel—but the vast majority of travelers are set on traveling to a specific place, at a specific time, and are ready to pay in order to do so.
3. Suppliers Need to Get in Front of Advisor
Advisors, particularly in Canada, have been struggling with an ever-changing travel trade landscape. The past three years have seen so much change and churn when it comes to the right contacts to have. Ambassador advisors told me that they love coming to events like Travel Market Place because they are able to connect or reconnect with the people that are going to make their business better.
4. Traditional Booking Windows Are Gone
There's no more "waiting" on a deal—advisors are telling clients that if they want to wait, that's fine, but the price and availability are only going to get worse.
The last-minute booking calls are still coming in, but they aren't likely to be successful unless clients are ready to be extremely flexible and ready to pay up.
The best bet for travelers is to book far out in advance, and advisors are doing whatever they can to communicate that to their clients, but that only goes so far.
5, There's a New Way of Thinking
Travel advisors are no longer happy to simply go with the ebb and flow of the industry. Advisors are making things happen and the best ones are moving mountains in order to fit into new, profitable businesses.
I had one advisor during Ambassador night tell me about sitting down and learning how to book a charter jet after realizing that it would be cheaper to book a group's travel via charter as opposed to business class seats. I had another tell me about diving deep into alternative destinations to Italy, building a portfolio of destinations they are able to offer to clients looking for Italy travel that is unavailable now because of lack of supply or high pricing.