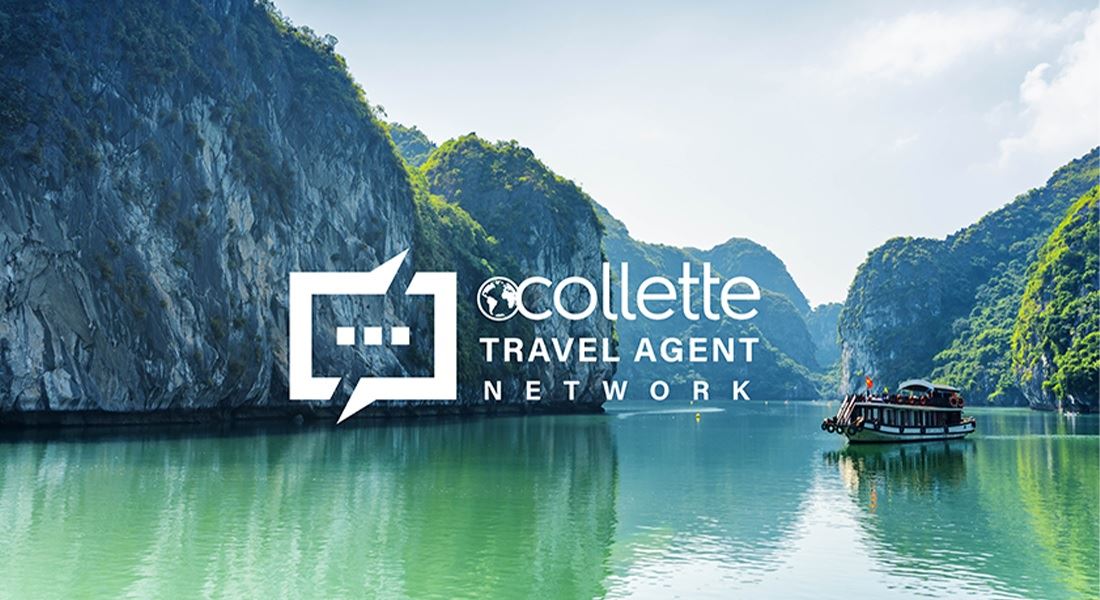 Last week, Collette announced a new program that was welcome news to the travel advisor community. The tour operator said it will pay a portion of the commission upfront, up to $200, and will not recall the advanced commission payments if the client cancels.
During a time when many advisors are losing out on commissions due to having clients or suppliers canceling trips due to COVID-19 pandemic, the new Advanced Commission program highlights Collette's ongoing commitment to its advisor partners.
Christian Leibl-Cote, senior vice president of global business at Collette, said the program came about through conversation with partners and listening to travel advisor community, "and seeing what are their pain points are, and we were able to come up a program we felt excited about being able to help."
The standout detail of the program, that the advanced commissions will not be recalled if the client cancels, underscores how the company is standing behind the agent community not just with words, but through action.
"We recognize that agents worked really hard to make that booking and were not going to take it back," Leibl-Cote told Travel Market Report.
The new program runs from Sept. 9, 2020 until Dec. 31, 2021, and will be applicable for all departures from May 1, 2021 and beyond. This means that travel advisors will be able to earn advanced commission on all tours in their newly released 2021-2022 Worldwide Travel Guide and the much-anticipated Oberammergau 2022 tours.
Advisors can receive $100 per booking for land-only bookings, $125 per booking for land and air bookings, and $200 per booking for any booking that includes Collette's Travel Protection Plan in advanced commission.
During the height of the pandemic, while advisors were chasing down and negotiating refunds for clients, Collette gave agents the flexibility to get their clients a refund if they chose to do so. "The refund we gave them, we didn't hesitate, and we gave the flexibility to allow agents to make it easy for them to help their clients," Leibl-Cote said.
Resuming tours in a new environment
Collette resumed tours on July 3 with a trip to Mount Rushmore, "and have been running ever since then," Leibl-Cote said. "Travelers are resilient; they're not canceling."
To accommodate traveling in this new environment, Collette has put in place wellness guidelines, working with every vendor to ensure the highest level of cleanliness and compliance. Groups have only been running at about 50% capacity, so there's plenty of space on the motor coach. If there happens to be a larger group, it will be divided in half and spread between two motor coaches and take two tours.
Masks are provided to guests, which they're expected to wear onboard. There's also pre-tour health screenings, increased sanitation of the bus, and training tour managers.
Leibl-Cote said "the good news is we're seeing a trend of new 2021 bookings increase on a weekly basis, which started in late May."
People are still very interested in traveling to Europe, he said, as while there's interest in North American, Europe is still top of the list.
However, it's still remains a day to day process, as the EU assess the U.S. travel ban every two weeks. So while it will likely remain domestic tours for the remainder of the year, Collette has extensive product line already in place to meet the demand.
The other way Collette is already prepared to meet the new COVID-environment, is its new expiration tours. These small group hours "have been doing very well" as they have a maximum amount of 24 guests per tour, although they've been averaging around 15, Leibl-Cote said.
These itineraries focus on smaller, boutique-style hotels with more unique experiences, such as culinary and adventures, as well as plenty of time for guests to venture out on their own.