Advisors Get the Caribbean Experience at the 2023 ASTA Caribbean Showcase
by Briana Bonfiglio /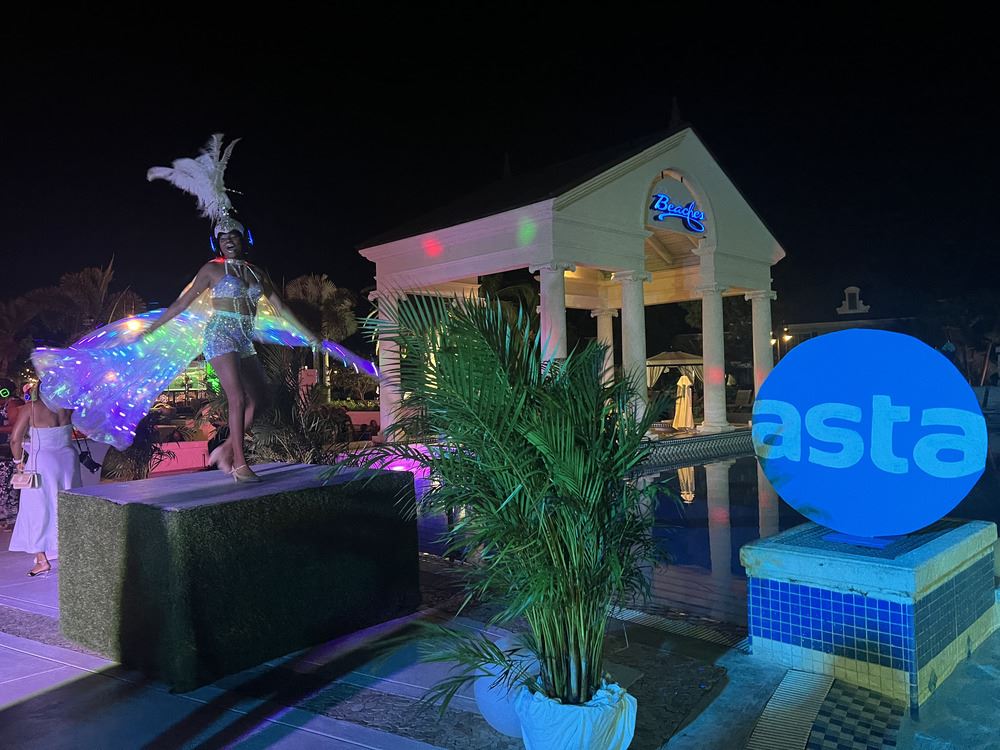 Beaches Turks & Caicos gave more than 250 travel advisors a taste of what they can offer their clients during the 2023 ASTA Caribbean Showcase.
On day three of the conference on Aug. 30, advisors met with suppliers at a trade show, toured the resort, and went on various excursions. The experience, paired with hearing from seven Caribbean tourism ministers the day before, aimed to give advisors a deeper understanding of the kind of trips they can sell in the region.
"As we gather here, we want to show you the beauty of our country and why you should be confident in recommending it as a destination to your clients," said Josephine Connolly, the minister of tourism for the Turks & Caicos Islands. "We are proud of our islands and what it has to offer to our visitors. I hope by the end of this conference you will agree with me that we have a lot to offer."
Experiencing Turks & Caicos
The tours highlighted the different hotel room types throughout the resort, which Beaches offers at a range of price points and corresponding levels of luxury. The resort is the only 100% all-inclusive, five-star hotel offering high-end accommodations in the Turks & Caicos Islands. There are 21 dining options, including some that are adult-only, some that are kid-friendly, and many in between.
Activities at Beach Turks & Caicos include 10 pools, a stage for live entertainment every evening, hair braiding services, shopping, a spa, and a fitness center. There are also the Pirates Island Water Park with a lazy river, events such as karaoke and silent discos every night, and, of course, one of the world's nicest beaches.
Island Routes, a tour operator with desks set up in the resort's lobbies, helps visitors to Beaches Turks & Caicos become a bit more adventurous and engage in experiences off-property. A group of about 50 advisors enjoyed an Island Routes catamaran cruise to Iguana Island, where they swam in the Atlantic Ocean and Caribbean Seas.
The catamaran cruise included a DJ to keep the music going and bartender to keep the drinks flowing, as well as tour guides on board to help guests. This is just one experience offered by Island Routes, which operates in nine countries in the Caribbean.
ASTA looks to Caribbean's future
In total the conference brought together 379 people, including advisors, suppliers, and presenters, and concluded in a cocktail reception and dinner, when ASTA CEO Zane Kerby awarded the tourism ministers in attendance with ASTA Globes to show the organization's appreciation for their presence and contributions to the conference.
"We're sitting in a room with seven tourism ministers, two of which are deputy prime ministers of their countries, so it really tells you that these folks are serious about travel advisors [and] about the ASTA partnership," said Gary Sadler, the executive vice president of sales and industry relations of Unique Vacations, Inc.
Sadler noted that the turnout of ministers proves that they see travel advisors' value in growing their countries' tourism-driven economies. He, as well as Jeff Clarke, CEO of Unique Vacations, Inc., reinforced Sandals' commitment to the Caribbean islands.
"We are a Caribbean company. We were born in the Caribbean, we will remain in the Caribbean," Clarke told advisors. "It's our backyard, it's the most beautiful place on Earth. We've made our footprints here, and we continue to ask for your help."
To put a cherry on top of it all, next year's Caribbean Showcase has already sold out after it was announced on Aug. 29 that ASTA would host its third annual conference at Sandals Royale Curacao on Aug. 24-27.
"We're very pleased with the overall direction of the event," Kerby said. "You can't overstate the importance of the Caribbean to the U.S. market."