Airlines And Cruise Lines Prepare As Hurricane Harvey Heads Toward Texas
by Daniel McCarthy /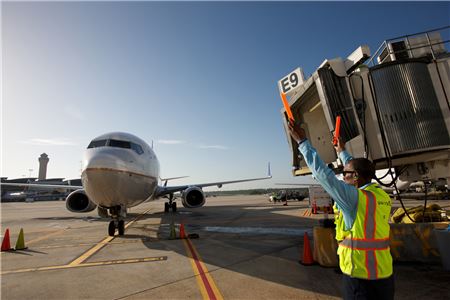 The first Category 3 hurricane to hit the United States in the past 12 years is expected make landfall in Texas on Friday, bringing 100 mph winds, 11 trillion gallons of water, and 6 to 12 feet of storm surge flooding to the state.
Hurricane Harvey has strengthened to a Category 2 storm and is expected to become a Category 3 before it makes landfall. The National Weather Service predicts up to 35 inches of rain could be dropped in southeast Texas and parts of Louisiana, producing flash flooding and "large and destructive" waves along the shore.
Travel is expected to be hugely impacted, both in the air and on the water.
Flights scheduled in and out of Houston's Bush Intercontinental Airport, Hobby Airport, Corpus Christi International and Dallas-Fort Worth are being cancelled as airlines begin to prepare for stalled travel. Most have issued change-fee waivers for travelers who cancel their flights in anticipation of the storm.
Delta Air Lines Lines is allowing anyone flying from Bush Intercontinental, Hobby Airport, Austin-Bergstrom International Airport or San Antonio International Airport to rebook flights scheduled for Friday and Saturday without penalty.
United Airlines is allowing the same out of most Texas Airports including Corpus Christi, San Antonio, Houston and McAllen-Miller International Airport.
Alaska Airlines has issued a change-fee waiver for flights out of Austin, San Antonio and Houston.
Spirit Airlines will do the same for passengers traveling in and out of Houston from Friday through Sunday.
Southwest Airlines is issuing a waiver for travel through Monday in and out of Austin, Corpus Christi, Houston, Harlingen and San Antonio.
Frontier Airlines will allow travel changes without penalty through Monday from Austin, Corpus Christi, Houston, Harlingen and Louis Armstrong New Orleans International Airport.
Meanwhile, while no sailings have been canceled as of Friday morning, the cruise lines are monitoring the situation; some already made changes to itineraries earlier in the week. Norwegian Cruise Line, Carnival Cruise Line, Celebrity Cruises and Royal Caribbean Cruise Line all have itineraries that could potentially be impacted by Harvey.
Carnival will provide updates for guests on potentially impacted sailings through its text message system, to which guests can opt in through Carnival's reservation website.
Other lines are updating itinerary changes in real time on their social media accounts. Travel agents and guests should check Facebook and Twitter for more updates.