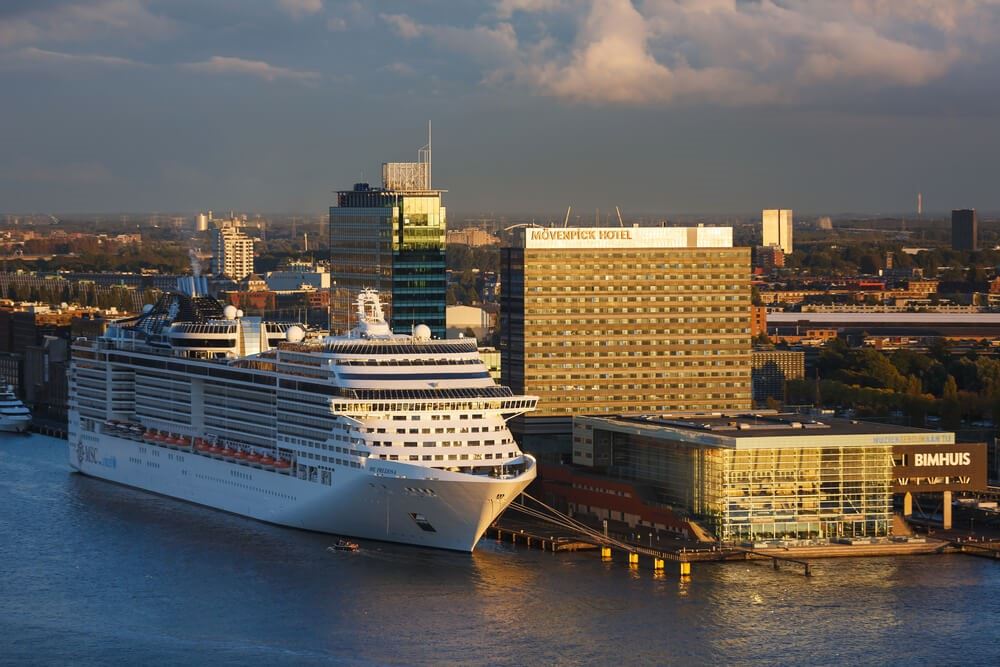 Amsterdam will ban large cruise ships from docking in the city center, according to multiple news sources including Bloomberg. But while the vote by the city council was clear, what remains murky is a timeline.
According to Bloomberg, the Dutch capital city made the decision as part of its efforts to cutback both on the number of tourists visiting the city as well as reduce pollution. Amsterdam has one of the largest cruise ports in Europe, hosting both mega ships and river ships.
It is unclear whether the decision applies to river ships, which typically begin and end several itineraries in the heart of the city.
A spokesperson for the municipality of Amsterdam told Travel Market Report: "Yesterday a motion from city council members to ban cruises from Amsterdam was adopted by the city council. The municipality of Amsterdam is now going to investigate how this proposal can be implemented. This has to be discussed with our partners within the North Sea Canal area. This will take some time, so at the moment we cannot give any details on how or when the proposal can be implemented and if the ban will be only for sea cruises or also for river cruises."
CLIA responded to the news with the following statement:
"We are aware of the media reports about the future of cruise in Amsterdam. As the port has publicly stated, cruise ships have not been banned from Amsterdam. Furthermore, the port and Passenger Terminal Amsterdam have already pledged to undertake investments worth millions of Euros in port infrastructure and shoreside electricity for the long-term. There have been discussions on its relocation outside the city centre which started back in 2016 and which are still ongoing.
We are working with the authorities to accommodate the views expressed by Council members while continuing to support the communities that benefit from cruise tourism. Of the more than 21 million visitors that Amsterdam receives each year, around 1% arrive by cruise ship, with cruise tourism contributing around 105 million Euros to the city annually."
This is not the first time Amsterdam has tried to limit the number of tourists coming to the city. In April, a proposed plan by the Dutch government to cap flights at Schiphol Airport was overruled by a Dutch court.
It's also not the first time a major city has moved to ban large cruise ships. In 2021, Venice passed a similar ban. Most large cruise ships now dock either in the industrial port of Marghera or in Trieste rather than in the center of Venice.