Black Friday & Cyber Monday Sales from NCL, G Adventures, Azamara Cruises, CIE Tours & More
by Dori Saltzman /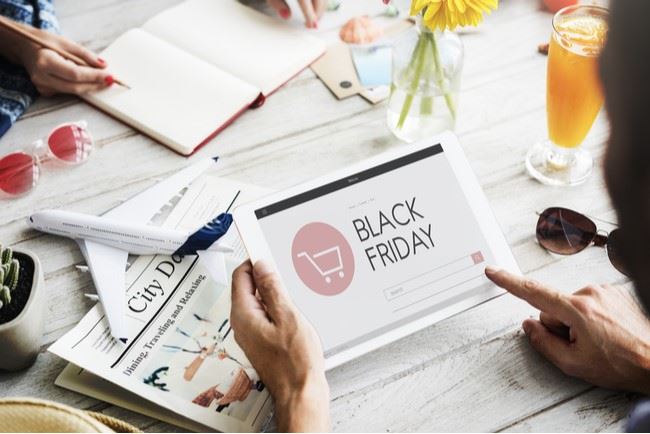 Have clients that have been hemming and hawing with regards to their 2023 or 2024 vacations? Now's the time to reach out. Clients can save on cruises, escorted tours and more, giving you the perfect reason to reach out with recommendations.
Here's what we know about so far:
(Bookmark this page as we'll be updating it regularly through Cyber Monday)
Free Air + Up To 20% Off with American Queen Voyages
From November 18 through December 2, clients can book an American Queen Voyages sailing for up to 20% off and get free roundtrip airfare on select voyages. Offer is combinable with Early Booking Savings. (Use offer code Black Friday.)
Free Air & Gratuities with Avalon Waterways
Through November 28, 2022, Avalon Waterways guests who book a select 2023 Europe river cruise will receive free air and free pre-paid gratuities.
Stateroom Upgrades & OBC with Azamara
Between November 15 and December 2, clients can take advantage of a double stateroom upgrade offer that will allow them to book a veranda cabin for the price of an interior room or a veranda-plus stateroom for the price of an oceanview stateroom on more than 100 global select 2023 cruises sailing between January 4 and November 14, 2023. Additionally, clients can explore Europe with a $1,000 credit to spend onboard.
Second Guest for 75% Less with Celebrity Cruises
Through December 1, 2022 clients can book a Celebrity cruise with the second person in the cabin paying just 25% of the amount it would normally cost. Additionally, clients can get up to $200 in onboard credit per cabin and up to $650 in air savings (from 24 major U.S. cities) for European summer cruises. To qualify, cruises must be scheduled to sail between December 2, 2022 and April 20, 2025 and can be for non-refundable fares only. Cruisers who wish to book a refundable fare will get a 60% discount on the second person on the cabin instead of 75% off. Not applicable for Galapagos cruise or cruise/tours.
Save Up to 20% or Up to $1,000 with CIE Tours
CIE Tours is offering two Black Friday deals from November 14 to 26, 2022. Your clients can save up to 20% on select 2023 guided vacations to Ireland, Britain, Iceland and Italy. (Use code BF2022 when booking.) Alternatively, clients booking 2023 custom private driver vacations to Ireland, Britain and Iceland can save up to $1,000 per person. (Use code BFPD22 when booking.) The tour operator is also offering a Cyber Week deal with 15% off select 2023 guided vacations to Ireland, Britain and Iceland if booked between November 27 and December 4, 2022. (Use code CYBER1522 when booking.)
Up to 20% off with Collette
Through November 29, 2022, your clients can save up to 20% on tours that depart between January 1, 2023 and April 30, 2024. All tours are included in the Black Friday sale except Journey to Antarctica, Montana: Exploring Big Sky Country; Alaska's Northern Lights; Greece Island Hopper; and Albuquerque Balloon Fiesta. (Use code SAVEBIG22.)
$100 Off with Cosmos
Through November 28, clients can save $100 off per person on select 2023 Cosmos Europe tours.
Fares from $899 & Onboard Credit with Cunard
Clients who make a new booking with Cunard between November 17 and December 2 will receive an onboard credit of up to $600 per stateroom and 50% reduce deposit. The credit is available on select itineraries sailing through January 2024. During the promotion, select itineraries will start at only $899 per person including the January 3 transatlantic crossing of Queen Mary 2, a July 17 Alaska cruise on Queen Elizabeth, and the June 25 Norwegian Fjords sailing on Queen Victoria. (Use promo code RD8 when booking.)
Up to $5,000 Off on River/$6,800 on Yacht Cruises with Emerald Cruises
Between November 23 and 30, 2022, cruisers can save up to $5,000 per couple on select Europe (including a variety of 2023 Christmas market sailings) and Southeast Asia river cruises and up to $6,800 per couple on select 2023 yacht cruises. Bookings must be paid in full within 72 hours to qualify for savings.
Up to $300 Off with FunJet and Apple Vacations
From November 23 through December 1, travelers can save up to $300 on FunJet and Apple Vacations packages to Mexico, the Caribbean, Hawaii, Latin America and Europe. Packages within the continental U.S. are discounted up to $150 off. Travel for both offers is now through December 15, 2023. (Use code BLACKFRIYAY22A for both.)
Up to 30% off on G Adventures
Starting November 10 and running through November 30, clients can save up to 30% on more than 700 G Adventures vacations, including its Active, Wellness, Marine, 18-to-Thirtysomethings, and Family travel offerings. Savings are as follows: up to 30% off on select trips for travel through April 30, 2023 OR 10% off on select trips departing between May 1 and June 30, 2023. Sample tours included in the sale are an 8-day Inca Discovery trip that starts in Lima and ends in Cusco; a challenging 11-day Torres del Paine full-circuit trek that stars and ends in Puerto Natales; an 11-day Back Roads of Japan from Tokyo to Kyoto that travels off-the-beaten path; and an 11-day Antarctica cruise that visits the South Shetland Islands and the Antarctic Peninsula.
$1,000 Off with Globus
Globus is offering savings of $1,000 per couple ($500 per person) on 23 Global tours in 23 countries across Europe in 2023 if booked through November 28, 2022. Tour options include the Scottish Highlands & Islands, Italian Mosaic, European Tapestry and Classical Greece (plus Island Hopper).
$100 Credit with Homebelike in the DR
Reservations of three nights or more at select Homebelike properties in the Dominican Republic, made between now and November 28, for travel between November 25, 2022 and January 31, 2023 will include a $100 credit. Participating properties include Punta Majagua Cap Cana, Villa at Arrecife Punta Cana, and Casa de Campo Villa. (Travel blackout dates are December 24-25 and 31.
Up to 50% Off with Hurtigruten
From November 14 through November 21, adventurous cruisers can save up to 50% on Hurtigruten sailings to Central America, Greenland, Iceland, Norway (10% for sailings between July 2023 and March 2024) and the U.S. West Coast, as well as up to 40% on a number of Antarctica and Galapagos itineraries and 30% on Alaska sailings including routes along the Inside Passage with stops in the rarely visited Aleutian Islands.
Up to 40% Off + Free Drinks, Wi-Fi & OBC with MSC Cruises
From November 15 to 25, cruisers can receive up to 40% off and get free drinks, Wi-Fi and up to $200 onboard credit when booking sailings around the globe.
Second Guest Sails Free with NCL
From November 9 through December 5, clients can book a Norwegian Cruise Line sailing with the second guest sailing free on any voyage.
Two for One Fare + Extra Inclusions with Oceania Cruises
From November 22 to November 30, cruisers can take advantage of two for one cruise fares plus free economy air and free gratuities and a choice of free shore excursion or free beverage package or shipboard credit. The Black Friday deal is available on almost all of Oceania's sailings, across all stateroom categories.
Save $500 with Perillo Tours
Available on Black Friday only (November 25), Perillo Tours is offering a $500 discount per couple ($250 per person) on all 2023 Perillo escorted group tours to Italy. (Use code BlackFri22 when booking.)
60 Sailings Under $60 Per Day with Princess Cruises
From November 22 through November 30, clients can book a cruise for just a $1 deposit. Sixty sailings are available under $60 per day, plus hundreds more are less than $100 per day. Among the 60 Under $60 options include a seven-day Mexican Riviera sailing on Discovery Princess (March 4), a 10-day Panama Canal voyage on Caribbean Princess (March 12), a 14-day Moroccan Passage on Sky Princess (March 19), seven-day Western Caribbean on Ruby Princess (March 19) and five-day Pacific Coastal on Majestic Princess (April 30). (The $1 deposit offer does not apply to cruises sailing within 90 days of November 30, 2022 and applies to full, standard deposits only.)
Up to $600 Off with Royal Caribbean
Your loyal to Royal Caribbean clients can save up to $600 when booking a Royal Caribbean cruise between Black Friday (November 25) and Cyber Monday (November 28). To make the deal even sweeter, the instant savings will be combined with 30% off every guest and Kids Sail Free. The promotion can be applied to sailings in 2022, 2023 and 2024 (blackout dates apply).
Up to $6,000 Off on River/$7,500 on Yacht Cruises with Scenic
From November 23 to 30, 2022, your clients can save big on cruises with Scenic. Select European and Mekong River cruises are on offer with savings of up to $6,000 per couple, while the ocean yacht savings can be as high as $7,500 per person. Savings amounts vary by itinerary and suite selection. Bookings must be paid in full within 72 hours of booking.
10% Off with TAFER Hotels & Resorts in Mexico
Through November 28, TAFER Hotels & Resorts is offering 10% off all-inclusive stays at the Garza Blanca Resort & Spa Los Cabos, Garza Blanca Resort & Spa Cancun, and the Garza Blanca Preserve Puerto Vallarta. Offer is valid for travel dates from now through December 22, 2023. Ten percent off is also available at Hotel Mousai Puerto Vallarta for travel through January 3, 2024. For each resort, a resort credit of up to $400 is also included on bookings of four nights or more.
Low Rates, 50% Off Second Guest & No Single Supplement with Virgin Voyages
Virgin Voyages is offering two distinct Black Friday/Cyber Monday sales. From November 22 to 28, cruisers can book select December 2022 sailings for prices as low as $99 per person, per night and receive a $100 Bar Tab Bonus if they purchase a $300 Bar Tab. From November 22 through December 6, cruisers can buy one, get one half off with 50% off the second guest's voyage fare for travel through April 2023. Additionally, solo cruisers will pay no single supplement for voyages in the same time period.
Pick Your Perk with Windstar CruisesBetween November 22 and 29, cruisers can pick the perk of their choice on any upcoming cruise. Perk offerings vary depending on cruise length and room category but may include a free upgrade to an All-Inclusive Fare, one Easy Stays hotel night, or up to $1,000 in onboard credit.
Save 30% on National Park Hotels & Lodges with XanterraBetween November 22 and 29, your clients can save 30% at several National Park hotels operated by Xanterra including: The Oasis at Death Valley (valid for stays between December 1, 2022 and February 9, 2023); Grand Canyon South Rim properties Maswik Lodge, Kachina Lodge and Bright Angel Lodge (20% off at the historic El Tovar Hotel); The Grand Hotel in Tusayan (valid for stays between December 1, 2022 and March 9, 2023); Zion National Park Lodge (valid for stays between December 4, 2022 and February 28, 2023); and Cedar Creek Lodge (valid for select dates between December 2022 and April 2023). Twenty-five percent savings are also available on daily rates for specific stay dates in deluxe rooms at Yellowstone's Canyon Lodge (May 19-25; May 30-June 17, 2023), deluxe and standard rooms at Lake Yellowstone Hotel (May 12 & 25; May 30-June 17, 2023), and deluxe rooms at Grant Village (May 30 and June 17, 2023).