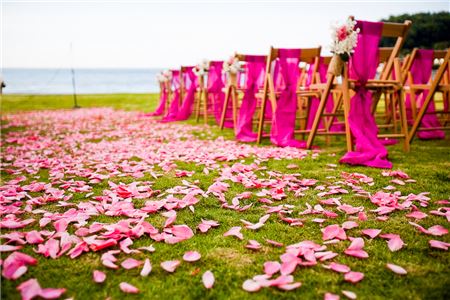 More and more couples are asking for that destination wedding of a lifetime, more unique than anything they have ever seen on Instagram, and different from the ceremonies they've attended that inspired them to do the same.
Often these days, that means holding the ceremony in an off-site locale, like a private beach club or local chapel. Not only does this mean reduced commissions for a destination wedding travel agent, it also requires a much higher degree of expertise and customer service.
"Working with a client who wants an off-resort wedding will create some challenges, however, these challenges are not difficult to overcome," said Ed Cotton, a long-time destination wedding expert and founder of DestinationWeddings.com. Cotton currently is a partner in The International Association of Destination Wedding Planners (IADWP), and is based in Mexico.
"You need to explain to your client what is offered by the resorts, oftentimes at no cost, and what is offered by outside venues," Cotton said. "It's important for your client to understand that depending on the number of room nights, some resorts even include private receptions at no cost, so price comparisons are important."
Lisa Sheldon, a romance travel agent in Janesville, Wisconsin, and executive director at the Destination Wedding & Honeymoon Specialists Association, understands why so many brides and grooms go off-site.
"They want a specific photographer their sister had, or flowers that the resort's florist won't provide in their set package," she said. "By doing it off-site, they can get exactly what they want."
Important questions to ask
If your client is determined to go off-site, but hasn't chosen a specific location, there are a number of initial questions that will have to be answered.
"Who will coordinate the wedding ceremony and reception? Most resorts provide that service at no cost," Cotton noted. Then there is the task of finding a local officiant, decorating the ceremony location, and catering if the wedding party will also be held there.
"The most difficult thing for most couples choosing to wed off of a resort is the coordination," said Cotton. "If the wedding is small with just a few couples, the process is certainly easier. If a couple chooses to not use a wedding planner and if the agent is willing to take on the role of a wedding planner, the agent will need to have the proper resources to assure the success of the event."
"That's why you should work with an experienced local wedding planner," said Sheldon. "There are so many moving pieces."
When Sheldon is booking a destination wedding, she frequently recommends the Association of Bridal Consultants to find experienced and reliable partners. For Mexico, the association has chapters in Quintana Roo and Los Cabos to help her source everything from venues to caterers, hair stylists and makeup specialists.
"If a bride has ever seen pictures from Del Sol, or her cousin got married and she saw Elizabeth Medina's photos, they're going to want someone of that caliber, and a good agent may need relationships with these vendors to book them," Sheldon said.
Transportation also should be centrally coordinated, Sheldon recommended. "You don't want 40 people hopping in 15 taxis to get there. So, now you need a transportation company. Would they want a motor coach, or two or three (Mercedes Benz) Sprinters?" Sheldon said.
If a travel agent has a local destination marketing company that they regularly work with and find reliable, the DMC may own a transportation company, Sheldon said. She has worked with Cancun-based Lomas Travel, which has a wedding division. "They can do everything," she said.
If an agent does find a wedding planner for their client, they should ask for a referral fee, Cotton said, adding that referral fees may also apply to most other destination wedding vendors.
Choosing a venue
The advent of social media has exposed more couples to alternative wedding ceremony locations, and Mexico has responded with venues of all types. "There are many off-resort venues to choose from that are on and off a beach. For those not interested in a beach wedding, hacienda weddings with a colonial flare are popular, as are weddings in the jungle," Cotton said.
But each venue might come with their own preferred vendors, specific restrictions or physical limitations. If you're not working with a local wedding planner, you could end up with a lot of extra work when specific requirements upend your initial plans.
"If you're going off-site in a place like Mexico, it is so important that an agent be a specialist not just in destination weddings, but in the destination they are selling," Sheldon said.
"One of my ICs is in Mexico right now visiting several hotels and resorts that have either recently opened or renovated. She hasn't been down there in a year, but she still felt like so much had changed that she needed to see for herself," said Sheldon.
"For a true romance specialist that focuses on destination weddings, they are up with the trends. They spend the time and money to educate themselves so that they know what is possible for their brides and grooms, and they can pull off a fabulous wedding no matter where the ceremony is held."