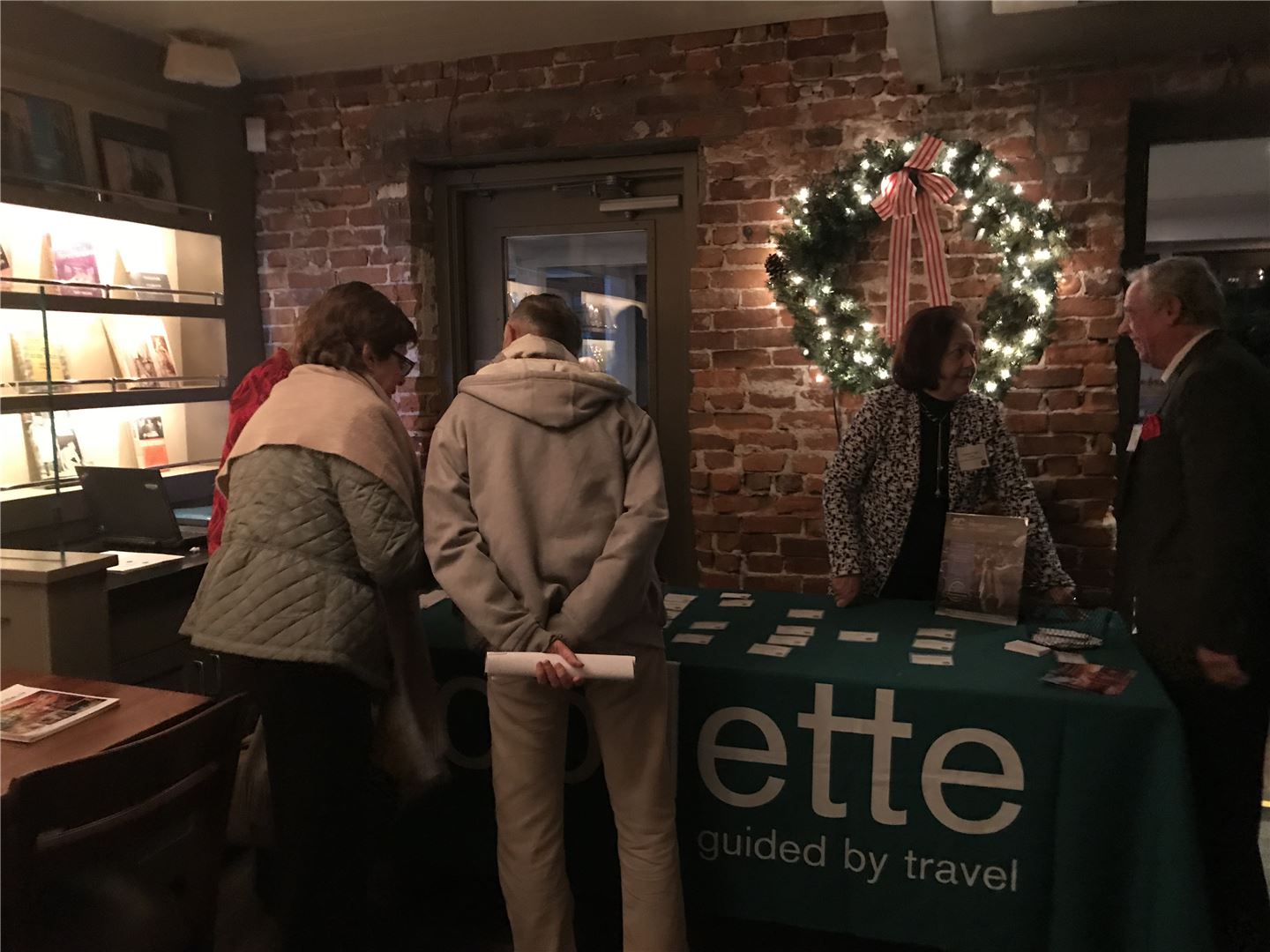 It's not often that a travel company lasts 100 years. So, 2018 is going to be a very special year at Collette, as it celebrates its centennial anniversary of taking great clients on great guided tours of the world.
"Collette is the oldest tour operator in North America and the first to have a centennial, and I'm going big because I won't be here for the next one," joked President and CEO Dan Sullivan at a dinner celebrating its travel professional partners in Providence last week.
On tap are 100 days of giveaways for travel agents, industry professionals and consumers, starting the week of Jan. 22, when Collette will be highlighted on television by its 20-year-old partner, Wheel of Fortune.
"Everything will revolve around the centennial in 2018, Executive Vice President Paula Twidale told TMR. "The centennial highlights our collective core competency, a lot of longevity that helps us understand what our guests need and put the right products together.
For agents, Collette will have contests and events during 2018's first quarter.
"And because you invite family to celebrate your birthday with you, and our guests are our family on every tour, we will be celebrating with them as well."
Collette also will continue its popular Book Your Own Bonus program, which has been "enormously successful; the agents love it, and it is escalating," Twidale said. "We focus on our agent partnerships, and we feel it's very important to reward the individual agent as well as their agency and consortium. The ability of the individual agent to understand and explain our product is paramount, and it's important for them to feel their success and escalate their ability to sell Collette products. So we want to incentivize them to know more and to learn more."
2018 additions for agents and consumers
The company will be adding to its educational Collette University training program, so agents can collect more points and win more fam trips. The training will focus on helping agents market themselves and Collette's products and maximizing sales, including more materials to share with customers.
Agents are eligible for a discount of 50 percent off any Collette tour, and 30 percent off a companion fare, and then earn $20 per ticket they sell that is applied to the fam trip price.
Also, as a way to support agents, Collette pricing has no non-commissionable fees, so agents earn full commissions, and a price protection program. Stephanie Mirando, marketing manager for the travel agency channel, told TMR that Collette also never sells through rebaters like Costco.
"That's one of our biggest differentiators in the agent market, that we don't deal with Costco and we don't allow discounting. Tauck does that as well, but as far as I know we are the only two," she said. "We feel it's so important nowadays; we understand the amount of business we walked away from, but the integrity and trust of our travel agent partners is so important to us. Dan wanted to really have the trust of the travel agent community, to make sure that the agents truly offer the best price in the market. That protects their time and that protects their commission."
In general, "we want to recognize both individual agents and their agencies, and of course our loyalty program for customers has not gone away," Twidale said. "We are happy to pay everyone because the lifetime value of a Collette customer is so important to us. If we can acquire a customer and then encourage him or her to travel again, that retention is a critical component to our history and preserves our brand."
Also launching for the centennial is a consumer website (Collette100.com) that talks about the history of the company but also offers stories about why we travel for agents to share with their own customers.
What's trending
The centennial comes at a great time in the business, Twidale noted. While declining to cite exact sales figures for 2017, she is just back from a meeting of the U.S. Tour Operators Association meeting, on whose executive board she sits, and Collette's business, like that of most of its peers, has been "phenomenal, up double digits in 2017 and 2018," she said. "The economy is being fueled, the dollar is up, the stock market is doing well. People with disposable income are traveling, and our dollar is strong so we are getting a lot for our money."
Mexico is still the number-one destination for FIT travelers in 2017, she said; hot emerging destinations include Cuba, Myanmar, South Africa, Japan and Iceland. Spain, Portugal, South Africa, Australia and the South Pacific are big sellers, and "Canada is on fire; the Canadian Rockies have been an enormous product for us."
"I find our numbers for 2018 reassuring. The economy bodes very well for travel, and people are more resilient than they have ever been," Twidale said. "They are not willing to give up that time to break away and take that trip. So, it's not a surprise to me that people continue to travel."
On tap for the year are some new tours and destinations, including an expanded Choice on Tour product that offers smaller groups and more experiential components. "It's all about the experience; even though we may travel together, we want to do different things. That's the way the world is going, that personalization and customization. It's not options to buy, it's the ability to choose what you would like to do, what path you want to go down."
Collette also will be offering new trips including Sri Lanka, Madrid and Barcelona with a high-speed train ride, a New England Charm tour with summer stock theater — and a throwback to the "If it's Tuesday this must be Brussels" era, a European grand tour that includes Prague, Vienna, Venice, Rome, Florence, Lucerne, Paris and Brussels.
Other trending tours for 2018 are the Iceland and Ireland adventure tours; the new Japan and Finland Northern Lights tours where guests sleep in an igloo; French Canada; and a Switzerland tour with "hidden trains and peaks." Collette also is looking at ways to improve its Exploration Product for small groups, of perhaps 18 rather than the current 24 guests, as it is seeing growing demand.