Cruise Trends: Culinary Offerings For Every Taste
by Donna Tunney /

Partnering with celebrity chefs, serving locally sourced foods, offering cooking classes and designing culinary excursions are all part of the cruise industry's growing trend to court upscale travelers with epicurean adventures.
For the new year, a slew of cuisine-related enhancements are taking shape across the luxury and upmarket blue-water lines.
Oceania Cruises, for instance, will roll out a new tapas menu in its Terrace Cafe venues; Silversea Cruises' new Silver Muse, to be launched in April, will have eight restaurants including one with menus created by top chefs from Relais & Chateaux; Princess Cruises is partnering with another celebrity chef; and Holland America will offer classes and workshops inspired by the TV show "America's Test Kitchen."
But the value of cuisine and cuisine programs ultimately lies in the eye of the beholder—and that's the cruiser, according to top-producing luxury cruise agent Eric Goldring, owner of Lake Tahoe, CA-based Goldring Travel.
There are two kinds of cruise client when it comes to culinary—the cruiser and the cruise traveler, Goldring said. The first is someone who takes the cruise for the cruise, and wants to feel really immersed. "This person wants the onboard experience of a cooking class and the sorts of menus that are more esoteric than the normal cruise. But the second, the cruise traveler, wants the experience off the ship, or brought onto the ship, like shopping with the chef at a local market. These clients don't want to cook. They want to eat."
Overall, said Goldring, people's culinary tastes have changed.
"Remember Gallo wine? That's what wine was, way back when. But now there are elevated expectations of better food and wine, and better-prepared food. It's a matter of what level you take it to. In my view Seabourn and Oceania offer extraordinary cuisine," he said.

The Grill by Thomas Keller.
In Seabourn's case, he noted, celebrity chef Thomas Keller and his signature venue, the Grill by Thomas Keller, is a big draw. "It's successful because Keller is involved to the point where he knows what species of vegetable is being served. The Grill provides an authentic dining experience because the chef is that involved."
Here's a sampling of new culinary initiatives recently unveiled by the lines:
Princess Cruises
Princess is partnering with three-Michelin-star Chef Emmanuel Renaut to develop its next specialty restaurant concept, La Mer—A French Bistro by Emmanuel Renaut, which will debut aboard Majestic Princess in April. Offering what the line calls an "authentic yet updated Parisian bistro experience," La Mer will charge a (to-be-determined) cover fee for dinner, but offer complimentary lunch and breakfast options created by the Princess culinary teams.
Regent Seven Seas Cruises
Regent said it has "revolutionized its gourmet dining experience" fleetwide by transforming its signature restaurant, Compass Rose, into what it calls the largest specialty restaurant at sea. The menu is divided into two parts; the left side lets guests customize their dinner; the right features the executive chef's nightly specials as well as a multi-course "menu degustation." On the customizable section, guests can select from seafood items like lobster, shrimp, scallops, salmon and dover sole, or specialty cuts such as New York strip steak, filet mignon, lamb chops and veal medallions. Then they determine how they would like it prepared—grilled, baked, broiled, poached or roasted—and add a sauce, such as madeira-truffle, creamy herb, hollandaise, green peppercorn or hickory barbeque.

Compass Rose.
Oceania Cruises
Oceania Cruises' new tapas menu in the Terrace Cafe venues features some five dozen dishes crafted by Oceania's culinary team. Featuring destination-inspired flavors, it offers a selection of crostini, fruit- and vegetable-based salads, rolls, fresh fish and seafood tapas, crudités and other small dishes presented in tasting spoons and verrines. Look for vegetarian samosas with raita sauce, watermelon sweet Thai salad with cashews, fresh herbs, cucumber and sweet chili, and molten cheese soufflé with chive velouté.
Silversea Cruises
Silversea's new Silver Muse will showcase the line's partnership with France-based boutique hotel and gourmet restaurant collection Relais & Châteaux in the form of La Dame, a French restaurant with menus created by top chefs from Relais. Dishes will feature locally sourced ingredients and served with paired wines. Also onboard Silver Muse are Kabuki, showcasing the flavors of Asia; Regina Margherita, offering Italian specialties; and Atlantide, with seafood entrees like royal crab, blue lobster and red snapper. The line also will bring its successful Hot Rocks experience to Silver Muse; guests make their own selections of meat, fish and vegetables, which they can cook for themselves if they wish on the 400-degree-Celsius lava stone at their table.
Holland America Line
Holland America is turning its culinary programming up a notch with the introduction of shipboard cooking shows produced in partnership with the public television show "America's Test Kitchen." The Culinary Arts Center, already established on its ships, will be transformed to replicate the television set where the test kitchen TV shows are filmed. Shipboard cooking demonstrations and hands-on workshops—with topics ranging from shaping Asian dumplings to making the perfect pie crust—will combine "foolproof, accessible recipes and cooking techniques that are rooted in the rigorous testing and science-based approach of America's Test Kitchen," HAL promises. Also planned are 90-minute workshops that focus on teaching a specific skill set, such as making pies and pasta. The program is expected to roll out fleetwide by June.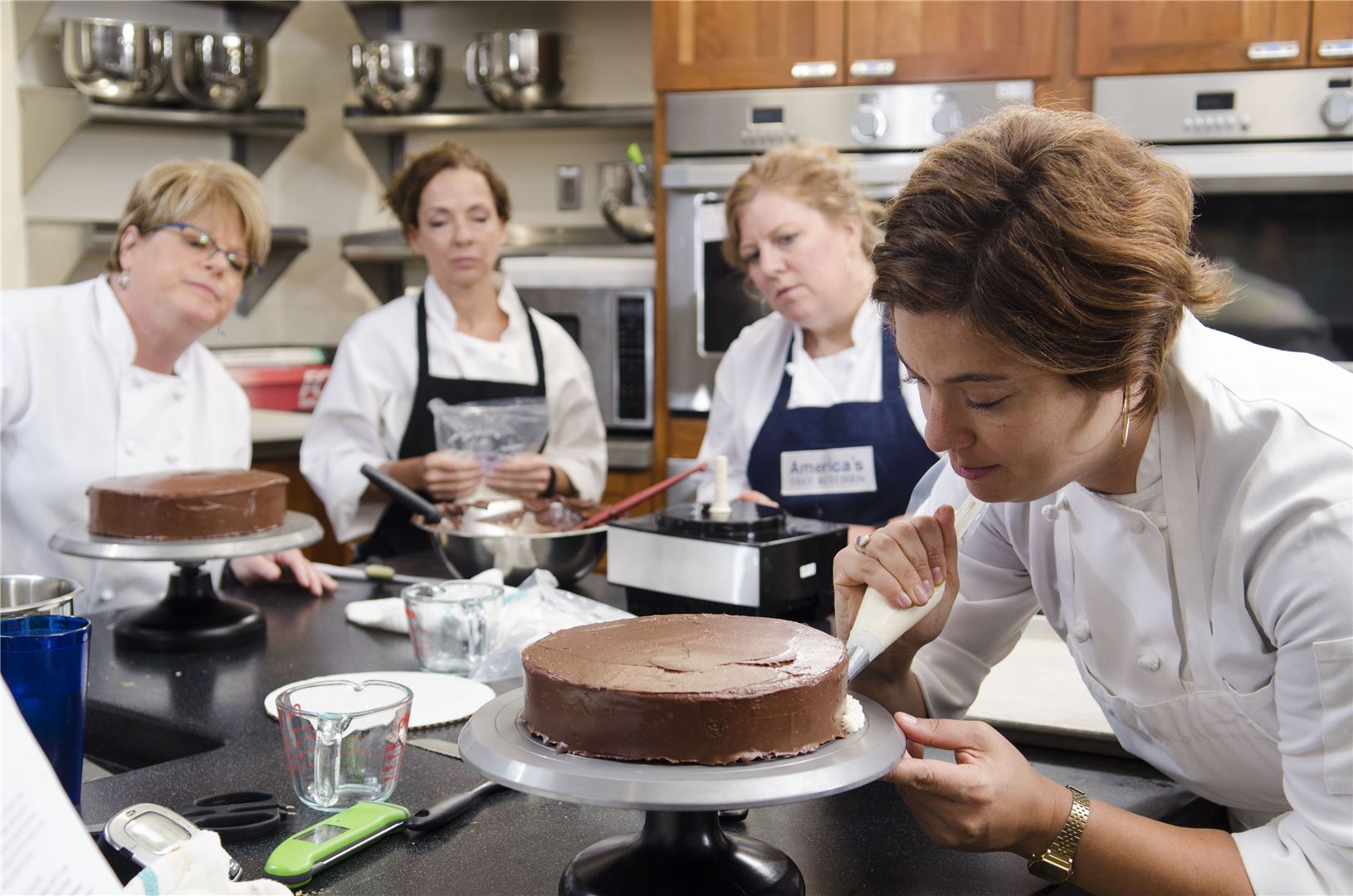 HAL's new offerings include shipboard cooking demonstrations and hands-on workshops.