Disney has revealed more teasers about its Star Wars Land, which will be opening at both Walt Disney World and Disneyland in 2019.
At the Star Wars Celebration in Orlando last week, Disney's Imagineers said the park will completely immerse guests into the Star Wars world. Characters will interact with visitors, and will have a chance to participate in multiple storylines.
"There are going to be a ton of opportunities to help out and support the Resistance…For those of you who are interested in supporting The First Order, that will absolutely be an opportunity as well," Disney Imagineer Asa Kalama said.
Guests' choices will also have a direct impact on their experience. When piloting the Millennium Falcon, for example, it's up to the flight crews if they make it to their destination on the other end.

Photo: Disney
"It's really up to you. You can bring her in without a scratch on her or if you want to — you know if you're a practitioner of bumper bowling and you want to try to maneuver off a couple of those rock faces," Kalama said. "There are consequences to your actions in this world, so you know if you bring a ship pretty heavily damaged, chances are somebody's not going to be too happy about that."
The panel added the new location will be on the universe's Outer Rim in the Unknown Regions, among "the smugglers, the bounty hunters, the rogue adventurers looking to crew up, the people who don't want to be found," said Imagineer Scott Trowbridge. "It's a new planet. It's a new place. It's this remote frontier outpost."
Strolling through the village, visitors will find shops and vendors offering items from the Star Wars universe, like a glass of blue milk. Droids, a big part of the Star Wars movies, will also be present. There will be some directly from the screen, as well as some new ones, around the village.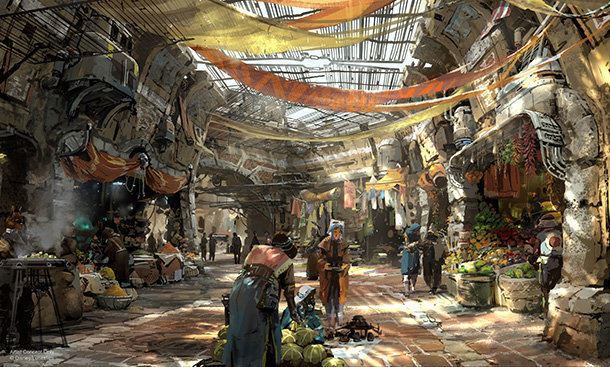 Photo: Disney
More information on Star Wars Land will be released at the D23 Expo in Anaheim in July 2017, Disney said.