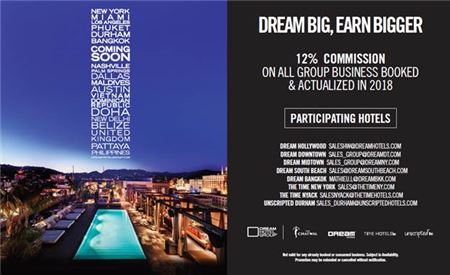 Dream Hotel Group – parent of the Dream Hotels, Time Hotels and Unscripted Hotels brands –announced Thursday it will begin offering a 12 percent commission to conference and event organizers, third-party meeting planners and group travel agents, now through Dec. 31, 2018.
"We want to remind [travel agents] that Dream Hotel Group is here, and we love their business. We recognize and value the important role our intermediary partners play in attracting business and group bookings to our hotels," Dream Hotel Group Chief Executive Officer Jay Stein said in a statement. "The decision to increase group commissions demonstrates Dream Hotel Group's commitment to supporting and maintaining a mutually beneficial partnership with third-party planners, particularly independent event organizers, with whom we have built long-standing relationships."
Participating Dream Hotel Group locations include: Dream Hollywood in Los Angeles, California; Dream Downtown in New York, New York; Dream Midtown in New York, New York; Dream South Beach in Miami, Florida; Dream Bangkok in Bangkok, Thailand; The Time New York in New York, New York; The Time Nyack in Nyack, New York; and Unscripted Durham in Durham, North Carolina.
Reservations must be booked and actualized by Dec. 31, 2018 with a minimum of 10 rooms on the peak. The offer is not valid for any business previously booked.
The announcement comes as major players decided to cut group commission rates. Both Marriott and Hyatt introduced new policies reducing the group sales commission rate from 10 to 7 percent for bookings at hotels in the U.S. and Canada, citing rising distribution costs as the impetus for the move.
Both travel industry leaders and agents have come out against these policies. Zane Kerby, president and CEO of the American Society of Travel Agents (ASTA), said previously, "It is disappointing to see supplier partners moving in the opposite direction and devaluing their relationship with our members."
He added, "a 30 percent cut in intermediary compensation diminishes the value of the role agents play."