Even With No New Ships, Cunard Is Ready For Big Things
by Daniel McCarthy /

Coming out of a big 2016 that included the debut of its Queen Mary 2, Cunard hasn't lowered its expectations for 2017-2018, despite having no plans to add to its fleet.
"Right now, with one of the youngest fleets on the market, we don't suffer from older ships," senior vice president of Cunard North America Josh Leibowitz told reporters at Seatrade Cruise Global last week.
Cunard is looking towards 2018 and 2019, ready to "tell a story to drive demand and recommendation rate with travel agents," he said.
Queen Victoria renovation
Queen Victoria is coming off a $40-million+ renovation that saw every cabin retouched, marking a "new story" in her history.
The renovation added a Gin and Fizz bar, a new intimate restaurant and 43 additional Britannia Club staterooms in a prime mid-ship location on the seventh and eighth decks—in a "category of cabins that have been incredibly successful," Leibowitz said.
Five new Penthouse Suites will be installed on deck eight aft, each with floor-to-ceiling windows, renovated living and sleeping space, and new shutters in the bathrooms to allow natural light.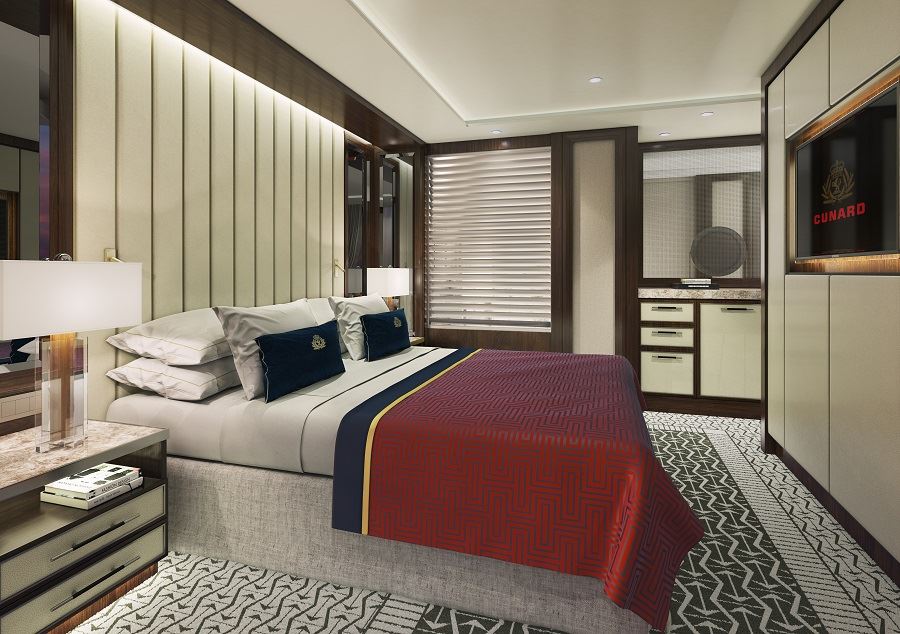 New Penthouse suites have shutters to the bathroom.
The ship will also get a new Chart Room, a Cunard first, on Deck 2 off the Grand Lobby—where the current Café Carinthia sits—featuring illy Coffee, Godiva chocolates and evening cocktails.
Special sailings
Guests on the 2017 Transatlantic Fashion week crossing, which sails from London and lands in New York at the beginning of the celebration, will be joined by fashion icon Iris Apfel for the first time this year.
Meanwhile, Cunard will sail its inaugural Greatest Generation Cruise this summer in partnership with the Greatest Generations Foundation, sailing war heroes to commemorate their service and to give guests the opportunity to sail with them and meet these honored veterans.
Cunard also will kick off a new partnership with Ancestry.com in 2018, sailing an Ancestry sailing in November 2017. That sailing will include question and answer sessions and lectures from Ancestry staff about guests' personal heritage.
Other special sailings will include new editions of Cunard's New York Times Insights Series, World Space Week series and Voyage Du Vin.
Looking forward
Cunard is announcing its 2019 deployment so early in order to "increase the global sourcing of Cunard…this is one of the most global brands at sea and has global appeal," Leibowitz said.
The deployment includes eight maiden calls in the United States and Canada on Queen Elizabeth, as well as five maiden calls in Australia. "We're excited about it, and we think our guests are going to be excited about it as well," he said.
Queen Victoria will sail 37 voyage combinations ranging from 2 to 107 nights in 2019, with one maiden call in Malacca, Malaysia, and overnight stays in San Francisco, Sydney, Hong Kong and Cape Town. During the voyages, the ship will visit a total of 40 different ports, 24 countries and 26 UNESCO World Heritage Sites.
Queen Mary 2 will sail a 2019 program that includes two special sailings—Grand Voyages by Cunard & Regions of the World and by Cunard in the Mediterranean, Arabian Gulf, Indian Ocean and Far East.