Exploring Europe's Christmas Markets on an AmaWaterways River Cruise
by Jessica Montevago /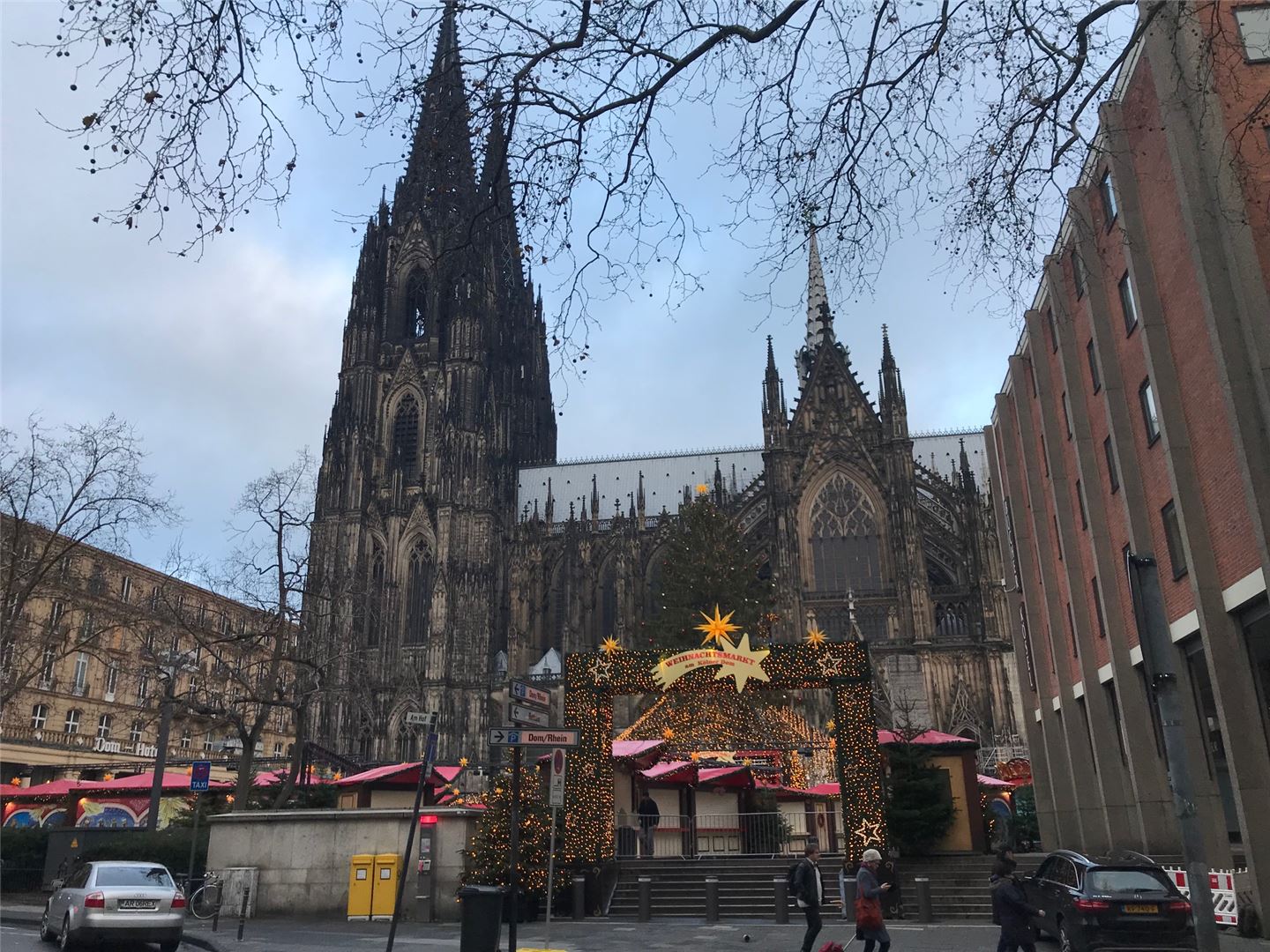 Christmas market cruises sailing along Europe's Rhine and Danube rivers have flourished in popularity over the past few years. The allure is obvious. Medieval towns outfitted with decorations and lights, charming booths lining the streets and vendors selling warm mugs of Glühwein. Exploring the Christmas markets aboard a river cruise allows travelers to visit several cities, along with enjoying the convenience of not having to repack for each stop, which is a major selling point for travel agents' clients.
Exploring the Christmas markets aboard a river cruise allows travelers to visit several cities, along with enjoying the convenience of not having to repack for each stop, which is a major selling point for travel agents' clients.
The Enchanting Rhine itinerary, aboard the Amaprima, stops at historic cities in four countries, kicking off in Basel, Switzerland, and ending in Amsterdam, Netherlands.
Like each city, each Christmas market is unique. Excursions marry historical site-seeing and visits to the markets, where you can shop for hand-made gifts and sample local treats. From Cologne's Cathedral, an UNESCO World Heritage site, to the picturesque half-timbered houses in Strasbourg, the Enchanted Rhine journey gives travelers the opportunity to experience the rich culture and history in parts of France and Germany.
Coupling that with the renowned Christmas markets, the itinerary covers a broad range of interests, but there is also a good deal of free time included, ensuring guests can do everything they want – whether it's sitting in a café or spending more time at the markets.

Crowds gather at the markets in Riquewihr, France.
Aboard the Amaprima
The festive atmosphere extends to the ship, with decorations from the gingerbread houses at the front desk to the wreaths hanging outside the doors of guests' staterooms. A large Christmas tree sits in the main foyer, while smaller ones fill out the lounge. Glittering lights, garland and baubles line the railings and windows, across the lounge to the dining room.

Decorations line the windows at Erlebnis, a Chef's Table-style eatery.
Staterooms are spacious on the top two cabin decks. Rooms along those floors boast floor-to-ceiling windows and sliding doors opening out onto double-balconies. It is a feature unique to the Amaprima and its sister ships AmaCerto, AmaBella, and AmaVerde. The roominess coupled with the balcony makes it feel as though guests are sailing inside a floating hotel, never feeling cramped as with traditional staterooms.
No detail is left unnoticed. Upon returning from a cold day walking through town, staff is on hand with steaming mugs of Glühwein and tea. Other special touches, like a welcome bottle of wine and recipes or local dishes left along with the daily cruise itinerary, add a little something extra. One night, guests were told to leave their slippers outside of their rooms for a gift from Santa, and sure enough, the next morning chocolate Santa's were placed inside each one.
Carving a niche in fine dining
As river cruising becomes an increasingly crowded market, with more companies building bigger, more luxurious ships, AmaWaterways sets itself apart through its food and wine. It is the only major river cruise line to be a member of the prestigious culinary society, La Chaine des Rotisseurs.
Ingredients are brought onboard every couple of days, so travelers enjoy fresh ingredients opposed to frozen, Head Chef Michael Ferstl said. "You don't see it, but when you're going on the excursions, every three to four days we get vegetables, fruits, fish, and every 10 days we get a main loading like flour and oil."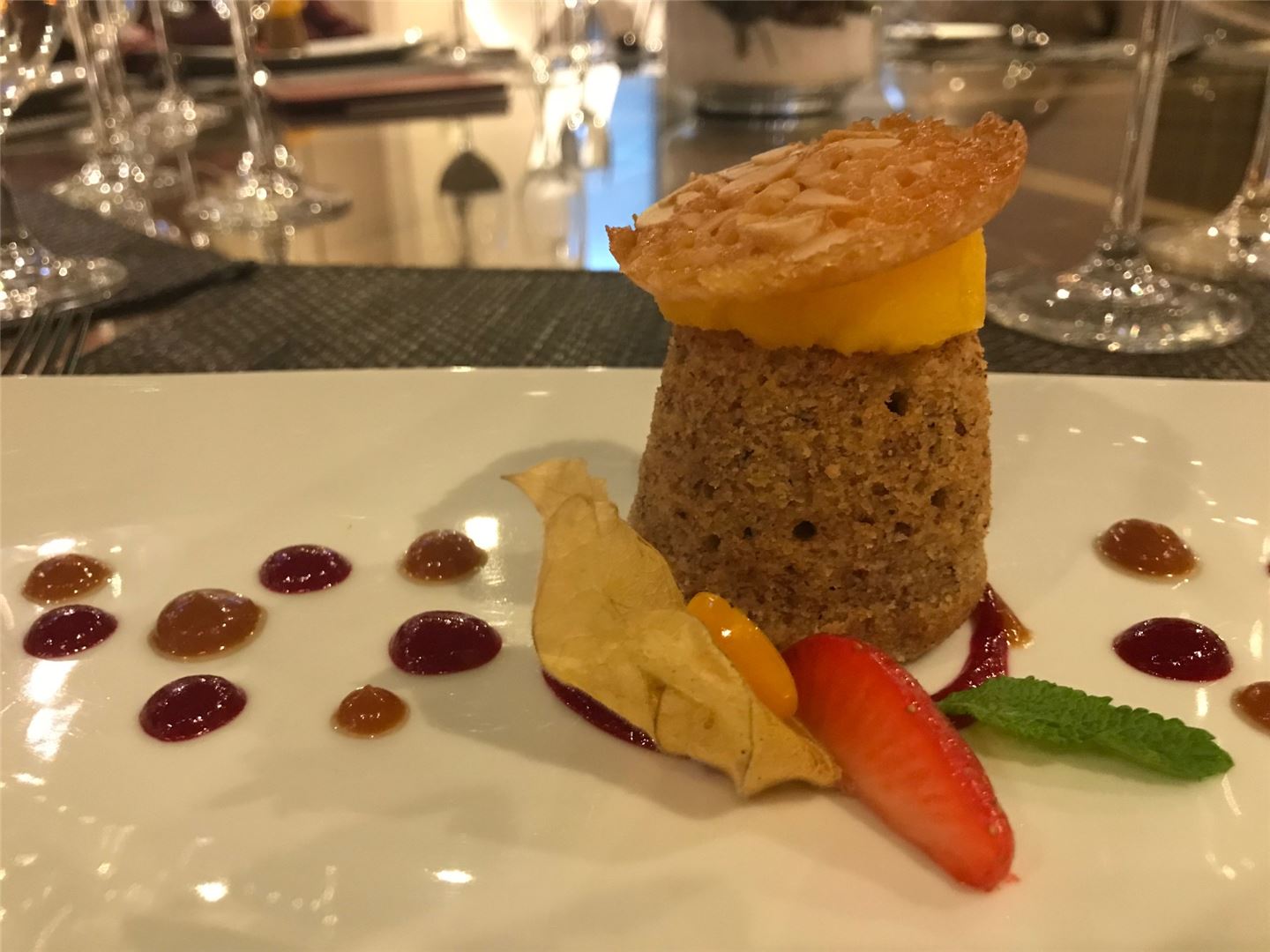 Dinner is fine dining experience.
Menus are crafted with each destination in mind, offering a few dishes traditional to the region alongside mainstream options like sea bass fillet and tuna tartare. During a stopover in Germany, guests ate wienerschnitzel and sauerkraut; while sailing to Amsterdam, the chef prepared herring. Wine, too, is selected based on the region. Each night guests are presented with a different red and white.
Breakfast and lunch are served buffet style, with a few daily specials available to order from the kitchen. Dinner is a fine dining experience, with a choice of appetizers, soups, entrees, and desserts. Each plate's presentation is carefully crafted. The menu includes vegetarian options, and notes which dishes are gluten- or lactose-free. For more restrictive diets or other allergies, the chef is accommodating.
A trade-friendly company
AmaWaterways offers fams 60 days prior to departure, with rates starting as low as $90 per person per day for each occupant in a double-occupancy stateroom beginning in base category. Upgrades to higher category staterooms are available at 50 percent of the brochure rates. In addition, there is a special training fam called "Seminar on the Rivers," hosted by BDMs. Fam dates and applications are on AmaWaterway's travel agent portal.
Travel agents can sell the product to a broader demographic, too, including multigenerational travelers. While river cruising is popular among an older clientele, Cruise Manager Edward Sengel says he has seen that evolve over the years.
"The demographic has changed dramatically, and families travel with us. I had one family that traveled with us last year that had 30 children on board. Grandma alone brought 22 members of her family," Sengel told TMR.
While there are no children's programs, the cruise manager and crew use their resources to entertain their younger guests.
"We went for a wine tasting and coffee tasting, and neither of them are going to be fun for a child. So, we talked to the hotel manager and we came up with a great idea — we got our velvet ropes out and created a movie area in the front of our lounge," Sengel said. "We had a soda bar with Cola-Cola and popcorn and candy. Grandma stayed on the ship with them and they went to town. It's important to keep them busy."
As the age demographic has gotten younger, vessels now carry 20 bikes onboard for excursions and leisure. There are also three levels of excursion for every traveler: gentle, regular, and active.
Agents can also upsell the product by offering solo rooms to larger groups, like a girlfriends' getaway or family vacation, as an attractive option for those who are seeking out more space. The Solo Travel Program allows agents to book a base category stateroom on any river cruise in Europe, Asia or Africa without paying an additional single supplement fee.
What's more, in 2019 the river cruise line will debut three new ships, including its largest ship to date. The AmaMagna will be almost twice the width of the average river cruise ship but only carry 196 guests, allowing for more space in the staterooms and public spaces, as well as an al fresco restaurant.
AmaWaterways also plans to broaden its shore excursions catalogue in 2019, including debut tours in Prague, Paris, and Romania. Another chance to upsell, new pre-cruise options in Bilbao and San Sebastian, Spain, for its Taste of Bordeaux itinerary have been added; along with new post-cruise options in Rwanda for five of its African itineraries.