The New Year brings new opportunities to sell vacation packages, and there are many options for travelers to choose from on every continent. To help travel agents stay up-to-speed on the latest-and-greatest, here is a roundup of the newest offerings from the suppliers who participated in Travel Market Report's latest survey.
African Travel
African Travel is unveiling eight new itineraries for the new year, as well as several new enhanced journeys that feature new hotels, experiences and activities. One new trip offering is "Essence of Southern Africa," a safari vacation that visits Cape Town, Botswana and Victoria Falls. On a separate flying safari entitled "Deserts and Dunes of Namibia," travelers can explore the wildlife sanctuary of Etosha, scale the red iconic dunes Sossusvlei, and discover the rugged beauty of the Skeleton Coast.
Apple Vacations
Apple Vacations recently kicked off its 50th anniversary and will be celebrating throughout 2019 with savings opportunities.
The brand is also enhancing its Royalties program, which launched on Dec. 10, to provide greater options and flexibility for agents.
In addition, on Nov. 19, Apple Vacations made the switch to MyAppleOnline, powered by VAX VacationAccess. They are currently accepting bookings for travel after May 1, 2019, via the enhanced portal.
Avanti Destinations
For 2019, Avanti has teamed up with a number of European rail operators and released a new brochure that will educate travel advisors on the benefits of choosing rail over air for their clients. "The Best Way to Explore Europe" e-brochure includes 26 customizable itineraries linked by rail throughout Europe, including 12 that are brand new.
Avanti also began emphasizing off-season travel to Europe and warm-weather winter vacations in Asia and Latin America, with Go365 itineraries. The 43 new customizable itineraries cost less than peak or shoulder season, and they provide a more authentic experience because there are fewer tourists at those times.
Blue Sky Tours
Blue Sky Tours launched its Island Guide earlier this year. It also added the ability to manage contracted groups in VAX VacationAccess via the agent group dashboard. In 2019, the operator will have a "Year of Aloha" campaign with some of their top hotel suppliers; it will include sales promotions and hotel giveaways.
Brendan Vacations
Dublin-based Brendan Vacations celebrates its 50th anniversary in 2019, offering agents a legacy of experience and relationships that will serve them and their clients travelling to the Celtic Isles well. To celebrate, in the first quarter the operator will launch a new trade incentive program called TAP that is designed to educate, empower and arm agents wherever they are in the customer journey phase. Citing a growing demand for itineraries that appeal to multi-generational families, Brendan Vacations has introduced "Shamrocks & Leprechauns," a 10-day family trip to Ireland which will debut this summer. In 2019, Brendan Vacations will also continue its efforts to assist families seeking their Irish roots and heritage, offering personalized itineraries that follow their family's unique ancestry.
Eurobound
Eurobound will be adding more nature-oriented travel to countries like Switzerland and Austria, where clients can combine luxury with outdoor pursuits. In Switzerland, the "Get Natural and More" itinerary combines hiking in Zermatt with spectacular scenery via the Glacier Express and luxe leisure time at the five-star Bürgenstock Spa Hotel. The Austrian theme is "The Best of Nature and Culture;" it is also a custom sample package which can be tailored to individual needs, but is offered at an affordable price.
Following this year's successful launch of the company's "Art, Food & Yoga" personally guided tour to Provence, Eurobound will expand the concept to Italy.
Europe Express
The European wholesaler has introduced two new walking tours in Amsterdam. The "Red Light District Walking Tour" is a two-hour exploration of the city's famous Red Light District and includes free admission to Red Light Secrets, the world's only museum of prostitution. On the "Amsterdam Walking Tour," clients can discover the best of the Dutch capital — from Dam Square to the Red Light District — and sample stroopwafels, herring, and other Dutch snacks.
On the new "Best of Italy" itinerary, guests learn how to make authentic Roman pizza; explore the jaw-dropping Cinque Terre; bike through the Tuscan countryside; and explore the ruins of ill-fated Pompeii.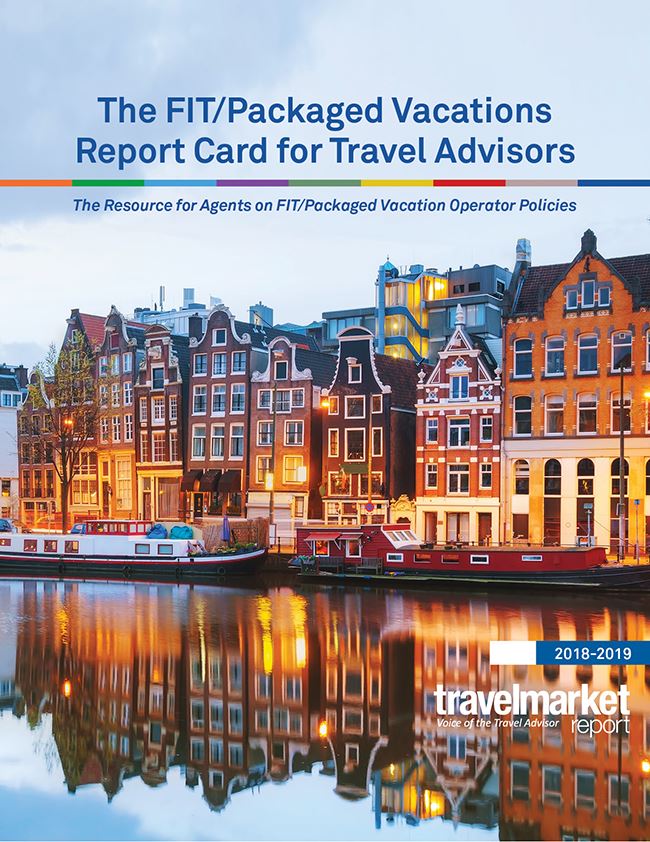 Funjet Vacations
Celebrating its 45th anniversary, Funjet will enter new charter markets including Boston, Detroit, Indianapolis, Lansing, Minneapolis, Philadelphia, Pittsburgh and Rockford. It will also offer agents a new uncapped, flexible commission. The "Set Your Own Commission" can be itemized or bundled into any package at the agent's discretion.
GoWay Travel
Goway Travel is welcoming 2019 with a new multi-day foodie tour plus biking tour through China; and a "Heli and Harley" tour in Southern Africa. New resorts and excursions enhance island itineraries from Greece to Tahiti. In Peru, guests can sleep hundreds of feet above the ground, secured on an Andean cliff face.
Luxury Gold
Come 2019, Luxury Gold will introduce five new luxury guided journeys, bespoke independent holidays, and Chairman's Collection experiences. On Bespoke Journeys, travelers can create their own tailor-made, independent itineraries in Greece, Ireland, Scotland and Africa.
Monograms (Globus Family of Brands)
With its new YourWay format, Monograms takes the customization concept one step further by inviting travelers to choose the number of nights they wish to stay in select European cities. With Monograms YourWay, guests can design their stay from two to five nights in popular cities. On the heels of the program's success in five cities, the tour operator has extended this option to Madrid and Barcelona for 2019.
With Globus, travelers can discover uncrowded England, Scotland and Wales on nine "Undiscovered Britain" tours, including seven new tours for 2019, ranging from 6 to 14 days.
For travelers looking for more of an á la carte option, the Globus family of brands' new Cosmos Lite vacations offer the freedom to tailor each day according to individual travelers' interests, budgets and pace.
Pleasant Holidays and Journese
In the fourth quarter of 2018, both brands launched new destinations for 2019 vacations, including Hong Kong (Hong Kong Island, Kowloon and New Territories), Colombia (Bogota, Cartagena and Medellin), and the U.S. (Branson, Missouri; Santa Fe, New Mexico; Bar Harbor, Maine; and Savannah, Georgia). Pleasant Holidays also added new hotels, including more than 140 hotels to its U.S. and Canadian portfolio for 2019 travel.
New selling tools have also been introduced. Pleasant Holidays and Journese will reduce Caribbean and Mexico deposit requirements by 75 percent to $50 per person, from $200 per person. Both brands added Cruise Protection Plan Coverage for U.S. and European river cruise vacations; as well as for Caribbean, Alaska and Europe ocean cruise vacations.
Southwest Vacations
Southwest Vacations will launch Hawaii in 2019. It also debuted several new programs in 2018, including Vacations Plus and Upgrade Bonus Commission. Additionally, advisors can now use unused Southwest ticketless travel funds as a form of payment toward a Southwest Vacations package.
TravelBrands
TravelBrands has expanded its destinations, with more new hotels and resorts. In Europe, new locations include: Greece, Portugal, Iceland, Poland, Denmark, Ireland, Spain, and Cyprus. In Asia and Africa, TravelBrands is now offering: Thailand, Japan, Indonesia, Morocco, and Egypt. Colombia and Australia were added, as well.
Travel Impressions
Travel Impressions is now using the VAX VacationAccess booking portal by Trisept Solutions, after switching over this past fall, and they are working with agents to train them on how to maximize efficiency with the enhanced capabilities of the portal. This will be a big emphasis for 2019.
Travel Impressions is also adding Cuba tours with a targeted launch date of May 2019.
Additionally, Travel Impressions' LoyalTI First rewards program will be enhanced in 2019 with the addition of a LoyalTI First Virtual Mall and, eventually, integration with other ALG brands' loyalty programs.
United Vacations
United Vacations has added new nonstop service for SFO/PPT (Tahiti). It also introduced uncapped, flexible commission, allowing agents to set their own commission to be itemized or bundled into any package at their discretion. The Agency Seat Incentive will continue for 2019, as well.
Yankee Leisure Group
The group is the operator of three travel brands: Yankee Holidays, which offers American city packages; Amtrak Vacations, a branded rail vacation package product in partnership with Amtrak; and Railbookers, a service for booking European and international rail packages.
Railbookers has seen increased demand for pre- and post-river cruise options beyond the port cities, adding new rail excursions that extend the river cruise experience.
Amtrak Vacations, meanwhile, is producing new itineraries based on the demand of the customer, including "Grand National Parks with Yellowstone," "Yosemite and the Grand Canyon," and "Northern Rail Experience."