Favorable Winds Allow Bali Airport to Reopen After Mount Agung Eruption
by Richard D'Ambrosio /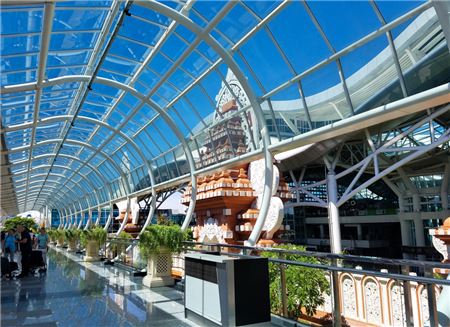 Airlines are scrambling to fly thousands of stranded passengers out of Bali as favorable winds are carrying ash away from the island's international airport, allowing authorities to reopen Ngurah Rai Bali International Airport for commercial passenger traffic.
Located about 40 miles southwest of the rumbling Mount Agung volcano, Denpasar's airport was reopened Wednesday morning, having been closed since Monday.
Approximately 430 domestic and international flights have been disrupted each day since Monday, and tens of thousands of air travelers have been stranded, trying to return home from vacations on the island paradise.
Singapore Airlines announced that it would operate one flight today from Singapore to Denpasar, and four outbound flights as well. The airline said that it and its SilkAir subsidiary "are currently seeking approval to operate additional flights out of Denpasar to cater to customers currently in Bali, who have been affected by flights that were canceled."
The carrier advised customers "to proceed to the airport three hours before their scheduled departure time."
Qantas Airways, which reportedly has 4,000 passengers stranded on the island, posted no updates on its website or social media feeds. However, a local Australian news station reported that Qantas planned to operate ten scheduled flights and six relief flights over the next 24 hours.
Other carriers, including Virgin Australia, were tentatively planning to renew service on Thursday. "Subject to a review of flying conditions tomorrow morning, Virgin Australia plans to operate recovery flights to help get our guests back to Australia if conditions are deemed to be safe," the carrier said on its website.
The airline, which has canceled six flights in and out of Bali for today, Wednesday, said it will make a safety assessment Thursday morning in conjunction with information from the Australian Volcanic Ash Advisory Centre.
Cathay Pacific said "flight operations are being assessed for possible resumption of Cathay Pacific flights on Thursday, 30 November," but is still listing its single flights today and Thursday as canceled. "As part of this assessment, we are doing our best to process flight rearrangements for passengers with canceled flights. However, we continue to urge passengers not to come to the airport without a confirmed booking."
Uncertainty throws future flight plans into disarray
While the news was welcomed by stranded passengers, confusion is expected to remain as airlines ramp up service after a two-day layoff. Also, changing weather conditions could cause future flight cancellations.
Tourists posting on various social media sites have recounted stories of sparse information from their airlines about their flight status, and little communication about compensation for temporary lodging. Some airlines, like low-cost carrier Scoot, have been assisting passengers in finding alternative transportation to other airports, including ferry transfers.
Airlines and local officials are hopeful they have at least a temporary window of opportunity to get tourists in and out of Indonesia's top destination. News reports quoted Bali's weather experts at the Denpasar airport saying winds currently are blowing north to southeast, toward the neighboring island of Lombok, a pattern that should remain for at least the next three days.
But on its website, Virgin Australia said, "As the volcanic activity remains unpredictable," its flights could be canceled at short notice.
"As the situation remains fluid and the alert for Mount Agung remains at the highest level, customers are advised to defer non-essential travel to Bali," Singapore Airlines said, offering passengers the opportunity to change plans for trips to Bali through the end of the week "to other Southeast Asia destinations," subject to seat availability.
Virgin Australia encouraged passengers "booked via travel agents or third parties to speak to their booking agent directly to ensure Virgin Australia has your mobile number, should we need to contact you in the event of any changes to your flight schedule. Guests with travel insurance are encouraged to check with their insurer about their individual circumstances."
Looking into next week, Virgin Australia announced that passengers with tickets for travel through Friday, Dec. 8, have the option of receiving a full travel credit, or changing their booking to the same destination on a different date for travel no later than 30 days from the original booking date.
Passengers would have to pay any difference in a higher fare on a future flight.
Meanwhile, the Indonesian government is stepping up its efforts to evacuate villagers near the volcano as experts believe Mount Agung is preparing to erupt. Indonesia's disaster mitigation agency estimates that about 43,000 people have taken shelter, but an estimated 90,000 to 100,000 island residents are still living in the zone.