Le Havre, France – The world's fourth largest cruise ship, and the first of 11 to come from MSC Cruises over the next decade, officially enters service this week.
The MSC Meraviglia started sailings from Le Havre, France, as a new kind of ship for MSC, one that uses niche products to appeal to a mass market of cruisers. "Our aim was not to build a big ship, it was to build a ship rich in offers, features and amenities," chief marketing officer Riccardo Casalino told TMR, combining hardware, technology and new partnerships into a new standard for MSC.
Here are some of the highlights:
Technology
Meraviglia's centerpiece is a 315-foot Mediterranean-style promenade that runs under the largest LED screen-ceiling at sea. The ceiling changes throughout the day; in the evening it offers a variety of light shows, and guests can use it to get personal with birthday messages or wedding proposals.

An LED light show on the ship's promenade.
The most useful feature onboard is the set of interactive touch screens near the elevators on each deck that allow guests to navigate around the ship, finding the locations and hours of restaurants, lounges, bars and shops and to see the daily cruise programs.
The new MSC for Me App, available at no cost to all guests, can be paired with the wearable ship ID, allowing parents to track their children and crew members to identify guests. It also offers updates on the daily program, directions to your stateroom, and opening and closing times of venues.
Dining options
Besides the main dining halls and the Marketplace Buffet, which is open 20 hours a day, there are five specialty restaurants onboard. All of them are located on the ship's fifth and sixth decks overlooking, or attached to, the promenade.
Butcher's Cut, a modern American steakhouse, serves cuts of meat with craft beers, American wines and cocktails.
Kaito Teppanyaki, a new concept for MSC, offers hibachi-style dining, and the Kaito Sushi Bar serves sushi, sashimi and tempura made to order.
Ristorante Italiano and Eataly Food Market offer authentic Italian food, including a Chef's Table option that includes a seven-course food and wine experience.

Eataly's Chef Table.
Casual options include the first chocolate atelier and creperie at sea on the promenade, a fresh Mozzarella production area in the Buffet, and a traditional English pub called The Brass Anchor.
The Flexi Dining Plan, new to MSC and starting on Meraviglia, gives guests more options that ever to decide how and when and with whom they eat with. The plan allows guests to choose a different time slot for dinner each day in the main dining room.
Or the Classic dining experience lets guests choose from two sittings each evening where they'll be served by the same wait staff with the same company.
Spa and fitness
MSC's Aurea Spa offers 19 different massages, 18 body treatments, 26 facials, a barbershop and a Jean Louis David hair salon with 23 different hair treatments. The most notable addition is a salt relax room, where cruisers can get a body treatment while lying in a bed of sand.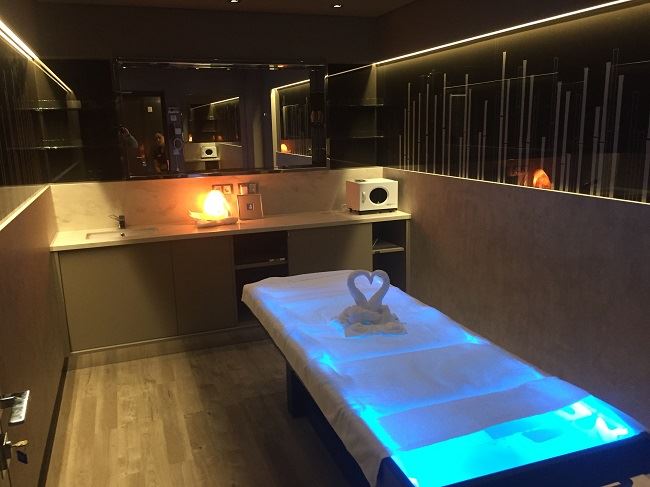 A shot from the Aureau Spa.
A power walking track wraps around the outside of deck 15, and a 6,000-square-foot weight room and gym, outfitted through a partnership with Technogym, has some of the most extensive offerings at sea, including free weights up to 70 kg., a squat rack and a full range of cardio equipment.
Fun and games
Besides the ship's seven different kids clubs and 10 different areas for dancing, there are bells and whistles to keep kids from 9 to 90 endlessly entertained.
On deck 15, guests can play in a full-sized, two-lane bowling alley, in one of the two F1 simulators, a full-sized indoor basketball court and two Star Wars flight simulators. But the standout might be the interactive 4D cinema that lets guests battle against zombies.
Outside, there are four pools and nine whirlpool baths, and an aquapark featuring three different waterslides, including a high-speed champagne flute. The Himalayan Bridge soars 269 feet above sea level.
Staterooms
In total, Meraviglia has 2,244 staterooms, 75% of them with balconies.
New features on Meraviglia include eight special duplex suites with private balconies and whirlpool baths, family modular connected staterooms that can accommodate up to 10 guests, and 55 staterooms specifically built for guests with mobility issues.
The ship also offers MSC's traditional services in the Yacht Club — 24-hour concierge service, private solarium and pool. But, for the first time, Yacht Club guests will have their own restaurant inside the Yacht Club.

Inside a Yatch Club balcony stateroom.
For more photos, head to Travel Market Report's Facebook page.