Gunman Kills at Least 50, Injures Hundreds More at Las Vegas Concert
by Daniel McCarthy /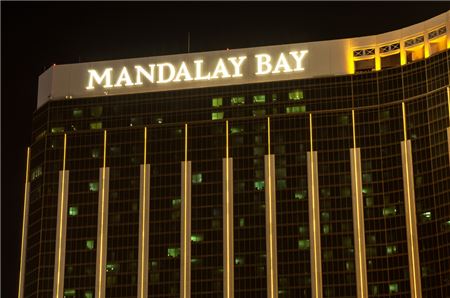 At least fifty people were killed and hundreds more injured in Las Vegas on Sunday night when a gunman opened fire into a concert crowd near the Las Vegas Strip.
According to police, the gunman, who has been identified as 64-year-old Stephen Paddock, opened fire from the balcony of a room on the 32nd floor of the Mandalay Bay Hotel and Casino.
Paddock fired the shots at 10 p.m. local time toward the 20,000-plus people gathered in the Las Vegas Village, an outdoor amphitheater across from Luxor Hotel & Casino and Mandalay Bay that was hosting day three of the Route 91 Harvest country music festival.
Police responding to the shooting found Paddock in his room at the Mandalay Bay, dead from an apparent self-inflicted gunshot wound. There is no word from police on motive.
The shooting is the deadliest mass shooting in U.S. history and the death toll is expected to rise.
While flights in and out of Las Vegas' McCarren Airport were temporarily stopped, the majority are now operating on time. Nearly two dozen flights headed for McCarren were diverted to other airports overnight. Travelers are urged to check flight status with their airline before heading to the airport.
Police have also reopened traffic on Las Vegas Boulevard and the I15 Freeway after initially closing them in the shooting's aftermath. Flamingo Road is open in both directions while Tropicana and Russell Road are still closed. The off ramps heading eastbound from Sahara Avenue to Russell Road are also still closed.
All hotels are open except for the Mandalay Bay.
Homeland Security spokesman David Lapan tweeted Monday morning: "[Homeland Security has] no information to indicate a specific credible threat involving other public venues in the country."