Headquarter Happenings: Virtuoso Travel Week Highlights Luxury's Lead in Travel's Recovery
by Daniel McCarthy /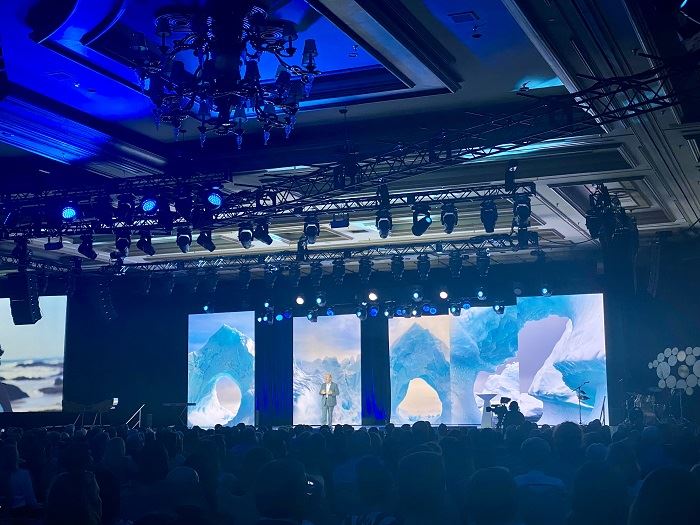 This week, over 5,000 people from 100 different countries attended Virtuoso's annual Travel Week at the Aria in Las Vegas, an in-person/online hybrid event that marks the annual gathering for the group.
This year's event, the 34th annual Travel Week, came at a time of increasing optimism in the recovery of the travel industry, with demand roaring back, and optimism for the travel advisor community at the highest level since pre-pandemic.
The latest update had Virtuoso at 20,000 advisors based in 50 countries, with more than 1,200 locations, over 2,200 preferred partners, and up to $30 billion in annual sales.
"During the pandemic, a lot of doors closed and, maybe, all doors closed for a little while," David Kolner, Virtuoso's senior vice president said during Travel Week's opening session on Sunday. "But I hope you can see the future is bright."
The Health of the Network
The industry's recovery, while well underway, has been uneven. But Virtuoso's place in the market, with advisors who cater to high-net-worth clients that typically travel in luxury, is outpacing other segments.
Virtuoso 2022 global sales from January to July are at 102% of 2019 levels. That includes a 139% increase in hotel sales that are coming, partly, because of soaring hotel prices, including a 59% increase in U.S. hotels over 2019, a 67% increase for international hotels, a 58% increase in luxury U.S. hotels, and a 55% increase in luxury international hotels.
For 2023, things "look to be good, record-breaking good," Kolner said. Sales are currently pacing 47% higher than the record-breaking levels they hit in 2019, meaning that "2023 could be the best year in travel yet," he added.
For comparison, Kolner added, the full recovery for the industry isn't expected to come until the second quarter of 2024. "Doors at Virtuoso are opening faster," he said, "part of that is due to high net worth clients," which Virtuoso attracts.
High-net-worth travelers bounced back ahead of the rest of the consumers and Virtuoso advisors, who cater to that population and have the expertise that allows for those kinds of relationships, benefited from that.
Advisors continue to book higher-spend trips than do-it-yourselfers (DIYers), and Virtuoso advisors take that one step further. The data showed that, in 2019, travelers who are advised spent 1.3xs more than the DIYers and Virtuos-advised travelers did 2.9x more.
Also, according to Virtuoso data, hotel booking windows are getting back to pre-pandemic levels, which is good news for hotels, but not so great for travelers who are now accustomed to traveling last minute.
Hotel pricing continues to climb, not just in the luxury sector but across levels of hotels. The average ADR of all U.S. hotels is up 59% compared to 2019 and is approaching an average of $1,000 per night. For international hotels, that number is up even further, 67%, and is above $1,100 dollars.
In terms of who is traveling, a lot of the trends that were created during the pandemic remain, including friend groups traveling in travel pods and couples traveling. Younger, more affluent travelers, a group that didn't have the same health concerns as older groups during the pandemic, continue to travel more than their older counterparts.
One thing that is different is the new trend toward solo travel, which is especially pronounced in the 65 and up age group (10% increase).
And for destinations, the United States remains on top of the list for summer travel followed by Italy, France, Canada, and Greece, and seven of the 10 top destinations for fall are in Europe.
New for Virtuoso in 2022
Virtuoso continues to make upgrades to its offerings for its members, and this year's upgrades are highlighted by a strengthened partnership with Virgin Galactic, the spaceflight company founded by Virgin Galactic.
Virtuoso now has an exclusive relationship with Virgin Galactic, available for all its advisors worldwide. Advisors have to complete a small amount of certification in order to get access to the product, but every single one of Virtuoso's 20,000 advisors is now able to sell one of the company's $450,000 seats on one of its future flights. Those advisors will have exclusive access to a limited number of reservations within Virgin Galactic's first 1,000 seats. Seats will sell at the standard price of $450,000.
The addition of Virgin Galactic, and other preferred partners this year, gives Virtuoso a portfolio of 2,200 luxury travel partners in 100 countries worldwide.
Also new for 2022 is a Preview Program for preferred partners across segments, from hotels to cruises to tours. How it works is that hotels that haven't opened yet or cruise ships that have yet to start sailing are able to position the hotel through the preview program, so advisors are able to start marketing and booking it with their clients.
"Everyone has the client who just has to do something first," said Kolner. "It's a great opportunity for advisors."
In October, Virtuoso will launch a new Hospitable Me Training that gives advisors an opportunity to train for diversity and inclusion, and to make it a priority both with its inside employee relations, and with its client outreach. Virtuoso will make the training available to all its advisors to attend. Kolner called it a "great opportunity to educate about this important market."
Virtuoso continues to upgrade its brand, working with its partners and member to keep its look updated, and has launched a redesign of Virtuoso the Magazine, which Kolner said "has been proven to drive sales" for members.
Refreshed for this year are Virtuoso's member email marketing campaigns. Kolner said the hallmark of those campaigns "has always been personalization and branding," and while that is not going away, the campaigns are getting a bit more modern look with more white space. The campaigns generally average two to four times the open rate as the industry average.
"Virtuoso marketing really does work we've seen it increases client spend by 30% higher than clients who don't use marketing," he said. "We offer all these tools at no extra cost."
New Global Campaign
While no dates have been announced, for the first time Virtuoso is in the process of putting together a consumer-focused campaign to help promote and spread awareness of its advisors. Helen McCabe-Young, the group's senior vice president of marketing, unveiled the campaign during the opening session of Virtuoso Travel Week.
"The stories we share help to bring us together. They connect us and unite us," she said.
The goal is to engage clients and find more high-net-worth travelers for clients. McCabe-Young called the campaign a "huge opportunity" for the network.
"For the first time ever we are going to launch a campaign to tell people just how amazing you are," she said.
Upchurch said that there are "no set plans" right now for media buys for the video campaign, but he did say it was a "very powerful campaign that leverages the Virtuoso brand." Even with continued success from its members, Upchurch said that the goal is to drive consumer awareness of Virtuoso advisors even higher.
"The overall consumer awareness of the entire competitive set is still very low," he said. "There is a massive amount of opportunity." The number one competitor that advisors face, he added, is the consumers that "literally don't know any better," and the campaign is designed to combat just that.
"What I love about this organization – our job is to put a spotlight on these guys. They've always been there – the true advisor has always been there," he said.
A Continued Lean Into Data
Virtuoso's growing focus on data began in December 2020, almost a year into the pandemic. Upchurch said this week that the group's COO Brad Bourland "realized that our first big major investment [post-pandemic] was in data."
Virtuoso had been focused on compiling data for a while with the thought that allowing advisors to get a birds-eye view of not only their own agency operations, but others in the network as well, would propel the whole group forward.
Upchurch mentioned three particular utilizations—product and tool design, knowledge for its partners, and then, again, knowledge for its members. The big update for 2022 is a shift to the cloud and an acceptance of outside data that will be in addition to what is already being compiled.