Help Wanted: Young Travel Agents to Sell Luxury Cruises
by Cheryl Rosen /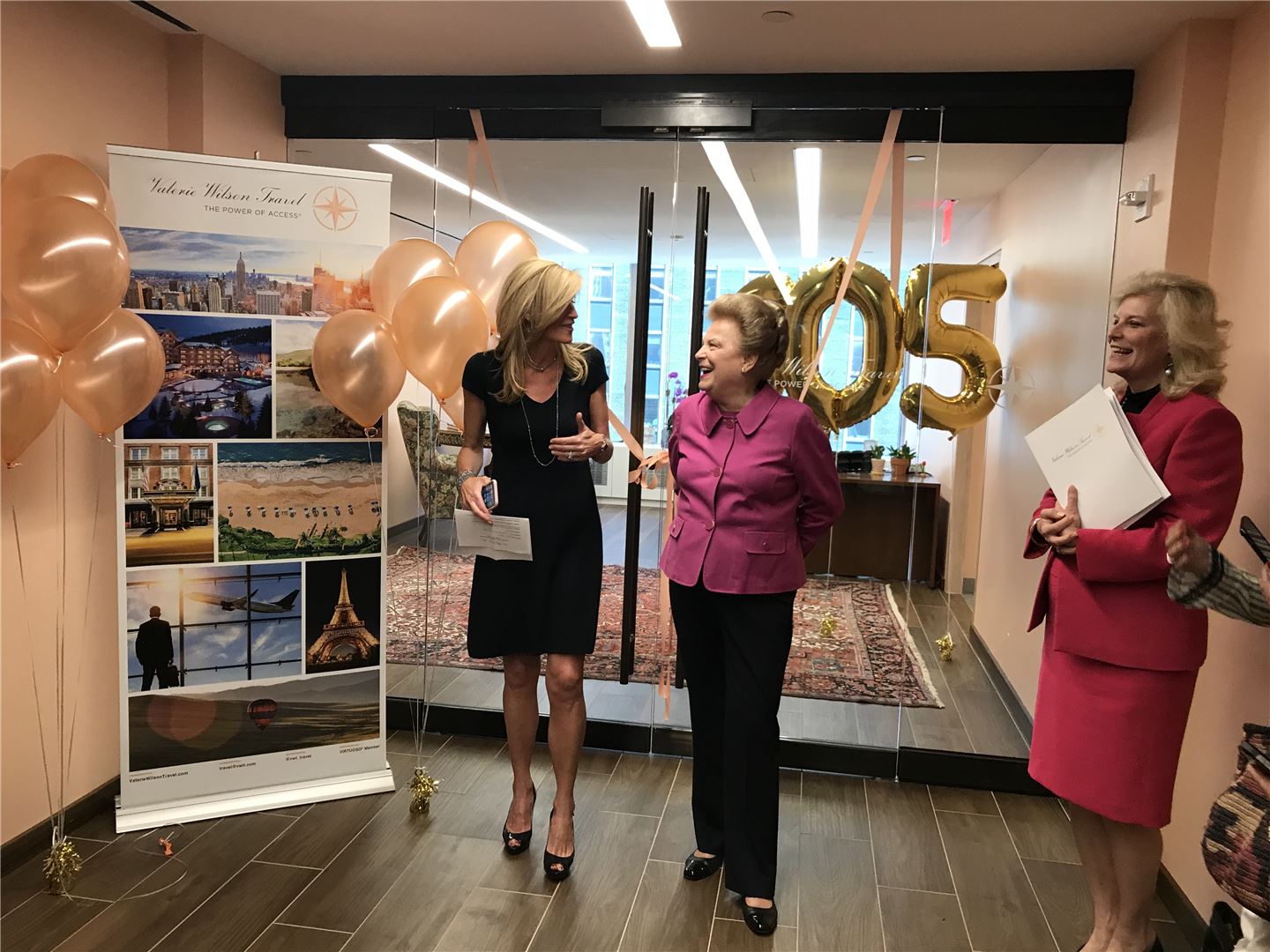 It's been a great year for the luxury sector of the travel industry so far, and a panel of suppliers from across its segments — air, hotel and cruise – agreed that business looks double-digit strong for the rest of the year and into 2019.
The Caribbean and Puerto Rico are slowly recovering; even the Middle East is showing signs of renewed life. Indeed, the biggest issue may well be finding enough young travel professionals to sell the vast numbers of new cruise berths coming into the market.
At yesterday's ribbon-cutting for Valerie Wilson Travel's new office in Manhattan, the heart was the vision of a mother-daughter travel agency that started because Valerie "couldn't find a travel agency that wanted my business." Today, the company's annual sales exceed $350 million. But the discussion was more about the present – and the future.
On Europe, Puerto Rico and Hawaii
On the panel, all agreed that business – at Abercrombie & Kent, Delta Air Lines, Marriott Luxury Brands, Regent Seven Seas, Uniworld, Silversea and Valerie Wilson itself – is booming. "Europe is back and people are ready to experience the beauty and the fun," said Uniworld's Kristian Anderson.
The Caribbean is on the rebound, the panelists said, though many customers are still confused about where last year's hurricanes caused damage and where they did not. Mark Conroy noted that with Silverseas' return to San Juan, Puerto Rico, "the guest experience was very positive." On an island that perhaps had become a little jaded in its interactions with American tourists, "people were shocked at how well the island was working and the warm welcome they got there. So we are pretty optimistic about Puerto Rico coming back."
Marriott, meanwhile, is "taking our time coming back in Puerto Rico," said Alexis Romer. While the properties there sustained little damage, "we are postponing reopening until October; we took a pass on this season while our teams concentrate on working to help get the infrastructure of the island ready for next season. We are approaching coming back as a relaunch, taking our time and doing it carefully and thoughtfully."
That's likely the same approach Marriott will take on the big Island of Hawaii, Romer said. "I suspect the same thing will happen in Hawaii, where our teams onsite now are engaged in making sure the employees and community are taken care of."
So, what's hot for now?
So, where is the luxury market headed next? "To me, the most exciting news is that Egypt is coming back," said A&K's Marett Taylor. "It was great wisdom that we hung on, so when it came back, we were ready to embrace it."
Uniworld's Anderson "echoed that" for its Nile cruises, and said Southeast Asia also is hot. Delta's Chuck Imhof said it's new service to the Azores is a surprising hit as well; "all of a sudden overnight we are seeing influencers; I think it's the next Iceland." Silverseas' Conroy said, "Turkey is coming back, too."
Tips for growing your travel agency
With all the business, all the new ships, all the Baby Boomers retiring and inheriting money and taking their families on vacation, the biggest issue may well be finding new young agents and independent contractors interested in selling not just travel, in general, but cruise and luxury travel, in particular.
"So many of the advisors who are so loyal to the cruise space are about to retire," said Kimberly Wilson Wetty, and newcomers tend to want to sell luxury FIT and hotels. "How do we find the next generation that we can mentor? As an industry, we have to find a stronger way to get younger people involved and committed to this."
Still, it's likely Valerie Wilson Travel will find a way. For other mother-daughter luxury travel-agency teams, Jennifer Wilson Buttegieg, who teaches courses in growing family businesses at Cornell University, offered up the following tips that really apply to any travel agency:
1. The family comes first and the business second. When you are together as a family, don't talk business.
2. Remember you are a for-profit business. Always look at decisions through the viewpoint of your stakeholders: Would the world be a better place without you? Are your vendors better off? Your employees? Your customers?
3. Separate your roles and responsibilities and mind the line between them.
4. Never say no to a luxury client. "I will solve it; I will change it; I will get it done," is the motto. And yes, that means being available 24 hours a day. "Clients aren't waiting until they get back to text us that the general manager was not as welcoming as usual; they aren't even waiting until they unpack."
5. When it comes to technology, "try fast, fail fast, move on. These aren't GDSs any more."
6. Always have a smile on your face when talking to a customer. It shows through the phone.