Toronto – Cruise executives from all corners of the industry came together at Travel MarketPlace last week to talk about industry trends and offer up tips on how to grow sales.
Here are just a few of the ideas they discussed on a panel moderated by TMR's Anne Marie Moebes.
Narrow your focus.
More than 400 cruise ships came online in 2016 and another 26 new ocean, river and specialty ships will debut this year. Even the most experienced agents will have trouble keeping up with all the options — and for newer agents, it's likely to be a little overwhelming.
"At the end of the day, people sell all kinds of different travel experiences and cruises are just one of those," said Dana Gain, Norwegian Cruise Line's director of sales for Canada.
The solution for most agents, particularly those new to the industry, is to start small, the panel suggested.
"We talk about a five-by-five focus – pick five suppliers with five products and put your focus on them," said AmaWaterways vice president of strategic alliances Brenda Kyllo. That knowledge will give you a good base from which to grow your own database of cruise information.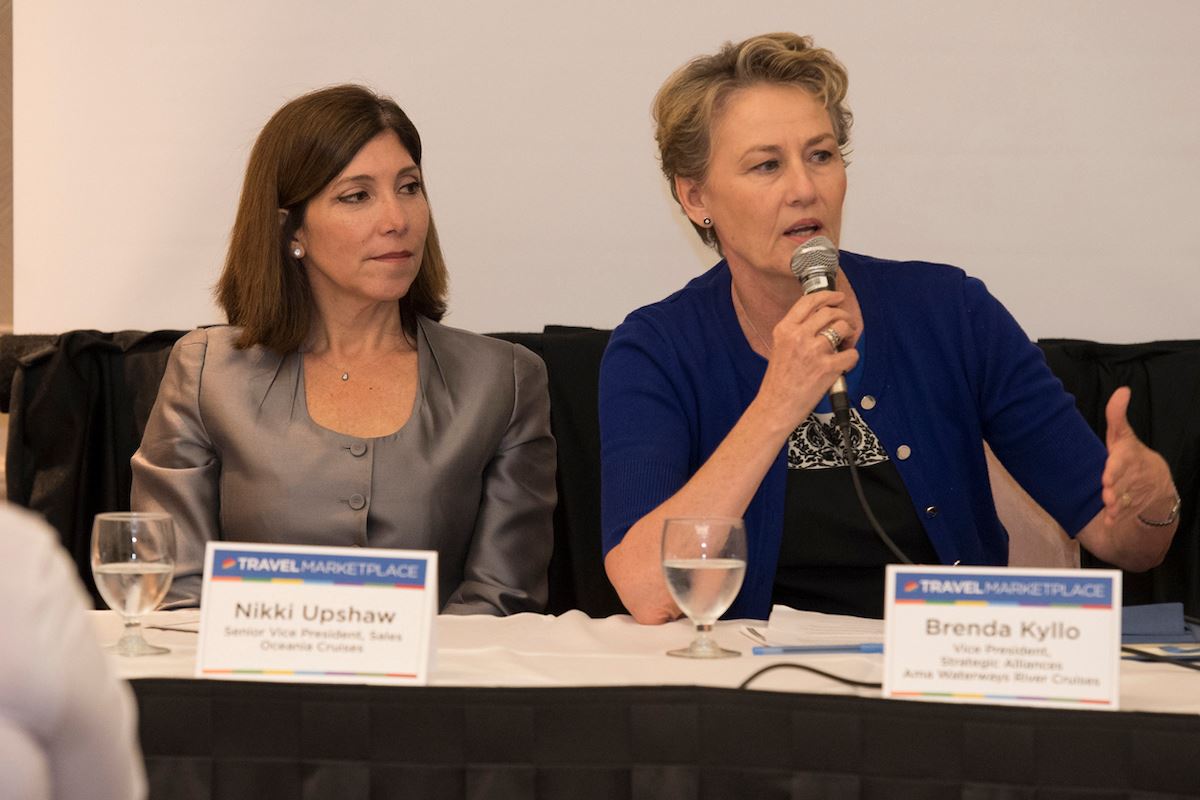 Kyllo and Upshaw.
Find those first-timers.
Sure repeat customers are the easiest to get. But the real opportunity lies is courting the first-time cruiser. In a recent CLIA study, nearly half of the non-cruising population expressed interest in taking a cruise in the future.
"It's a very special kind of customer that will say to you, 'I'm ready to jump off that cliff and try to cruise.' It falls to you to ingratiate the phrase, 'Have you ever considered a cruise?' " Gain said.
And don't make the mistake of thinking new cruisers are interested only in the low end of the market. "There was this concept about someone starting out with contemporary brands and moving up the chain," said Oceania Cruises senior vice president of sales Nikki Upshaw. "What I would suggest to each one of you is that first-time cruisers start at every level."
For agents, it all comes down to getting to know the client and the industry well enough to make a proper match.
"When someone is typically staying in a Four Seasons or Ritz-Carlton-style resort, I would suggest that you mentioning a cruise brand commensurate to their general travel experience," Upshaw said.
Sell the destination, not the ship.
While a ship can sometimes be what gets a client excited, more often what guests really want is "to be immersed in the destination," said Jo Lynch, Viking River Cruise district sales manager for eastern Canada. And while the typical cruise shore excursion satisfies a lot of guests, look for more intimate experiences that will offer a better guest experience – and better commissions to boot.

Lynch.
"They want hands-on experiences…and they don't mind paying for them," she said.
For many of today's customers, it's not about the hardware on the ship, but the scenery outside; they look at a cruise as a tour vacation where they only have to unpack once. For such a customer, showcase lines that spend more time in port and less time at sea.
Think of the long term.
"What's important is the listening and understanding," said Lisa Connell, Royal Caribbean International's director of sales for Canada, so look beyond the price and instead find ways to meet your customers' overall vacation goals. Just as you look at a five-year plan for your business, "do the same thing with your client," she said.

Lisa Connell.
Ask clients where they want to go and what their dreams are, and then planning accordingly. Even the most lofty vacation dreams can be achieved with the right amount of planning.