Hurricane Fiona Makes Landfall in Puerto Rico, Now Headed Towards Dominican Republic
by Daniel McCarthy /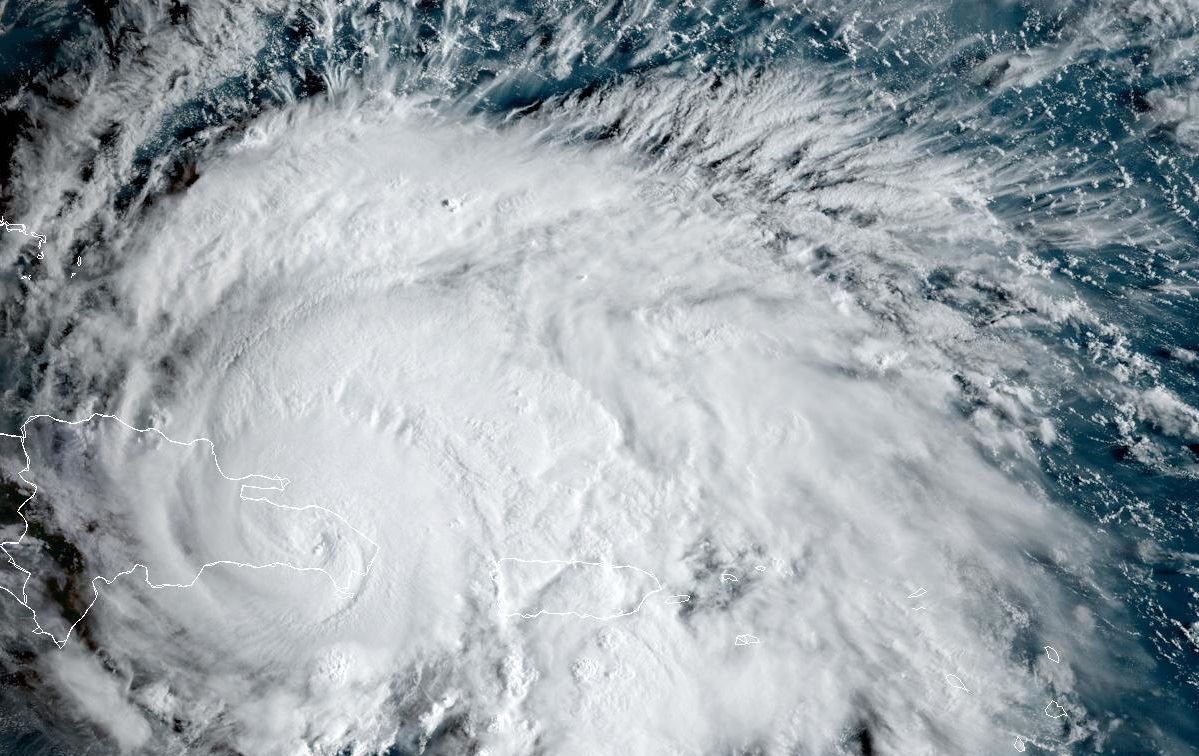 Five years since Hurricane Maria caused 3,000 deaths on the island, Puerto Rico is dealing with another major Hurricane.
On Sunday, Hurricane Fiona made landfall in Puerto Rico, bringing with it winds of 85 mph and rainfall of up to 25 inches in some areas. The storm reached Puerto Rico just after 3 p.m. on Sunday afternoon and, shortly after, the whole island lost power. Power is not expected to be restored for at least a few days, according to LUMA, the private company that is tasked with distributing electricity in Puerto Rico.
Speaking on Sunday, Puerto Rico Governor Pedro Pierluisi called the damage "catastrophic," with landslides and flooding adding to the high winds and power outages across the island.
On Sunday night, the National Weather Service (NWS) said the storm was moving "just west of Puerto Rico and heading for the Eastern Dominican Republic…causing catastrophic flooding." By the time that warning was issued, the Bahamas government had already issued a Tropical Storm Warning for Turks and Caicos and the Southeast Bahamas, including the Acklins, Crooked Island, Long Cay, the Inaguas, Mayaguana, and the Ragged Islands.
As of Monday morning at 5 a.m., the NWS said that the Hurricane was now about 15 miles west-southwest of Punta Cana, bringing with it winds of up to 90 mph. Fiona was still causing heavy rainfall and "catastrophic flooding" across much of Puerto Rico and hurricane conditions across portions of the Dominican Republic.
The NWS is forecasting that Fiona will move over the eastern portion of the Dominican Republic on Monday morning before passing near or to the east of Turks and Caicos on Tuesday.
Travel Impact
Hurricane Fiona had a significant impact on travel in Puerto Rico. On Sunday, according to Discover Puerto Rico, all flights in and out of Luis Muñoz Marín Airport in San Juan were canceled. Travelers are encouraged to avoid that airport until the storm passes, and to check their flight status before heading to the airport.
"Visitors currently in Puerto Rico or with upcoming travel plans should contact their travel providers, hotels, and local businesses directly to inquire about changes in operations," Discover Puerto Rico wrote.
Other airports in the area are still operating, including the Robert L Bradshaw International Airport in St. Kitts, which is back open and operating at full capacity as of Saturday.
Some airlines had proactively issued waivers for those traveling through airports in the storm's path.
Delta Airlines issued a travel waiver, effective through Sept. 20, for St. Maarten (SXM), Luis Muñoz Marín Airport (SJU), St. Croix (STX) and St. Thomas (STT).
American Airlines did the same for travel through Sept. 19 for those same airports plus Anguilla Wallblake, Antigua, Providenciales, Puerto Plata, Punta Cana, Santiago, Santo Domingo, and St. Kitts.
United Airlines had issued its own waiver for travel through Sept. 19 for Aguadilla, Antigua, Puerto Plata, Punta Cana, San Juan, Santiago, Santo Domingo, St. Maarten, and St. Thomas.
JetBlue issued its own waivers for Nassau, Providenciales, Aguidilla, Ponce, San Juan, Puerto Plata, Punta Cana, Santiago, and Santo Domingo.