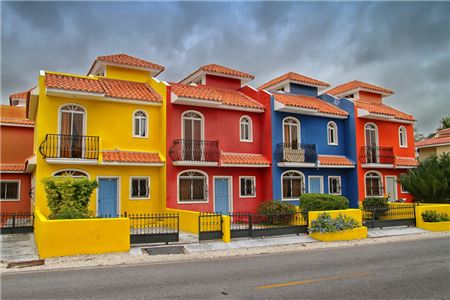 After devastating Puerto Rico and St. Croix, Hurricane Maria made its way to the Dominican Republic Thursday, bringing winds near 115 mph and heavy rain to the Caribbean nation.
Maria severely damaged St. Croix, which was being used as a resource for residents of St. Thomas and St. John, both of which were devastated by Hurricane Irma.
The U.S. Virgin Islands Department of Tourism is urging travelers to postpone their trips while authorities assess the effects of Hurricane Maria on St. Croix and direct recovery from the damage to St. Thomas and St. John from Hurricane Irma.
Forecasters say the storm may continue to intensify within 24 hours. It is next expected to approach Turks & Caicos and the Bahamas Thursday night into Friday morning.
Dominican Republic resorts prepare
AMResorts, an all-inclusive chain which operates 14 resorts in the Dominican Republic, said it was taking a precautionary measure and relocating guests to either on-site shelters or other properties in the area to withstand the storm. Guests at the Zoetry Agua Punta Cana, for example, are being relocated to Dreams La Romana Resort & Spa. The company also said it is waiving cancellation fees.
Grand Palladium Punta Cana Resort & Spa said guests located near the beach will be relocated and it closed the beach Thursday.
Guests staying at Nickelodeon Hotels & Resorts Punta Cana are being evacuated Thursday, Sept. 20th, to hotels in other parts of the Dominican Republic.
Excellence El Carmen said cancellation penalties for arrivals from Monday, Sept. 18 through the 22nd will be waived. Excellence Group will also provide special distress rate for guests that are forced to extend their stay due to canceled flights.
Club Med Punta Cana is currently under a hurricane warning. The company said Club Med Turkoise in Turks & Caicos and Club Med Columbus Isle in the Bahamas "are currently closed, but preparations have been finalized to secure the resorts and the staff who remains on property."
The Renaissance St. Croix Carambola Beach Resort & Spa said it was currently closed due to Hurricane Maria.
Cruise lines make more changes
Aside from the changes already made earlier in the week, Maria is still causing major problems for cruise lines sailing in the Caribbean.
Carnival Cruise Line announced more changes yesterday.
Carnival Ecstasy will no longer visit Princess Cays and Freeport on its Sept. 20 sailing, instead calling at Nassau. Carnival Splendor's Sept. 23 sailing will now visit Cozumel, Belize, Mahogany Bay, and Grand Cayman. Its Sept. 30 sailing is now scheduled to call at Princess Cays, Ocho Rios, Grand Cayman, and Cozumel.
Vista's Sept. 23 sailing will no longer call on Grand Turk while Conquest's Sept. 24 sailing will call at Grand Cayman and Cozumel instead of Amber Cove and Grand Turk.
Pride's Sept. 24 and Oct. 1 sailing will skip Grand Turk for Nassau while Sensation's Sept. 30 sailing will also skip Grand Turk for Nassau.
Royal Caribbean also announced new changes on Wednesday, in addition to changes to Allure and Adventure's itineraries announced earlier.
Enchantment of the Seas will now skip Key West on its current sailing along with sailings scheduled for Sept. 25 and Oct. 1 and 9.
Harmony of the Seas will skip St. Thomas on its Sept. 23 and Oct. 7 sailings, instead stopping at St. Kitts.