What better spokesman could there be for the new Jimmy Fallon ride at Universal Orlando than Jimmy Fallon himself?
Jimmy turned up in person last night at a reception for members of the travel press to showcase the new ride and Universal Orlando Resort's new water theme park, Volcano Bay, coming in April and May, respectively.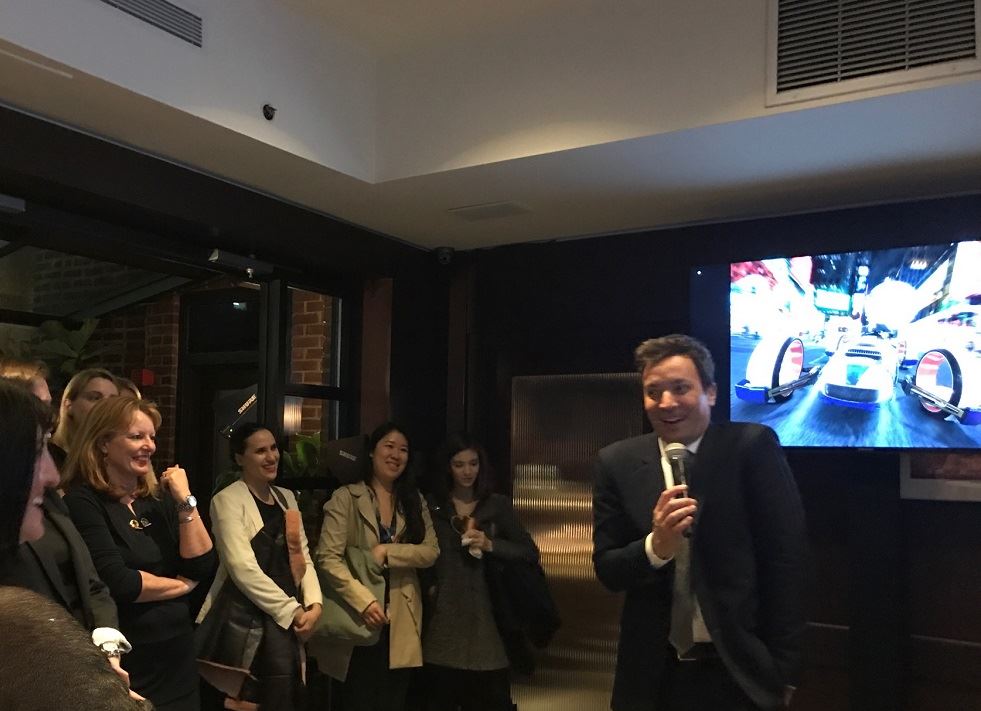 Fallon at the reception for members of the travel press. Photo: Cheryl Rosen
Fallon's high-energy charm was perfect for describing the details of "Race Through New York Starring Jimmy Fallon," which he described as "the best ride I've ever been on in my life…as colorful and electric as the city itself."
From start to finish, the ride will be a unique experience for theme parks in many ways. It will be indoors, and so not affected by the weather. It will have no lines, as guests will be assigned "tickets" with set times, as though they were in Fallon's audience at 30 Rock. And it will be rooted in the Tonight Show experience, full of the history and memorabilia that are part of the American experience, said Universal's creative director Jason Sorrell.
Fallon said he first pitched the idea of a ride years ago, and made a formal presentation to Universal executives at "the first videoconference I ever attended. They said, 'Uh, no.' " But once his Late Show took off, they called him back and got down to, well, the business of creating fun.
The entrance to the ride, at which guests are advised to show up 20-30 minutes in advance of their reserved time, is all about the Tonight Show, with clips and memorabilia from past hosts. Getting closer, the second floor "is a total party," Fallon said, with Fallon's Tonight Show's shtick from dancing bears to thank-you notes guests can write to music by The Roots.
"You won't believe how amazing it is," Fallon said. "You put on 3-D glasses and the curtain waves and it's like you're in the audience of my show, and then your seat starts to rumble and you feel like you are racing me down the hallway and we break through the wall and we're on the streets of New York."
The "ride" takes racers down into the subway and under the East River, to the Empire State Building and finally to the moon. There's the smell of pizza, the music of The Roots, fireworks over the Statue of Liberty.
And there was even a nod to travel agents. "Of course I use a travel agent. Travel agents get you the best rooms and the best rates," Jimmy said when asked by TMR. "I was friends with a travel agent growing up in Saugerties, NY; I've used a travel agent my whole life. I don't even know how to book my own trip."
"Race Through New York Starring Jimmy Fallon" opens April 6. Fallon will be in Orlando that whole week, broadcasting live.