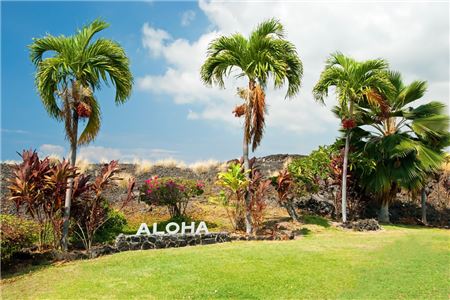 Looking to quell travelers' concerns, the Hawaii Tourism Authority is assuring the public that the impact from the recent volcanic eruption on the Big Island is "limited to a remote region on the east side, far away from the rest of the Hawaiian Islands."
Kilauea, an active volcano on the Big Island, erupted on May 3, causing nearly 2,000 residents to evacuate. A magnitude 6.9 earthquake was also recorded on May 4 and aftershocks from the eruption are ongoing.
"We have heard from people around the world concerned about Hawaii's welfare and want to reassure everyone that this is limited to a remote region on the slopes of Kilauea Volcano. Everywhere else in the Hawaiian Islands is not affected," Hawaii Gov. David Ige said.
Still, some travel companies are making changes in light of the eruptions.
Hotels and resorts
Many of the island's popular resorts are on the west side of the island in Kona and the Kohala Coast, about 100 miles away from the volcanic activity. The Hilton Waikoloa Village, Fairmont Orchid, and Waikoloa Beach Marriott, for example, are all out of the zone of seismic activity and are operating as usual. Resort areas located on Oahu and Kauai, and in Maui County are located hundreds of miles from Kilauea Volcano.
Cruise line changes
As of Tuesday morning, only Royal Caribbean has altered sailings to avoid Hilo because of the eruptions at the Kilauea volcano. Royal's Radiance of the Seas will skip its scheduled stop in Hilo on Tuesday, instead spending a day at sea.
Other lines that are scheduled to stop in Hilo over the next week, including Norwegian Cruise Line's Pride of America, have yet to make any changes. Cruise ships going into Hilo dock at Kuhio Bay, about 20 miles from Leilani Estates.
Flights in and out
Flights are still operating regularly out of Hilo Airport and Kona Airport with no reported delays or cancellations due to the eruptions.
"No flights into airports anywhere in Hawaii are being impacted by Kilauea Volcano, and the area where the lava is coming to the surface is very far from resort areas throughout the Hawaiian Islands where visitor accommodations are located," George D. Szigeti, president and CEO of the Hawaii Tourism Authority said.
Still, airlines operating out of those two airports released fee change waivers due to the situation over the weekend.
Hawaiian Airlines is giving all passengers holding tickets for flights to and from Hilo (ITO) and Kona (KOA) airports between May 3-13, a one-time fee waiver on tickets. Tickets are only eligible if they were issued on or before May 4. Changes must be made no later than May 20. Japan Airlines began a codesharing partnership with Hawaiian Airlines in March.
American Airlines, which has a codeshare agreement with Hawaiian Airlines, is also offering a change fee waiver for flights to and from Hilo and Kona. All tickets must have been purchased by May 5 with travel scheduled until May 13.
United Airlines is offering a fee waiver, also for Hilo and Kona airports. Those with United tickets from those airports between May 4 and May 13 must rebook for new flights departing on or before May 16.
Limited access at parks
After closing for two days, the Hawaii Volcanoes National Park partially reopened Sunday at 3 p.m.
"Our primary objective is the safety of employees, park partners and visitors," said Park Superintendent Cindy Orlando. "The limited opening allows us to respond to new volcanic and seismic events should they occur and the closures that remain are necessary to keep people out of dangerous and unassessed areas. Visitors should expect changing conditions and be prepared for unannounced closures."
The Crater Rim Trail is open from Kilauea Overlook to Jaggar Museum, The Entrance Station to the 1969 lava flow near Mauna Ulu, Mauna Ulu to Pu'uhuluhulu (Napau Trail is closed past Pu'uhuluhulu), and the Sulphur Banks Trail is open.
But most trails — Nahuku (Thurston Lava Tube), Kilauea Iki, Devastation Trail and Pu'u Pua'i and Chain of Craters Road past Mauna Ulu — will remain closed.