Guide Details Vegas Health & Wellness Travel Options
The Las Vegas Convention and Visitors Authority has produced a 176-page Las Vegas Health and Wellness Destination Guide, in cooperation with the Medical Tourism Association. The guide contains information on medical and dental treatments, cosmetic procedures, corporate wellness programs and retirement living in Las Vegas and southern Nevada. Also included are a directory of medical facilities and travel information.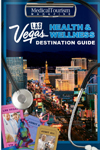 Las Vegas Mayor Carolyn Goodman, in her introduction to the guide, stated that the recent opening of the Cleveland Clinic's Lou Ruvo Center for Brain Health "has put [Las Vegas] on the map as a premier medical travel destination."

A Thai Guide, Too
Another health and wellness travel guide, this one to Thailand, has been produced by the Tourism Authority of Thailand (TAT) in collaboration with MasterCard. "Healing Harmony, a Guide to Health & Wellness Holidays in Thailand," available in English and Arabic, is aimed at foreign tourists interested in health and wellness tourism in Thailand.

Thailand's guide provides information on health and wellness travel facilities and services in Bangkok, Pattaya, Phuket, Koh Samui, Chiang Mai, Hua Hin, Koh Chang and Chiang Rai.

Healing Harmony also outlines more than 50 "special privileges" available to MasterCard cardholders who take advantage of Thailand's healthcare and wellness services in selected hospitals, clinics and spas. The guide will be distributed at trade fairs and at the tourism authority's events. It is also available for purchase, in hard copy and e-book, at Amazon.com and other bookstores.

No 'Top 10' for This Expert
A medical tourism researcher and writer has lambasted attempts to rank medical travel destinations, calling the concept of such rankings "laughable."

"What are the top 10 medical tourism destinations for 2012? Who knows? We can't compare destinations on numbers, because they not available, not valid or not comparable. We can't compare destinations on other factors, because they are irrelevant or not comparable," Ian Youngman wrote recently in the International Medical Travel Journal.
 
Youngman's comments are an apparent reference to a Medical Travel Index released recently by the research arm of The Economist magazine. The index ranked destinations with the most medical travel potential.

"The whole concept of 'top 10 medical tourism destinations' is not only laughable, but the way that many countries are promoted is out of date and assumes that the customer is a fool."

The Medical Travel Index was contained in report titled Traveling for Health: The Potential for Medical Tourism. (See related story: "France Tops Medical Travel, Survey Says," Travel Market Report, Nov. 7, 2011.)

Med Travel Could Fuel State's Economic Development
A recent study commissioned by Nevada recommended that the state leverage its medical/health sector to take advantage of opportunities in executive care and medical tourism. The study, by Brookings/SRS, urged Nevada to incorporate niche tourism markets, such as health and wellness travel, as part of its new economic development plan.