Life on the Irrawaddy: 10 Highlights of an Avalon Myanmar Cruise
by James Shillinglaw /
These days the "buzz" word for travelers, especially in the upscale market, is "experience." They want to discover something that is authentic, local, outside their normal lives, and even "unique," to use an overused word. And travel products that can truly deliver such an "experience" are valued over all others.
I was lucky enough to have a number of such "experiences" a couple of months ago aboard the Avalon Myanmar, one of newest cruise vessels on the Irrawaddy River in Myanmar. Since Myanmar, formerly known as Burma, was reopened to major tourism in 2012, river-cruise companies have been rushing into the market, including AmaWaterways, Avalon Waterways, and Viking River Cruises, among others.
It is indeed an exciting time to be in Myanmar, which has been ruled on and off by a military dictatorship for more than 60 years, but in March is poised to hand over control to a democratically elected government. Indeed, we talked about the changeover aboard Avalon Myanmar with our cruise director and local guide, and as we sailed we watched movies about the military repression and life of Aung San Suu Kyi, the famed leader of the democracy movement.
But a river cruise on the Irrawaddy is about much more than just current politics. It's about experiencing culture, religion, people, scenic villages, spectacular monuments, and more.
We sailed on the 36-passenger Avalon Myanmar, which with just 18 cabins has a much lower draft than other vessels on the Irrawaddy. The boat was remarkably spacious with large rooms, picture windows that opened up into in-room balconies, and full-size bathrooms with large walk-in showers. There's also a main lounge, where we gathered every evening before dinner, a dining room, two small massage rooms, and a small fitness room. Large outdoor decks in the bow and the stern have plenty of deck chairs where you can take in the river scenery.
Here are 10 great "experiences" you can highlight for your customers on Avalon's northbound 14-day "Gold Myanmar and the Alluring Irrawaddy" aboard the Avalon Myanmar:
1. A sunset visit in Yangon, Myanmar's capital, to the giant golden Shwedagon Pagoda, the country's most significant religious site, where you can see literally hundreds of Buddha shrines.

The giant golden Shwedagon Pagoda in Yangon is Myanmar's most significant religious site.

2. A walking tour of Kyun Daw, a farming village located on an island in the northern Irrawaddy, where you can visit an elementary school to interact with the kids and then pay a call at a Buddhist nunnery to present the nuns with food.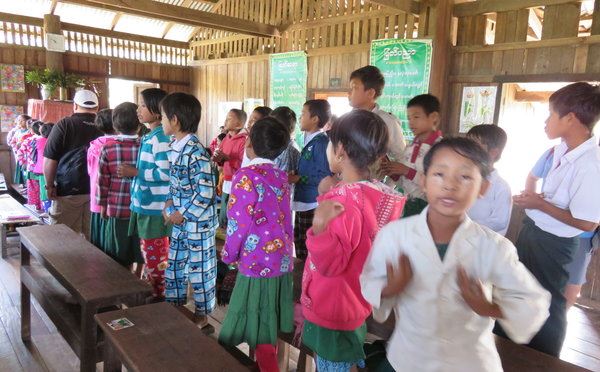 A tour of Kyun Daw, a farming village located on an island in the northern Irrawaddy, includes a visit to elementary school to interact with the kids.
3. A cruise down the Irrawaddy through the second defile, a series of cliffs surrounding a narrow channel, perhaps the most striking and scenic part of the river.
4. A visit to Katha, another small village on the river, where you can tour a primitive local market and then take a bus out to a local teakwood farm to feed bananas to the elephants used to work the camp and then ride them afterwards.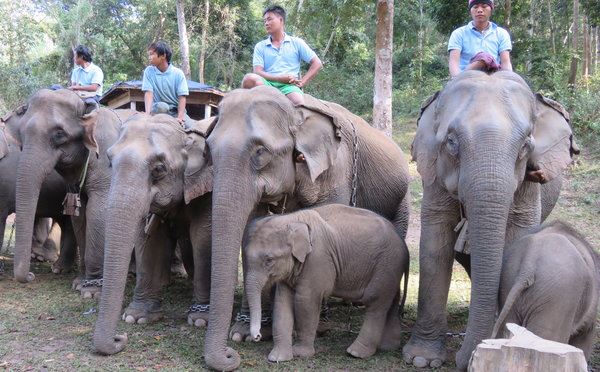 A visit to Katha includes interaction with elephants used to work a teakwood camp in the nearby mountains.
5. A visit to a local Buddhist monastery at Kya Hnyat, another small town on the river, to interact with the monks and offer them food for their daily lunch.
6. A walking tour of the village of Kyauk Myaung, where you can see how they make giant Ali Baba jars and other clay pottery in huge kilns located around the town.
7. A visit to a gold-leaf workshop in Mandalay to see how gold is prepared so it can adorn the great Buddhist shrine at the Mahamuni Pagoda, where you can make your own golden offering to Buddha.
8. A sampan ride at sunset to take photos of the famed U Bein Bridge, a three-quarter-mile rickety teakwood structure original built in 1783.
9. A tour of Shwe Phi Thar, another farming village on the river, to visit a home, play with the kids, and see how locals make palm candy from the sap of the toddy palm.
10. A sunrise visit to a pagoda in Bagan to see some of the more than 2,300 pagodas, temples, and monasteries in the surrounding plain. This is matched later by a sunset visit to another pagoda to get a similar view in a very different light.



Yangon features sunrise and sunset views of the iconic pagodas and other Buddhist monuments on the surrounding plains.