MSC Cruises Adds to Expansion Plan, Orders Two New Seaside EVO Ships
by Daniel McCarthy /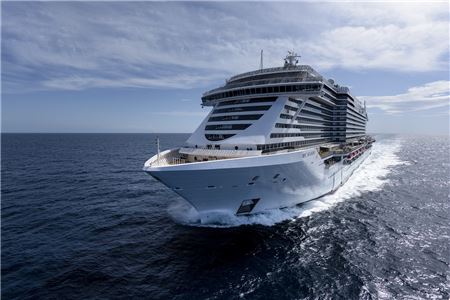 MSC Cruises has added more new builds to its expansion plan, as the line announced on Wednesday that it has ordered two new Seaside EVO-class ships to be delivered in 2021 and 2023.
The first Seaside EVO ship will replace a third Seaside Class ship that was originally ordered by MSC. The other ship will be in addition to the 11 already set to debut from MSC over the next decade. This means that, over the next ten years, MSC will introduce at least one new ship into service each year, an expansion that started with MSC Meraviglia's debut last summer.
A rendering of the new Seaside EVO class ship.
Both of the Seaside EVO ships will have a gross tonnage of 169,380 and length of 1,060 feet. (MSC Meraviglia, by comparison, debuted last summer at 171,598 gross tons and 1,033 feet in length). Each will be able to carry up to 5,646 passengers, over 500 more than MSC Seaside and over 1,000 more than MSC Meraviglia.
All of the Seaside EVO ships will enter service with more cabins, greater dimensions, a larger Yacht Club, and MSC's all-inclusive concierge-level accommodations, than previous new builds.
The cruise line made the announcement the same day it took delivery of MSC Seaside, its new flagship that will debut in Miami next month. MSC welcomed the new ship during a ceremony in Monfalcone, Italy, with the president of the Italian Republic, Graziano Delrio, on hand to mark the occasion.
"MSC Seaside coming into service marks another key milestone in the history and future of our company, but she also embodies a pivotal moment for the industry," Executive Chairman Pierfrancesco Vago said in a statement.
"With two of the more innovative new ships in the industry having come into service in the past six months, and now with the addition of two Seaside EVO ships to our investment plan, we are now even better positioned to further extend our global footprint," he added.
Seaside will debut with seven new Broadway-style shows, a new eatery called Asian Market Kitchen born from a partnership with Roy Yamaguchi, and more.
When it enters service, Seaside will homeport in Miami and sail roundtrip Caribbean itineraries. It will have a maximum capacity of 5,179 guests, and has been specifically designed for warm weather, with a high ratio of outdoor space, a 360-degree ocean-level promenade, a 98-foot bridge on the top deck, and balconies on almost 75 percent of staterooms.