MSC Cruises and Roy Yamaguchi Showcase Dining on New MSC Seaside
by Daniel McCarthy /

When MSC debuts Seaside in Miami later this year, it will be the first in MSC's Seaside class of vessels, and the first to include a project born out of a partnership between MSC and celebrity chef Roy Yamaguchi.
Seaside will offer Yamaguchi's brand new three-restaurant-in-one concept — Asian Market Kitchen by Roy Yamaguchi — which will feature an à la carte restaurant serving gourmet Asian creations, a Sushi Bar, and an area with Teppanyaki Grills.
"I've done a lot of restaurants on land and it was always my dream to do one on a ship," Yamaguchi said at a preview of Asian Market Kitchen in New York this week.

Yamaguchi cooking in New York this week.
What made the opportunity even more special for Yamaguchi, founder of Roy's Restaurant and former PBS host, was the chance to be a part of a project from inception to completion.
Yamaguchi was first approached by MSC more than two-and-a-half years ago, and through the process of putting together the restaurant, he was able to add his input every step of the way, from the design to the music to the menu.
"99 percent of the chefs who have restaurants onboard usually get asked to take something over and they don't have a chance to design something," Yamaguchi said. "This was an opportunity to build it from the ground up."
Signature dishes, desserts and drinks
In total, the menu at Asian Market Kitchen will feature 35 different items.
Some of the chef's signature dishes, including entrees like butterfish and rack of lamb, will be included on the menu, as will dishes that MSC previewed in New York this week — watermelon poke, pork dumplings, lobster fried rice, Japanese poke with yellowfin tuna, and more.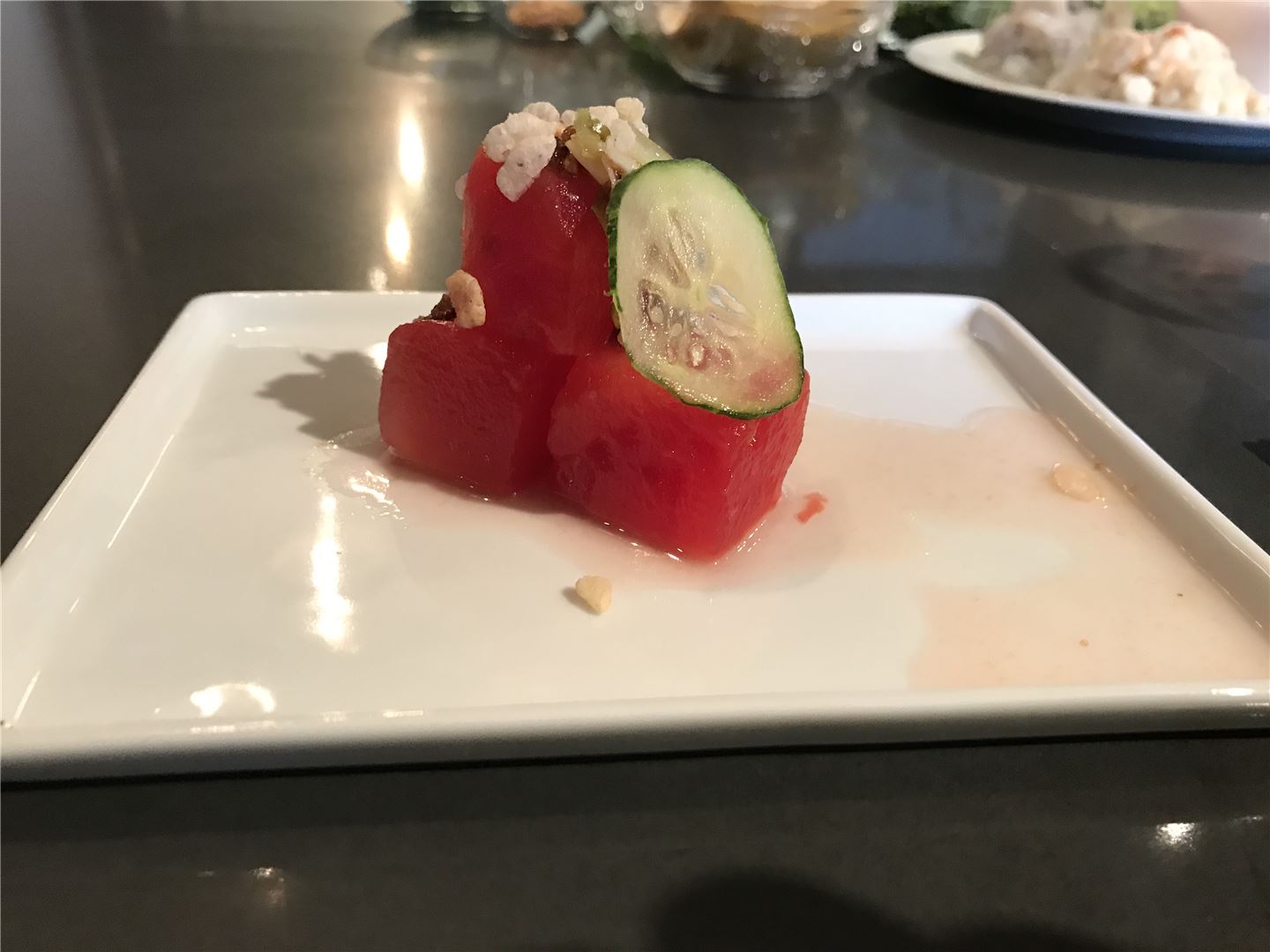 Watermelon Poke.
Six to eight different dessert options, including green tea cheesecake, will also be on offer. Yamaguchi's melting hot chocolate soufflé, an award-winning dish you have to order before you start eating, will also be available.

Japanese poke with yellowfin tuna.
And to drink, Asian Market Kitchen will offer 12 different cocktails, along with a specialty concoction unique to the restaurant.
Flexi Dining packages give guests more choices
While Asian Market Kitchen will be able to accommodate about 100 people at a cost of $28 to $35 per person depending on the package, MSC will also offer a new dining package option.
MSC unveiled a new flexible dining program earlier this year to accommodate guests on its two new builds entering service over the next 12 months.
The new program, called Flexi Dining, allows guests to pre-select a time slot of dinner service at any point during a sailing, giving them the ability to alter dining times depending on shore excursions or onboard activities.
The Flexi Dining plan will be offered along with MSC's traditional Classic plan. The Classic plan allows guests to choose from one of two seatings each night. Guests who choose the Classic plan will get the same wait staff and dining guests each night.
According to Travel Market Report's Cruise Report Card for Travel Agents, agents will make a commission on all dining packages from MSC when the packages are pre-booked and pre-paid.