State of the Cruise Industry in 2018 Is as Bright as Ever
by Daniel McCarthy /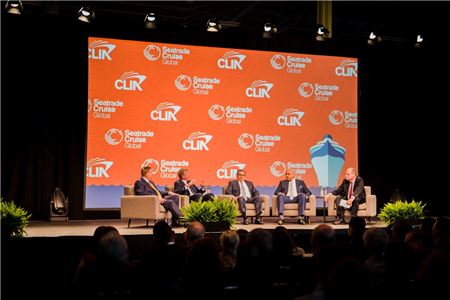 The cruise industry is expected to generate up to $60 billion in ship orders in 2018 alone, even more proof of the "tremendous feeling of optimism about the global cruise industry," according to CLIA President and CEO Cindy D'Aoust.
D'Aoust helped kick off the keynote address at Seatrade Cruise Global in Fort Lauderdale this week and was quick to point out that, despite the industry's history, it's still young as a whole.
"The modern cruise industry was born about the same time as the personal computer and our history is every bit as dynamic and innovative," she said.
With a growing middle class and emergent interest in cruising, there's not much to not be optimistic about, D'Aoust said, explaining that 2018 is "the year the cruise industry unified behind great goals … like never before."
China is the fastest-growing market
CBS News Travel Editor Peter Greenberg was joined by Carnival Corp. President and CEO Arnold Donald, Norwegian Cruise Line Holdings President and CEO Frank Del Rio, MSC Cruises Executive Chairman Pierfrancesco Vago, and Royal Caribbean Chairman and CEO Richard Fain, in this year's keynote to discuss the state of the cruise industry.
China was the big topic for Seatrade two years ago when cruise lines started to become serious about expanding their operations in what they believed would be the fastest-growing market over the next decade.
Now, "people are beginning to understand" that cruises are no longer a niche player in that industry, according to Fain. "You start talking about China and it just shows we are really amazingly good at creating something that didn't exist before."
The industry right now is focused on the outbound tourists in China and increasing cruising's share. Of the 135 million outbound tourists in China, cruise ships are carrying less than 2 million of them, according to Donald. Right now, the big restriction is ship-building capacity.
"It will probably be the largest cruise market in the world sometime in the future … probably in the distance future," Donald said. "There are just not enough yards to rapidly expand in China."
"China is stable, it's still a work in progress, and it's a long-term investment. We just arrived about seven months ago … we were profitable in our first year and will be even more profitable next year … we're all trying to figure out what the Chinese consumer wants," said Del Rio.
Del Rio and Norwegian have its highest-rated vessel in China right now, Norwegian Joy, which has been full since its arrival.
"We know the guests like it and the ships are full and now we have to work on other parts of the equations … the onboard experience, itineraries have to be expanded, the South Korea travel restrictions have to be lifted … so that's what I mean by a work in progress," he said.
Cuba is a homerun
Though the travel industry, gung ho on the impact in Cuba, got some bad news when the Trump administration put travel restrictions back in place for some travel to Cuba last year, "the cruise industry is still perfectly positioned" to succeed there, Greenberg said.
"Cuba has been terrific for the industry … we define it as a homerun and we're doubling our capacity in 2018," Del Rio said. "The Trump administration tweaks have impacted the cruise industry very little … ships are full at very high prices."
Donald called the progress made in Cuba so far just "small beginnings," explaining that the island, just like so many parts of the world, is under-penetrated.
"It's a big world, 700 ports, and every market is under-penetrated," he said.
Overtourism must be controlled
While each executive said they were happy with 2017 and excited for 2018, they all spoke about one problem that not only the cruise industry, but the travel industry as a whole, will have to deal with — overtourism.
Cruising is sometimes painted as the culprit, as photos of six or seven megaships lined up at Caribbean ports are paired with media headlines, but the cruise industry is actually the part of travel most effective at controlling tourist flow, they said.
"When we actually analyze the data, we see that the overtourism is tourism in general, and in perspective we are talking about 30 million visitors in Venice and one million from the cruise industry," Vago said.
Right now, cruising still has not met its full capacity and "there are more ports inviting us to go there than there are ports discouraging us to go there," according to Del Rio.
Part of that problem will be solved once ports start opening and reopening – including some Eastern Mediterranean ports like Istanbul, which lines started to stay away from because of geopolitical events.
"There are so many places to go, and the beauty of cruise is still that people have experiences with loved ones and others … all these things are real, but they've been real for a long time," Donald said. "This stuff has existed for a long time and the industry has survived and thrived."
"Our customers trust us, they know we are not going to take them to places that are not safe … we can move ships from one place to the other … Eastern Mediterranean is a good example and we can't wait for it to come back," Del Rio said.
More innovation is coming
Looking to the future, each line is planning on debuting some brand new things over the next few years. Executives noted that each is planning not only to impress consumers during a ship's debut year, but also to create a product that is relevant years into the future.
MSC's new Seaside, for example, will be the first of its kind in design, bringing a Miami condo-look-alike ship to south Florida. "Really the idea is that the way all the ships are aligned, and you are driving down Miami beach, you'll want to say 'What the hell was that?'" Vago said.
Norwegian's newest ship, Bliss, will feature a racetrack that Del Rio said was inspired by his ten-year-old grandchildren.
Carnival's Donald added, "We absolutely want to be taking it to another level constantly for our guests."