"There is no time off, this is a 24/7 job," says Jamie Mussolini. But that work ethic has paid off. Her agency, Beachfronts Travel, has won TheKnot.com's "Best of Wedding" awards for five consecutive years, and the WeddingWire Couples Choice Awards in 2015 and 2016.
Making a name for herself in the niche market of destination weddings and honeymoons didn't come overnight. Mussolini started as an independent agent on Long Island before taking the plunge and going out on her own. She founded Beachfronts Travel in 2007.
"I started out by retaining the clients I had, and then built more through referrals," she said.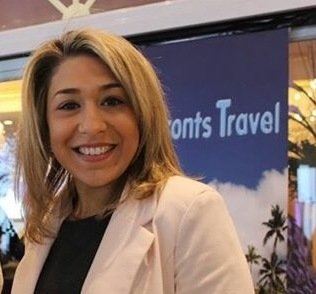 Moving into the wedding market happened organically, when she planned her own destination wedding and realized first-hand just how complex and overwhelming the process could be for a professional, let alone someone from outside the travel industry.
"How can anyone plan their own destination wedding, book all of the guests, and on top of that worry about the dress, invitations, and staying organized?" she asked. When they hire her, they gain an ally who is dedicated to making sure everything is perfect.
"There is never something I say no to, nothing that cannot be done or arranged. And I don't just stop after the booking is completed. Although I'm working with new clients as the days pass, I'm still thinking back to that previous client on what else I can do to make their trip a dream come true. Spending the time needed for all of [my clients] requests and concerns are an automatic must in my book. My clients know I am there for them."
How does she find the time to treat every customer as someone special? The key is staying organized, Mussolini said. She has a calendar on which she scribbles ideas for each client, ensuring each one has a unique, personalized experience. She sends a token of appreciation to wherever her clients are staying, or adds little extras to the trip, like a room upgrade or special restaurant reservations.
In the end, Mussolini said what works best for her is "putting myself in my clients' suitcase when I plan their trips. It's what really makes me grow."