The Ritz-Carlton To Launch Three-Ship Yacht Cruise Line
by Doug Gollan /

The Ritz-Carlton Hotel Company is diving into the yachting segment of the cruise market with three new-build yachts, the first of which will weigh anchor in the fourth quarter of 2019.
Reservations will open in May of next year for itineraries of 7 to 10 days. The new line will be known as The Ritz-Carlton Yacht Collection. A yard will be announced in the coming weeks.
Each of the three 623-foot-long, 21,000-gross-ton vessels will carry 298 passengers in 149 cabins. In addition to two duplex penthouse suites (1,442 sq. ft. each), there will be four different categories and sizes, including Signature suites (14 in total on the yacht at 550 sq. ft. and the balcony at 161 sq. ft.), Veranda suites (12 in total at 602 sq. ft. with the balcony at 64 sq. ft.), Superior suites (32 in total at 344 sq. ft. with the balcony at 118 sq. ft) and Veranda suites (88 in total at 301 sq. ft. with the balcony at 64 sq. ft.).
Ritz-Carlton is jointly designing with Sweden's Tilberg Design, whose credits include work on six Norwegian Cruise Line ships, including the Breakaway, Azamara Quest and Journey, the Queen Mary 2 and Bora Bora Cruises' Tia Moana.
The Ritz-Carlton yachts will feature a restaurant by Sven Elverfeld of Aqua, the three Michelin-starred restaurant at The Ritz-Carlton, Wolfsburg; a Ritz-Carlton Spa; and a Panorama Lounge and wine bar, offering a wide variety of onboard entertainment.
Each yacht will have a rear marina deck and the company plans to work with local chefs, artists and musicians, plus Jean-Michel Cousteau and his Ocean Futures Society, to develop programming. There are plans to combine pre-and post-trip stays at Ritz-Carlton properties.
The first two yachts will cruise the Mediterranean, Northern Europe, Canada, Latin America, the Caribbean and New England, and possibly venture to the Great Lakes, according Herve Humler, president and COO of The Ritz-Carlton Hotel Company, LLC. The third vessel will be based in Asia.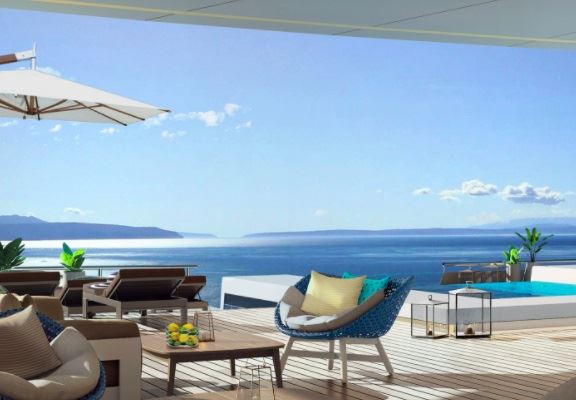 Their small size will enable each to visit ports that larger ships cannot.
Last year more than 400,000 of the luxury hotel company's guests took a cruise.
Ritz-Carlton does not have equity in the venture. Oaktree Capital Management, LP, is the financial partner. There will be a separate team overseeing the cruise line based out of Miami. Senior executives are being drawn from the cruise industry.
Lars Clasen, who will be one of two managing directors, is a former president of AIDA Cruises and was an executive and investor with A-ROSA, the river cruise and hotel company. The other managing director, Douglas Prothero, lists on his LinkedIn profile CEO/founder of Upper Canada Marine Group, Inc., since 1999. It says the company provides "ship management and consulting services to ship owners related to crewing, maintenance and new construction."
Victor Cai, former CFO of Silversea Cruises from 2009 to 2013, will serve in a similar capacity, while former captain of The World Erik Bredhe (2007-2013) also will take a senior position with the new venture.
A separate sales team for the cruise line will work "closely" with the Ritz-Carlton and parent Marriott International sales organization supporting the trade. Commission policies are still under development. The yachts are expected to be popular for full-ship charters and may benefit from the hotel company's strong relationships with meeting planners and incentive companies.
Edie Rodriguez, chairman and CEO of Crystal, which in 2015 launched the Esprit to enter the yacht cruise market and has its own yacht-class vessels in the offing said, "Competition isn't good; competition is great. It will be good for the market, and we wish them the best."
During a presentation last week at Travel MarketPlace in Toronto, Canada, Jason Montague, president & CEO of Regent Seven Seas Cruises, told the audience of over 400 Canadian leisure-selling agents that the luxury cruise segment is ready for growth. He noted that worldwide revenues for luxury cruises are a mere $2 billion out of $1.08 trillion spent annually on luxury, including $183 billion on luxury hospitality and $438 billion for luxury cars. He said luxury cruise ships delivered between 1988 and expected to enter service by 2018 account for only 12,724 passenger berths out of 510,926 for the entire industry, less than 3%.
Oaktree has history in the hospitality and transportation arena. Last year it was part of an announcement to buy and invest over $200 million in a number of Greek resorts, some of which had been closed for several years because of the financial crisis. In 2014 it invested in Timbers Resorts, a residence club. In 2012, it was part of a group that purchased the Fairmont San Francisco. In terms of involvement in the maritime market, in 2010, Oaktree invested separately over $300 million in a Dubai-based operator of diving support ships and a German operator of heavy lift ships. Last year, Oaktree entered into a $140 million deal to lease and manage the Westchester County Airport north of New York City.
Mary Jean Tully, CEO of Tully Luxury Travel, said she is taking a wait-and-see approach. Tully, who built the Toronto-based agency into a powerhouse in the luxury cruise market before expanding to land vacations, says she wants to see whom they hire for their sales and marketing team. She said amenities such as the marina deck sound good, but in her experience, seas are often too choppy for regular use.
"With Virgin and Richard Branson, I get what they are trying to do. They will bring that younger, 30-year-old demographic to the table," she said. She says her under-50-year-old luxury resort clients look to brands like Thompson and Aman.
Tully thinks there is an opportunity for The Ritz-Carlton to offer more overnights in ports, she said. But it will need to bring more than just its ethos for top-notch service to the game.
"Let's see what they do," she said. "It's a very competitive market. Regent is investing a lot of money in its soft product. Crystal may not have the newest product, but you can't touch their service. And all the luxury lines are already doing a lot around local insider experiences."