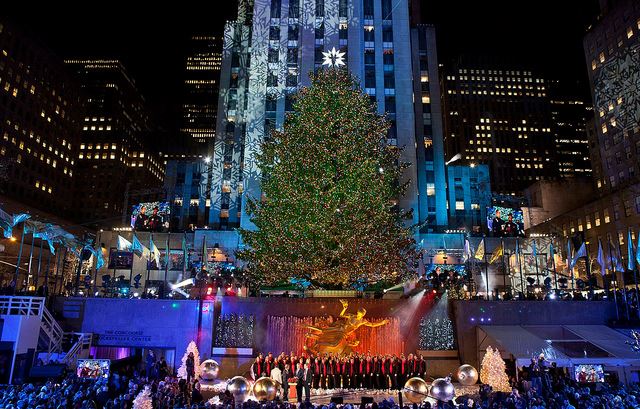 A hundred miles north of Detroit lies Frankenmuth, Michigan, a literal step back in time.
From the moment you pull off the exit on I-75, you are transported to a European village – Michigan's self-proclaimed Little Bavaria – complete with window flower boxes, lederhosen and what is arguably the "most Christmassy" place in America.
This is just one destination in the U.S. that embodies the spirit of Christmas, and it spurred us here at TMR to search out similar places and towns. Here are 10 of them, in no particular order of holiday greatness.
1. Frankenmuth, Michigan (Bronner's)
Welcome to Bronner's, the world's largest Christmas store. This is no seasonal pop-up. With more than 50,000 different items — including Christmas trees, lights, decorations, trimmings and more — Bronner's spreads across 27 acres, is the size of nearly two football fields, and is open 361 days a year.
Even the most diehard lover of the spirit of Christmas will be overwhelmed by the enormity of it all; calling it a store seems almost oxymoronic. It's so big that it has its own restaurant where you can take a break and eat some traditional pub-style offerings. Bronner's is also highly religious – the full name of the store is Bronner's CHRISTmas Wonderland – and many items reflect that.
But there's more than Bronner's to see in Frankenmuth during the holiday season. All along Main Street, visitors will find more than 150 colorfully decorated trees, along with displays of their favorite Christmas characters. And, at the center of tow, the 40-foot-high Christmas tree is augmented by a seven-minute light and music show.
2. Santa Claus, Indiana
Talk about a year-round passion and dedication to Christmas. Billed as "America's Christmas Hometown," Santa Claus, Indiana, is a real place that just happens to live and breathe Christmas every day of the year. You can stay at Santa's Lodge, browse the more than 8,000 Christmas ornaments at the Santa Claus Christmas store, go to Frosty's Fun Center with the kids, and at night take a 1.2-mile drive through one of the best light displays in the country.
And don't forget to stop by the original Santa Claus Post Office where you can send a free letter to Santa.
3. Rhinebeck, New York
Never heard of it? Well, now you have. Rhinebeck features the oldest inn in America, the Beekman Arms, which dates back to the Revolutionary War. The town is also just a few miles north of Hyde Park and the Franklin D. Roosevelt presidential home and library.
But the Christmas hook here is a centuries-old festival that traces back to Rhinebeck's roots, when it was first settled by the Dutch in the 1600s – Sinterklaas. The annual event, always celebrated on the first Saturday in December, honors a fourth-century Bishop with a long, white beard who happened to love children. Sound familiar? Day-long activities include shopping, music, dining, and a lively parade through town.
4. Williamsburg, Virginia (Christmas Town, Busch Gardens)
The special seasonal attraction of Christmas Town in Busch Gardens is the most fun in Williamsburg, Virginia, where the city itself plays host to several Christmas traditions from yesteryear, including caroling through the town by torchlight. (There is also a Christmas Town, Busch Gardens, in Tampa, Florida.)
The amusement park's Christmas Town is a kid-centric extravaganza featuring more than 10 million twinkling lights, one of the largest light displays in North America, along with a thrilling ice show and the chance to visit the North Pole to chat with Santa. Plus children of all ages – that means grownups, too – will enjoy the town's signature peppermint fudge hot chocolate.
5. Leavenworth, Washington
It's Christmas every day in December in this small mountain town. Each year, Leavenworth transforms into Christmastown and residents and visitors delight in the more than half a million lights, holiday music, roasted chestnuts fresh out of the fire, sleigh rides and more. Families can build gingerbread houses, meet Santa's from around the world, write letters to Santa and take a tour of the local reindeer farm.
Visiting around Thanksgiving? You can get in some Christmas shopping at the town's Christkindlmarkt.
6. Bernsville, Pennsylvania (Koziar's Christmas Village)
One year, William Koziar began decorating his farm for Christmas with an extra splash of lights on his home and barn. That was in 1948. Almost seven decades later, after yearly additions to the display and an outcry from his neighbors to see all the lights, the farm became Koziar's Christmas Village.
It is now one of the best drive-thru Christmas light displays in the country, and one of the top 10 tourist attractions in the state of Pennsylvania – a pretty heady achievement given that there are probably 10 great tourist attractions in Philadelphia alone. Visitors who find themselves in love will want to take a romantic walk over The Kissing Bridge — trust us on this one.
7. Durango, Colorado
There are many things that make Durango a cool place to be for the Christmas season, including its shopping and winter activities such as skiing, snowboarding, or going for a horse-drawn sleigh ride. But the Christmas highlight in Durango is The Polar Express Train, where kids in pajamas line up by the hundreds each night to take a real-life steam engine train to visit "the North Pole," drinking hot cocoa on the journey, singing Christmas carols and visiting with Santa on the return trip.
8. Las Vegas, Nevada
Ice skating in Las Vegas? In the middle of the desert? Of course. This is Vegas, where anything can happen.
That's not all you'll find in Las Vegas during the festive holiday season. Craving Christmas lights? Visitors are spoiled for choice with glittering lights at the Las Vegas Motor Speedway, where families can drive through 2.5 miles of lights, including 500 animated displays. Or they can choose the annual Festival of Lanterns at Cowabunga Bay in nearby Henderson, where visitors can also have their photo taken with Santa or indulge in a peppermint brownie truffle or gingerbread funnel cake.
For something more unusual, head to the Bellagio Conservatory, where giant holiday displays are created using only flowers and plants. And while you're there, stay for the Bellagio Fountains, which have been choreographed to "dance" to holiday favorites like "Santa Baby" and "Carol of the Bells."
And what's Christmas without a skate around the Ice Rink? You'll find one at The Cosmopolitan of Las Vegas.