Three Questions For Norwegian Cruise Lines' Camille Olivere
by Cheryl Rosen /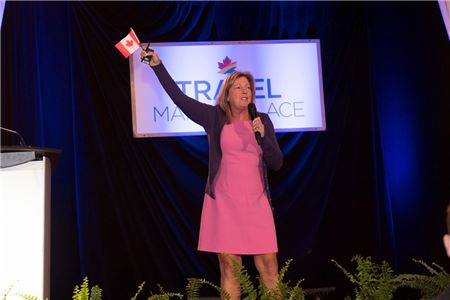 What trends do you see developing in the cruise industry in 2017 and into 2018?
We've seen a significant increase in demand for Europe, a trend that has been very positive for our guests and travel partners. The European cruise market is flourishing and we have more home ports in Europe than ever before, including Copenhagen, Hamburg, London (Southampton), Barcelona, Rome (Civitavecchia) and Venice.
Norwegian offers a wide variety of new and interesting itineraries like our 12-day British Isles or the 10-day Norway Fjords, both aboard Norwegian Jade. With Norwegian's Free at Sea promotion, guests can select up to five free onboard amenity offers, including shore excursion credits in every port, an amenity that is particularly attractive for our port-intensive European sailings. Norwegian offers guests the freedom and flexibility to design their ideal cruise vacation on their schedule. With no fixed dining times or set schedule, guests can feel free to take full advantage of Europe's beautiful ports of call when cruising with Norwegian.
Alaska is more popular than ever and we are seeing incredible anticipation for Norwegian Bliss' arrival next summer. She will be the first ship purpose-built for the ultimate Alaska cruising experience featuring an incredible 180 degree Observation Lounge with floor-to-ceiling windows, inviting guests to take in the glaciers and vistas of Alaska. Norwegian Bliss will also feature a wide variety of accommodations, including the largest The Haven by Norwegian® complex to date, family-friendly connecting staterooms and Norwegian's popular award-winning Studio staterooms, now with virtual ocean views. Norwegian Bliss will feature a stellar line-up of entertainment including the Tony Award® winner for "Best Musical," Jersey Boys. Many more exciting features will be announced soon. The ship will sail weekly seven-day Alaska cruises each Saturday from the newly-expanded, state-of-the-art Bell Street Cruise Terminal (having undergone $30 million in renovations by Norwegian Cruise Line Holdings) at Port of Seattle's Pier 66, near downtown Seattle and just minutes from Pike Street Market.
How do you see the role of travel agents evolving?
Travel agents are becoming more and more respected for their professionalism and the real value they bring. We have seen great mainstream media coverage of the benefits of working with travel agents over the past several years, and our clients are becoming more vocal about the value of working with a trusted travel professional than ever before. I am also very pleased to see so many young people entering the industry (including my own daughter!).
Are there any new programs rolling out at Norwegian for travel agents in 2017?
In the next few months, we will be relaunching NCLU, our online educational university for travel partners looking to become Norwegian experts. We have just had our first look and it is much more visually compelling and efficient.
Users of our Marketing HQ platform will feel familiar with the site from the beginning, and the new NCLU will require less time than the previous version but still maintain the content rich courses that will help partners grow their Norwegian business. We have added new electives and will launch with some exciting incentives!
For our past graduates, there is no need to worry; they will still have credit for all of the previous classes they have taken and we will match their level to the new tiers, but we highly recommend that everyone take the updated courses. In continuation of our Partner's First lens, we are excited to share this investment in our travel partners!