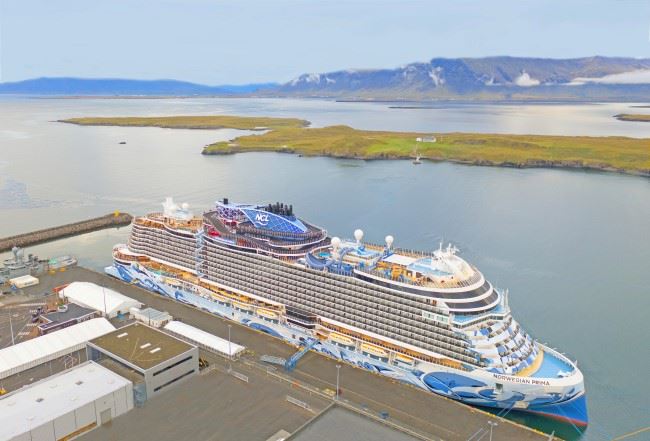 Norwegian Prima is the first in an all-new class of ship for Norwegian Cruise Line. After a week onboard during the ship's inaugural cruise, Travel Market Report reported back on our first impressions.
But what do your fellow travel advisors think? What are the ship's highlights? What could have been better? Who is the perfect client for the ship?
We spoke to some advisors who were on the sailing with us to see what their first impressions of the ship are.
Premium Aesthetic
"I think the ship is absolutely, spectacularly gorgeous." -- Debra Barry Thune, co-owner of an Oregon-based Cruise Planners franchise
"You've got that elevated feel from the other ships. They've definitely taken that time to really cultivate and curate to the more sophisticated, and I would say sophisticated and fun because they do still have all the options that the other ships are known for. But they've taken it and they've brought another level. I think they're starting to appreciate that there is quality versus quantity." – Liz Henn, founder and CEO of LBAC Travel, a NEST member agency
"My first impressions were that the ship was beautiful. I think that they have gone a step above the contemporary cruise lines with the décor and the layout. That part of it was excellent." -- Jeff Leach, owner of an Omaha-based Dream Vacations franchise
"It has more of a premium feel… I'm in love with the color scheme... It is definitely made to look and feel like a more luxe ship and forget that you're on a ship of over 3,000 passengers. A lot of thought went into it and I think they did a really good job with that... My first impression was that it's a gorgeous ship and I really like it. I'm excited to sell it." – Janelle Grissinger, founder and president of JCO Travel, a TRAVELSAVERS member agency
"The first thing that I thought as far as Norwegian goes was it can certainly compete a little bit more in the premium space, like with Celebrity." -- Trapper Martin, owner of a Dream Vacations franchise
The Staterooms
"As far as the cabins go, that bathroom. Thank you Norwegian. Very happy with the bathroom…The cabin size is great. For me personally, I didn't have any problem with the storage but I can see that some people may have a problem with storage." – Thune
"I thought they were at least at the top five or 10% of any standard… I thought they were fantastic. They utilized every nook and cranny and inch to give the guests the most space possible. I marveled over the bathroom. As somebody that was having to be very careful, fresh out of surgery, how big the shower was, how easy it was to navigate in there and that there was enough room for me to do everything I needed to do in the bathroom with the rigid leg." – Leach
"I enjoyed the increased shower size and the overall stateroom size. There's certainly more space to put more drawers than there were. And those wire pullouts in the closets were super tight. You have to have the door all the way open to use them. The storage in the bathroom was great. I like the way the beds are set up, open underneath. It looks cleaner and you're not having as much fabric that you know, who knows the last time it was cleaned." – Martin
"I love the layout and design of the staterooms. I think they put a lot of thought into the size and the showers, the layout with the beds and the fact that the pulldown beds are no longer just a flap out, they're actually sofa beds." – Grissinger
The Haven
"They did a lot of things right Haven-wise. They added more cabins there, that's a big plus... The outside Haven area and interior bar is much bigger. Basically the whole Haven public area has windows all around. They don't have the Observation part of the Haven, like the Breakaway class does, but kind of the whole public area is an observation lounge. There's no pool inside but there's quite a large pool in the back. And then they have two hot tubs up on the deck above that." – Martin
Public Venues
"I really liked the look of like the Syd Norman's Pour House, I liked the look of the Improv. I just think they're a little too small. But I really like them. You sit in there and it's like you're at a comedy club and it's like you're in a small bar. If you took somebody that didn't think that they liked cruising and put them in one of those venues, they would have no idea they were even on a cruise ship." – Leach
Ocean Boulevard
"I thought the outdoor spaces were fabulous. For the warm itineraries, the outdoor spaces are going to be very popular." – Thune
"The infinity pools and all of that surrounding area there was very, very unique and very luxurious looking." – Leach
"When you're walking around on Deck 8, the amount of space that's down there for people to spread out is pretty impressive with those two decent-sized infinity pools there." – Martin
"I love that they added the beds as part of the regular outside. Not part of The Haven, not part of Vibe, there's just some Bali beds with the water feature to put your feet in. I love that." – Grissinger
Dining
"The dining room food I thought was average for Norwegian… The specialty restaurants, we were only able to eat in a couple of them, but we were able to view all of them and I thought that they did a really, really nice job decoration-wise with all that. And the food at both specialty restaurants we were in were phenomenal. Cagney's was probably the best steak that I have had at sea in a long time." – Martin
"We had Italian and it was phenomenal. I would rank that right up there with an Italian meal I've had in NYC. The pizza was impressive. The pasta was impressive. Every bit of it was a very upscale dining experience." – Grissinger
Indulge Food Hall
"Indulge Food Hall was a favorite. We ate the spaetzle at Nudls. We've just been in Germany eating spaetzle and I think that was better than spaetzle we had in Germany. It was delicious." – Thune
"The Indulge Food Hall is truly unique and amazing and service was very, very fast." – Martin
"I'm obsessed with Indulge. I could eat tuna tostadas all day long… I'm anxious to hear if the speed of the food delivery continues. It's literally within seconds of ordering it starts showing up at your table, which is wonderful for people that are trying to throw something in before they get off for an excursion or they've got kids, and have to feed them now." – Grissinger
Favorite Spaces
"Just the intimate spaces, like the Belvedere Bar. Definitely Food Hall." – Martin
"I love the Stadium because who puts beer pong on a cruise ship. And pickle ball. That was a favorite." – Thune
The Entertainment
"I loved, loved, loved the Donna Summer show. I think that's one of the best shows on a cruise ship ever, ever, ever." – Thune
"The Donna Summer show we really enjoyed and if Noise Boys is anything like Choir of Man, it's going to be outstanding." – Leach
"The entertainment is just phenomenal. They do an amazing job. I loved how innovative it was with inviting the little VIP section on the seventh floor onto the stage afterwards and transitioning into the nightclub. I think that's a fantastic way, because how many times do you walk out of a show and you're like 'Okay, what do we do now?'" – Henn
Drawbacks
"I do wish the gathering spots were bigger, the bars. There aren't a lot of places to hang out that are going to be able to handle a lot of people." – Thune
"There are certain things that I know my upper premium level clients would be missing, such as robes and the lack of lotion and little things like that. Like if you're going out to get in the hot tub and you're in Europe and it's chilly, you want your robes... I did lament the loss of the drawers and the cabinets by the vanity [in the staterooms]." – Grissinger
"Some of the venues are a little smaller than guests are going to be used to… In particular, I think The Local, the way that is laid out with the walkway down the middle, I think that's not a great idea. Especially for those people who have been on the Breakaway, Getaway and some of the other ships and are used to the old O'Sheehans layout, which is huge and really more of a sports bar, fun atmosphere that this Local lacks." – Leach
"The main buffet areas is way, way smaller, which is fine, as long as that [Indulge Food Hall] stays complimentary. I think it'll balance out between the two. But word on the street is that that might turn into a nominal-charge restaurant to try to ease crowding there. That's just going make the buffet area even more crowded." – Martin
One Unchanging Dining Room Menu
"I didn't mind that at all. I tried multiple dishes. I think we ate at the main dining room almost every night and I still had items on the menu that I hadn't ordered." – Thune
"That's going to be something that you have to prepare clients for… I think there's enough specialty dining that people will be okay with the one menu… I think that they [NCL] are marketing towards the upper end of the contemporary cruise market and those folks that are in that upper end of the contemporary cruise market will spend the extra on the specialty dining." – Leach
"I can't imagine that people would be happy with that… I really think that the biggest key is going to be whether they're able to keep the Food Hall complimentary or not." – Martin
"There are enough [choices] as long as your palate is open to all types of food." – Henn
"Because we were limited [with specialty dining] I was definitely anxious to get off the ship and go somewhere with a restaurant. I got to a point where I was like, I don't want that anymore... I will push the dining package… I think it's going to be something we have to discuss, setting expectations. If you don't, it could lead to some disappointment and changing their view of the entire experience." – Grissinger
"We would recommend the specialty dining and I think they would jump at it." – Brian Henn, founder and CFO of LBAC Travel, a NEST member agency
Preparing Clients for Prima
"The biggest thing is going to be the storage in the rooms, you're going to have to tell people to bring those hanging bags that you can store things on. And prep people for the menu in the main dining room." – Thune
"It's a conversation about that there are more intimate spaces. It would just basically be explaining kind of what the concept is. I would certainly say that I would definitely, more than I currently do, make sure to be involved in pre-planning their [dining] reservations ahead of time… I think that there definitely should be more dining planning involved for this for… adding the additional specialty dining would be certainly something that I would encourage because there are so many options. I mean, you literally could eat specialty dining every night. " – Martin
"It's all about setting that level of expectation. And that's what we're here for, to make sure that when they get on they know exactly what to experience and the great options they have." – Liz Henn
Choosing Clients for Prima
"Who I think will be the target client will be somebody that is typically middle of the road, willing to spend a little bit more for a better experience. I can't say that I can put luxury on here and they would be happy, but kind of my mid-grade that are looking for upscale… For a solid Norwegian cruiser, this is going to feel like an upgrade." – Grissinger
"I think this is a step in the right direction for the premium market, for an elevated experience but I agree that it's definitely going to be a little bit more of that middle of the road." – Liz Henn
"This is going to attract the upper end of the contemporary cruise market and they [travel advisors] need to be conscious of that. And be mindful that they don't sell this necessarily to someone just wanting to be on a new ship… even multi-generational families. There are limited things that I think kids would do, especially if they're smaller kids because the slides, the virtual reality games, all of that is triggered towards older kids." – Leach
"Our Norwegian cruisers, I think they're going to love it, especially our upper ones. They're going to love the extra perks, like less people on the ship." – Brian Henn