Travel Agents React to New Opportunity with MSC Seaside
by Cheryl Rosen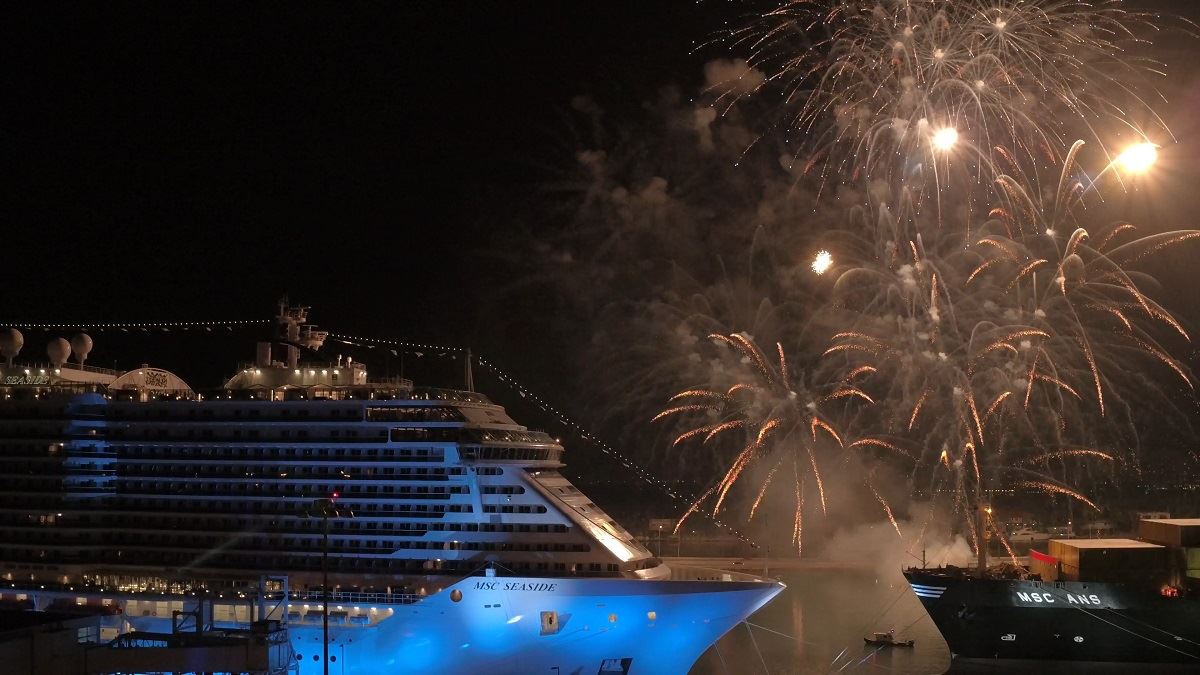 "There is a new sheriff in town and her name is MSC Seaside," says Dream Vacations franchise owner Ralph Santisteban of Kendall, Fla. "This innovative product is a wake-up call for the major cruise lines." And many travel professionals at the MSC Cruises' star-studded, two-day gala in Miami just before Christmas agreed.
With $12.5 billion on the line as it rolls out the first of a dozen new ships planned for the U.S. market, MSC Cruises welcomed the travel agency community to an event that launched the MSC Seaside from its new year-round homeport in Miami. As on the ship itself, there was something for every taste — from lobster to pizza, from a snow room in the spa to a zipline over the sea.

MSC Seaside's christening from its new year-round homeport in Miami.
Without question, the ship is elegant. The quiet color scheme and grand open spaces designed to bring in the sun and the sea work well; the spa is vast, including salt and snow and saunas; the large and bright children's areas welcome little ones from 18 months of age. The entertainment is great, say agents who have sailed MSC before.
But while the Italian family-owned business is well-known in the international B2B world as the largest shipping company in North America and the number one cruise company in Europe and South America, it is not yet a household name among American consumers.
Still, said Executive Chairman Pierfranchesco Vega, the 300-year-old company is focused on North America — and "we know how to penetrate a market. We are ready to start the next period of growth, with six ships in three and a half years, that will double our capacity by 2020," with three classes of ships — the Divina, the Seaside, and the Meraviglia — homeported in Miami.
Travel agents talk about the brand
"Travel agents are essential to our success; we support you, we call on you, we want to make sure you know our product and we want to know you better. You are the ones who really can tell guests why they should sail on MSC," he told TMR.

Legendary Italian actress Sophia Loren officially named the ship at the ceremony.
So what did the agents think? Can they sell a relatively unknown Italian brand in the American market?
It helps that the ship is beautiful — more beautiful than the Divina — and that the Yacht Club offers an exclusive experience at a lower price point than many other cruise companies, many said.
"She's a Mercedes Benz," said Santisteban. "What you are seeing here is true elegance."
"Heck yeah, I can sell her," said Lorraine Simpson, owner of The Romance Concierge and The Wedding Holiday.com. "I am not a big ship lover usually but this ship has a level of sophistication I haven't seen before, without being stuffy. The many bars and entertainment areas offer enough for every taste and the entertainment is superb."
"While it is hard to make a judgement in two days, I would definitely sell the ship," said Cruise Planners franchise owner Robin Shapiro Katz of Miami, Fla. "I have a family on board in the Yacht Club suites for New Years. I let them know in advance that this is an Italian-owned line and may be different than what they are used to from other cruise lines. I felt the service was fine considering we were the first large group of people being served. The food was good and presented nicely. The entertainment was nothing less than expected from MSC, as they do have the best shows at sea. The ship is stunningly gorgeous! The spa area is beautiful, and has much more room than the Divina. The kid's club was planned out very well, and I think there is nice variety of activities for families on board."

MSC Seaside is inspired by the architecture and lifestyle of Miami.
And while some complained of kinks in the service on this inaugural sail, "I was on the first sailing of the Divina from Miami a few years back and there definitely were kinks to be worked out; I was back on board about a month later with a group and already had seen changes being made," Katz said. "The U.S.-based team and the MSC family are working diligently to do well here. I was honored to be on the guest list, and I am super excited for MSC to be expanding its brand in the U.S., and in my hometown of Miami! There is a need and a market for more options for ships sailing year-round in the Caribbean. There is not one line that has reached perfection that I know of, so I am happy to be a part of finding the cruiser that MSC is looking for to enjoy its ships and itineraries."
Many agreed that managing customer expectations is more important than ever when a partner is new in the market. "As a European company, it is very different than the other brands operating in the Caribbean, but the international experience is very familiar to experienced travelers and those who leave expectations of having what they have at home," said Jodi Rosengren at Rouge River Travel with Jodi in Toronto.
"MSC has massively responded to the passenger feedback to tailor its sailings to their target North American market and anyone who has sailed with them in Europe; and since their appearance in the Caribbean, I can attest to the shift in all aspects, from hotel and food and beverage, to customer service. If they are lacking in service levels, it may have something to do with their monumental expansion levels which constantly brings on new employees, which are indicative of their success and growth in the marketplace, so it shows they are working on any issues they have and succeeding. They are more than competitive with pricing.
"This ship is going to be an innovative game-changer and many aspects will be replicated by MSC and its competitors. Clearly MSC is not a brand for every client and not every agent will appreciate all it has to offer. But MSC Seaside is elegant, modern and innovative, as are all the billions of dollars' worth of new builds MSC will be investing in their ships in the next few years; all set to sail from Miami, making it a vibrant and important port for the company. Anyone who doesn't want to be part of that exciting growth and business will find that their clients will ask them for MSC or the client will go elsewhere."
Commissions paid on everything
Mark Stone of Mark Stone, the Cruise Captain in Tampa, Fla., agreed. "Their prices are so good and they are the only ones who pay us commission on everything, so I've been loyal to MSC; I've sold $25 million in MSC cruises in 46 years. And this ship is really beautiful — if you love modern, you will think you have died and gone to heaven."
"I love, love, love the kids' area; the whole layout is amazing," said Barb Cline of Frederick, Md. "My BDM and regional director are great, and the consumer advertising MSC has been doing has helped a lot."
Dawn Williams Crowe, an independent agent with Nexion, LLC in Irving, Texas, meanwhile, likes the discount MSC offers military families. "I took their Specialist Course and recently booked a balcony for a Navy family of four on a 22-day transatlantic on the Divina. The booking process was very easy on their agent website and the family was somewhat familiar with the brand, as they are currently based in Europe. My client told me many of her friends had sailed MSC before."
Cheryl Echevarria, owner of Echevarria Travel in Kissimmee, Fla., likes the fact that customers can use their loyalty points from competitors. "Seaside is different, but I love it," she said. "The U.S. was not used to the European feel; this ship has more of a feeling of a Royal Caribbean."
Different for U.S. cruisers, selling on price
"If you've been on the Divina before, you need to give the Seaside a shot," said Steven Gould of Gould's Travel in Tampa, Fla. "There's more to do, from ziplining to some great specialty restaurants. The entertainment staff was great, the sail-away party was excellent, and the multiple pool options made it seem less crowded than normal. The dining staff in the main dining room was a bit subpar to be honest, but I thought the food in the restaurant, specialty restaurants, and buffet was great!"
Some complained that the rooms were not quite as elegant as the public spaces; "The outside is like The Four Seasons, but the sleeping rooms are like Holiday Inn," quipped Chris Morse, president and founder of Corporate Travel/The Travel Center USA, in Merritt Island, Fla. "Still, I can sell it based on price."
Melissa Stolz of Melissa Stolz-DreamVacations w/George Kahn & Harold Ciappa in Monroe, N.Y., said she has found the food and service lacking on MSC and does not sell it, but Beth M. Sparling of Honeymoons & Beyond, in Saint Petersburg, Fla., said after her experience onboard she would "definitely sell it. It's a beautiful ship with a variety of entertainment options for all travelers including children. I especially liked the specialty restaurants. I found the staff to be sincere and very focused on the guest and the level of service delivered."

The MSC Yacht Club is a private and exclusive area.
And Debbi Bass of Hooked on Travel in Cherry Hill, N.J., already has sold the ship. "It's different from other brands but I sold a few cabins to a good client. I told them they will like the pricing and the entertainment is amazing. I pushed the different aspects and the fact that it is something new — and the kids' club looks amazing."
Will Medina, of LoveShack Vacations in Waukesha, Wis., also has made a sale: "This was my husband's first cruise ever and he's in love so I guess we'll be cruising again soon. Thank you for starting him the right way, MSC," he said.
Others noted the great free drink package, the extensive spa, the designated kitchen for gluten free food — and of course, as you might expect from an Italian line, great pizza and pasta.