Travel Industry Gathers to Christen MSC Seaview
by Cheryl Rosen /

It was an international crowd, mirroring the international reach of MSC Cruises, that gathered in Christopher Columbus' hometown of Genoa, Italy, last weekend for the christening of the $900 million, 4,134-passenger, 18-deck MSC Seaview, the 15th ship in the line's rapidly growing fleet.
Like its sister ship, MSC Seaside, Seaview will "follow the sun," sailing Mediterranean itineraries out of Genoa in the summer and Brazilian ports during our winter, which is summer in South America. Seaside, meanwhile, is the Swiss-based company's first ship to come directly from the shipyard to the U.S., sailing from Miami to the Caribbean
The architecture of the two ships is strikingly different from most big ships. They are designed to evoke both the great ocean liners of the past and a Miami Beach condo, and to bring guests closer to the sun and sea. The engine and the funnel have been moved back to the middle of the ship; that makes the ship more stable, and also allows for the tower in the back that increases the number of rooms with balconies and allows for a lanai that surrounds the ship on all sides.

Balcony stateroom
With an aggressive growth plan that will double its fleet by 2026, "we're designing ships now for 2022 — it's an incredible task," said the company's Executive Chairman Pierfrancesco Vago.
Homeporting in the U.S.
Breaking into the North American market is key to filling all that new capacity, said Vago. Where Europe has the potential cruise population of 6.5 million, the U.S. alone has 30 million — and most first-time cruisers head for a port close to home. Still, though, MSC has been finding that, "the more ships we put in North America, the more Europeans fill them."
Onboard for the christening last weekend, MSC family members and friends, journalists and travel agents took in the sights. Sophia Loren cut the ribbon; Andrea Bocelli's son Matteo and Spanish singing star Zucchero entertained. "Sailing the sea is the oldest way to travel," Loren said, "and it has never lost its charm."

Seaview will sail Mediterranean itineraries out of Genoa in the summer
The travel agents, meanwhile, found much to like. "Personally, I like smaller ships like Lirica, but I could definitely sell this ship to many of my clients," said travel professional Salwa Boualtour of Orange Travel Group in Tunisia. "Ten years ago, cruising was only for seniors, but now there are more and more young people and families — and first-timers prefer the big ships. They hear their friends talking about them and they want to try them, too."
Next week Boualtour will be leading 50 customers on a two-week land tour of the U.S. and Canada, and "every two days we will have to pack and unpack, check in and check out." Compared to that, cruising "is a good way to see many destinations with no stress," she said.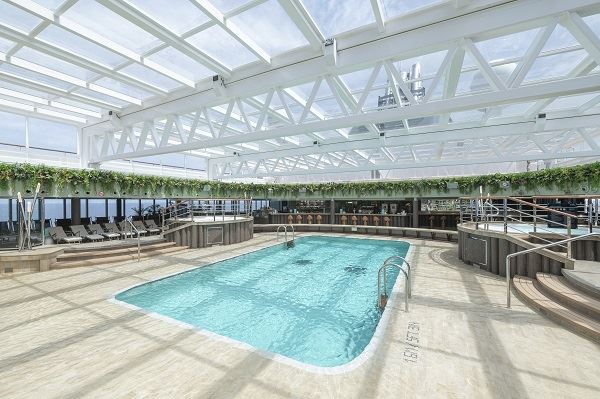 The Jungle Pool and Lounge
Her only wish is that MSC and its peers would bring their ships back to Tunisia, a port they stopped visiting in 2015. "My repeat customers look first at the itinerary when they choose a ship, and Tunisia- Italy-Spain-France is a great itinerary," she said.
Meanwhile, Seaview and its sister ship, Seaside, offer a number of innovations worth noting. They include:
More open spaces and more sun. With the highest ratio of open space per passenger in the industry, Seaview is designed to bring guests close to the water.
Smaller dining rooms and theater, offering three time options instead of the traditional two.
Extended Yacht Club space, combined with a smaller number of suites. The first suites to sell out despite their higher price point, the Yacht Club section of the ship offers discerning guests the exclusivity of a private space, restaurant, pool and bar, combined with the shows, casino and general fun of a big ship. The number of suites has been reduced "to maintain exclusivity," and the cabins have been upgraded.
Wider range of rooms around the ship. In addition to more rooms with balconies, Seaview offers inside cabins (designed for kids and/or their nannies), jacuzzi suites and connecting rooms for families.
Food options. Six specialty restaurants, two buffets and three main dining rooms with three seatings each help to accommodate "the Americans who like to eat early, the Italians who like to eat late, and the Brazilians who like to eat very late." A partnership with Roy Yamaguchi "transports guests to another country without leaving the ship" in his Asian Fusion Kitchen and Teppanyaki and sushi restaurants. Even in the Teppanyaki restaurant, "we are trying to incorporate fusion," Yamaguchi told Travel Market Report. "Rather than your typical soy-sauce-based marinades, we are trying to be more adventurous, to introduce new flavors." New on Seaview is another restaurant partnership, Ocean Cay by Ramon Freixa, the famed Brazilian Michelin-starred chef.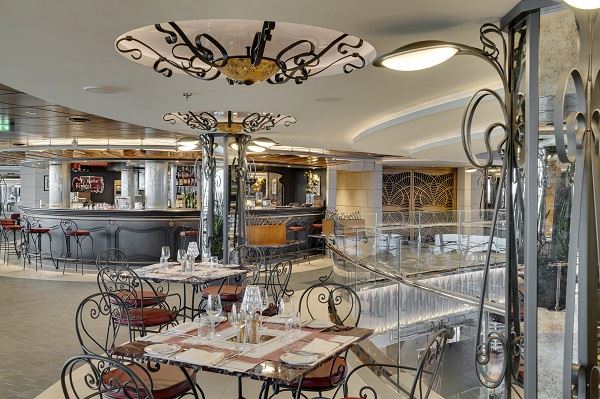 Bistrot La Boheme
Venchi 1878 Chocolate Bar. The Italian masters of the cocoa bean have been perfecting dessert and drink delicacies since 1878 — and have adapted their process onboard outlets on Seaview and Seaside for the warmer temperatures to which they sail. Guests can try a Prosecco with chocolate caviar; or the Pistachio truffles, crafted with the Asian market in mind, with more salt and less sugar.
Kids programs. A partnership with LEGO has brought colorful spaces and lots to do for every age group. Passengers can drop off their children from the age of one to 17, until 11 p.m.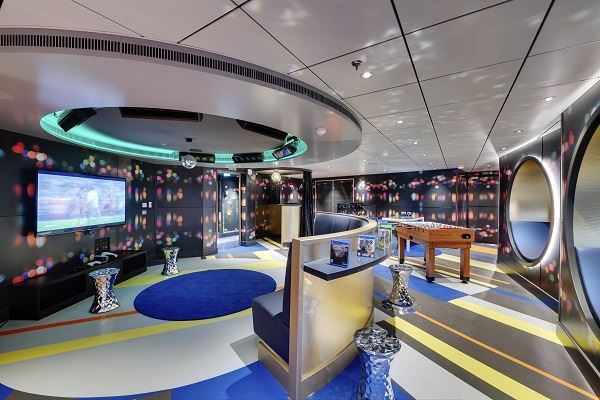 Kids Club
Forest Aquaventure Park. Nestled in a green and shady area are four fun water slides, including an "interactive slideboarding tube" that combines the fun of a video game with the slower speeds that invite everyone to come play. For the slightly more adventurous, there also are two of the longest zip lines at sea (almost 400 feet) on the top deck.
Aurea Spa. There's everything you need here to relax and unwind, from salt and snow to soothing sounds and private outdoor cabanas.