U by Uniworld Offers Travel Agents A Chance To Win A Sailing
by Daniel McCarthy /

By focusing on Millennial travelers, U by Uniworld, the new river cruise brand, will give travel agents an opportunity to expand their reach well outside of their regular client list. And to show them just what the product is like, Uniworld will host a few on an October fam trip out of Paris.
"This is the travel agents' opportunity to talk to a different set of customers – grad students, firemen, doctors, nurses or young professionals looking for a vacation where they want to have fun and meet people just like them," Uniworld president and CEO Ellen Bettridge told TMR in an exclusive interview today.
The brand, which officially launches next spring, will welcome travelers between the ages of 21 and 45 and over the age of 21, not the usual river-cruise demographic. To reach them, Uniworld is hoping for the help of its most important partners, travel agents.
"It's not a traditional product," Bettridge added. "We want it to be all new cruisers."
Agents who do not have many Millennials in their customer bases needn't worry; they are all around you, Bettridge said. Just stop and ask yourself, "Whom do I know?"
Children of your current clients and friends, friends of your nieces and nephews, are all potential clients for U by Uniworld. And reaching out to them will mean not just making a sale, but gaining a new customer who will be around for 30 or 40 years.
"We created this wonderful little haven, just for this generation and these people," Bettridge said.
To encourage agents to think about this new product, Uniworld is giving Millennial travel agents (ages 21-45) a chance to win a fam trip on U by Uniworld's Paris to Paris "Sneak Peak" cruise on October 7, 2017. To enter, agents should create a 30-second video describing how they would sell U by Uniworld and upload it to the U by Uniworld Facebook page with the #ImGonnaSellU hashtag.
The contest is open through August 15. Winners will be chosen from the posts with the most "likes" by Uniworld's internal advisory board and will be featured on the U by Uniworld website.

Non-traditional hardware
The first official U by Uniworld cruise will set sail on April 14, 2018. Both of its ships will launch on the same day, one from Paris one from Amsterdam.
Both ships, painted black with a glowing "U" on their sides, will offer lounges with big couches, dining rooms with a big communal table, and flat screen TVs that will display cruise programs.
In order to keep rates low, rates will not include free drinks. But Uniworld will make it easy for guests to enjoy a cocktail or glass of wine. "My intention is to make the cheapest bar in all of Europe," Bettridge said. "It will be very economical, with a happy hour every day with a theme that gets people together."
Two U Time coaches will be aboard every sailing—one from Uniworld and one from its sister brand Contiki—to do whatever it takes to keep the customers happy. "It's going to be constant communication, but in a different way," Bettridge said.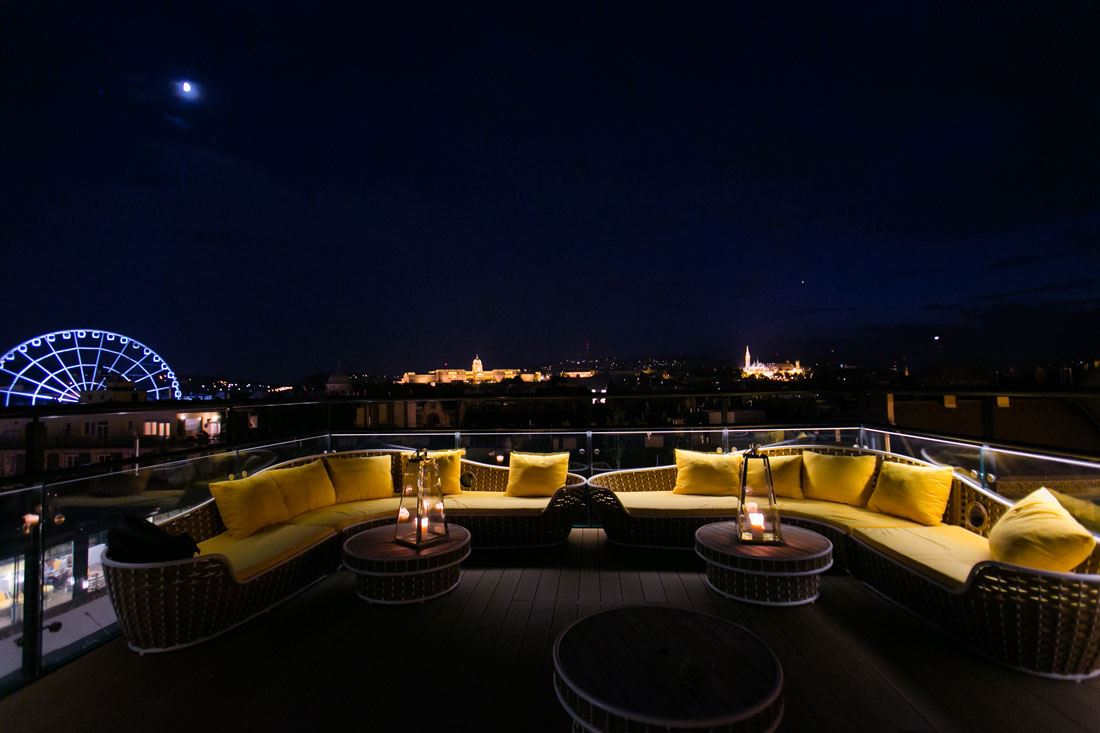 Rooftop lounge on U by Uniworld ships.