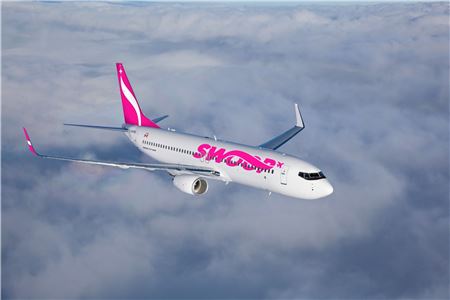 Swoop, Canada's first true ultra-low-cost carrier, will launch service in June, connecting five Canadian cities with introductory, one-way fares as low as (CAN) $39 with taxes.
Starting June 20, no-frills Swoop will operate six weekly flights between the Vancouver suburb of Abbotsford and Hamilton, Ontario; and six weekly flights between Hamilton and Halifax. On June 25, Swoop will start six weekly flights between Hamilton and Edmonton, and between Hamilton and Winnipeg. All service will utilize the 189-seat, Boeing 737-800 aircraft.
Features for purchase include additional baggage, movies and WiFi, more legroom or less, and buy-on-board snacks and beverages. Travelers can carry a small personal item onboard at no cost.
"Swoop is travel without the flair," said Bob Cummings, WestJet executive vice president, strategy. "Buy the seat and customize the features you want. All at fares that won't break the bank!"
Introductory, one-way fares from Abbotsford in the west to Hamilton (located between Toronto and Niagara Falls, New York) start at $99. Most other routes will charge $99 one-way. From Hamilton to Winnipeg, one-way fares are $69.
Swoop's service between Abbotsford and Edmonton will start July 25, 2018 and will operate three times daily. The airline will have 24 weekly flights from Hamilton and 27 from Abbotsford.
Where Swoop will expand after June is not being disclosed. Cummings said "Hamilton and Abbotsford are examples to be followed. These airports are on the exact same page as us and we have worked side-by-side to make today happen."
Bob Bratina, Member of Parliament Hamilton East — Stoney Creek, said the Canadian government "is committed to increasing the options available to Canadians by supporting competition in the airline industry, which can provide more low-cost options for travel throughout this great country."
Many companies have announced ultra-low-cost carriers for the Canadian market, but Swoop is the first to establish itself as a viable going entity.
"The addition of Swoop to the Canadian aviation market is exciting for passengers," said Tom Ruth, president and CEO of Edmonton International Airport. "This new option brings more choices for passengers, and we foresee an increase in the number of Canadians traveling by air."
"This is great news for our community," said Member of Provincial Parliament Mr. Ted McMeekin for Ancaster-Dundas-Flamborough-Westdale. "Providing residents and Ontarians with more travel options, in addition to our highways and public transit, helps make it easier for people to get around. This new service will benefit residents as well as our economy."
"Our airport is quickly becoming a hub for convenient, affordable air travel for the growing Southern Ontario region," said Cathie Puckering, acting president & CEO, John C. Munro Hamilton International Airport.