Uniworld's Super Ship S.S. Beatrice Sets Sail
by Kerry Tice /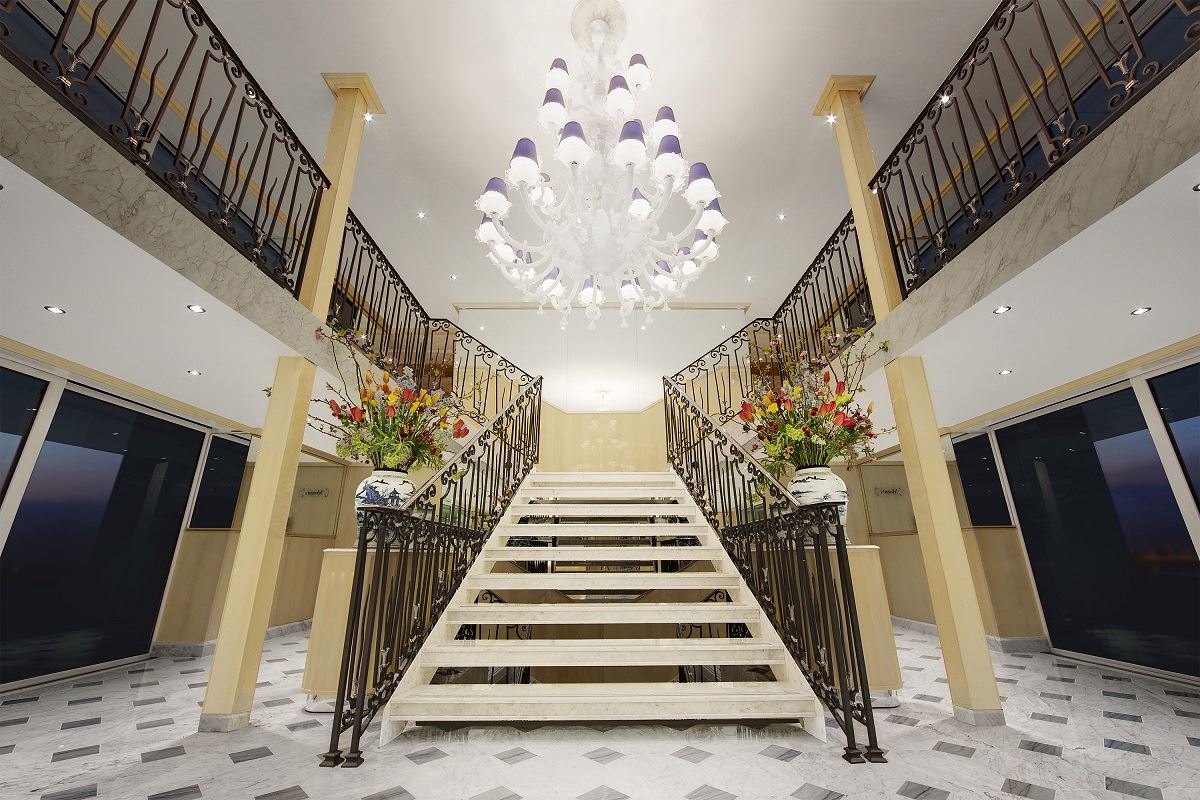 Uniworld has revealed plans to upgrade two more of its river ships to Super Ships in 2019, just in time for yesterday's inaugural sailing of its newly redesigned Super Ship, the S.S. Beatrice. Beatrice set sail Wednesday on her maiden voyage from Budapest to Giurgiu along the Danube, with a land extension in Bucharest.
Complete with blue-and-white interiors throughout, the S.S. Beatrice projects boutique luxury at its finest. Under its new design undertaken by sister company Red Carnation Hotels, the ship features soft yacht-style light wood finishes, marble floors, original artwork, and plush furnishings.
As the first vessel in the brand's fleet to be upgraded to a Super Ship, the inviting interior also includes a renovated lobby featuring elegant mirrors, a white Murano chandelier with blue shades and a grand staircase made of nickel and black iron – a signature design element of Uniworld's Super Ships.
"We're thrilled to continue to offer guests the highest standard in river cruising with the debut of S.S. Beatrice," said Ellen Bettridge, Uniworld CEO and president. "We've seen great success with all of our Super Ships and their level of luxury demonstrates the way forward for the brand. We're excited to bring all of our ships up to this impeccable standard, with plans to upgrade the River Empress and River Royal to Super Ships in 2019."
The ship's redesigned lounge includes sofas and chairs with hand-made upholstery, a parquet floor and upholstered ceiling panels, solar shades, and new USB ports allowing guests to charge anywhere they are sitting. The artwork throughout the ship includes pieces from Pablo Picasso, Alexander Calder and Pino Signoretto.
The ship offers four dining options, all inspired by famous Austrian composers, including Mozart's, the ship's main restaurant; Wolfgang's bar and lounge; and the newly added Schubert's and Max's.
For guests seeking an immersive culinary experience onboard the S.S Beatrice, Max's restaurant offers intimate cooking classes where guests can create local European cuisines alongside the chef. Schubert's, an 18-seat café located at the bow of the ship, offers guests shared plates from lunch through dinnertime.
Additionally, the ship now features two new Grand Suites each measuring 310 square feet and a 390-square-foot Owner's/Royal Suite. Also added were new connecting rooms, ideal for friends and families traveling together.
The S.S Beatrice sails on six itineraries to destinations including: the Czech Republic, Germany, Austria, Hungary, Croatia, Romania, Bulgaria and Serbia.