Water Levels on the Rhine Are Expected to Reach Critical Levels This Week
by Daniel McCarthy /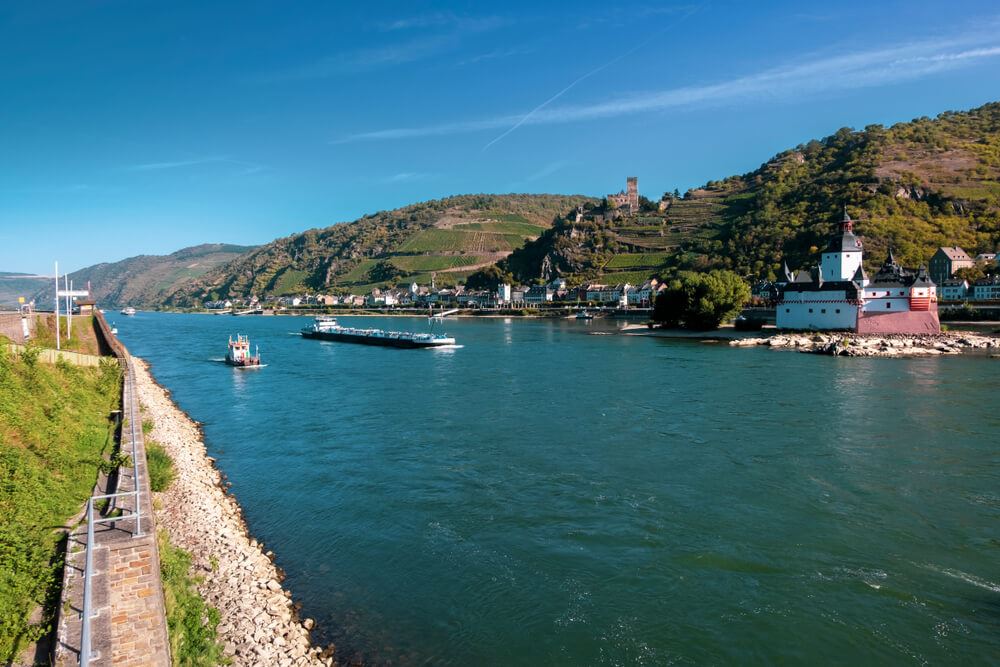 River cruise itineraries could soon be expected to be impacted by water levels on Europe's Rhine Europe, which is set to reach a critical point this week.
According to the German Federal Waterways and Shipping Administration, which tracks the river's levels, the high mark near Kaub will drop to just under 16 inches (40 cm) on Aug. 12, making it difficult for barges and for river cruise ships to pass the area. The forecast suggests that the level could drop even further later in the week, dropping as far as 14.5 inches on Saturday (37 cm) and then below 13 inches (33 cm) on Monday, Aug. 15.
The critical levels are largely due to a "below-average snowfall last winter and continued glacial attrition," which comes from a dwindling runoff from glaciers, according to Bloomberg.
That section at Kaub, which is located west of Frankfurt and south of Bonn and Cologne on the river, is along the route for a lot of river cruise line Rhine itineraries, particularly those that run from Amsterdam south through Cologne, Rüdesheim, and to Basel.
Each river cruise line is planning differently on how to deal with the water levels and, because of how quickly the water levels can change and how differently each ship sails, each line is staying flexible in their plans.
Speaking to TMR last month when some were sounding the alarm on potential disruptions, river cruise lines said they were prepared to accommodate guests in one way or another.
A spokesperson for The Scenic Group, which includes both Scenic Luxury Cruises & Tours and Emerald Cruises, confirmed that some stretches of the Rhine are experiencing low water levels and said that some routes may be "revised" to deal with the issue.
Ellen Bettridge, president, and CEO of river cruise company Uniworld, also said that it expects to make adjustments, with daily itineraries possibility being impacted. However, Bettridge added, "we will still be operating."
"The nature of rivers is that they ebb and flow with the seasons, and we will make adjustments as necessary with current low water levels caused by the staggering summer heat," she said.
Uniworld's Travel Information page tracks any significant changes from schedules and promised to "keep you posted on significant deviations." Uniworld also promises email notifications if there are any major changes before sailing.
Avalon Waterways told TMR that there are plans in place should the situation warrant it for "ship swaps."
"Should any portion of the Rhine become impassible, we have contingency plans that include ship swaps for our guests," Pam Hoffee, president of Avalon Waterways said.
The ship swaps allow for guests to be moved to another ship, past the low point of the river, with identical accommodations, and for the sailing to resume, almost uninterrupted, from there.
Aside from the ship swaps, Hoffee also said that guests on cruises that are "greatly impacted" are given other options "to ensure the quality of their vacation."
And Tauck, unlike some other lines, is also operating land tours in the area, which could come in handy should river sailings be thwarted by low levels.
"We're very fortunate that we also operate numerous land tours throughout the region, so we have a fantastic network of local supplier-partners that we can leverage as necessary should alternate arrangements become necessary," a spokesperson told TMR last month.