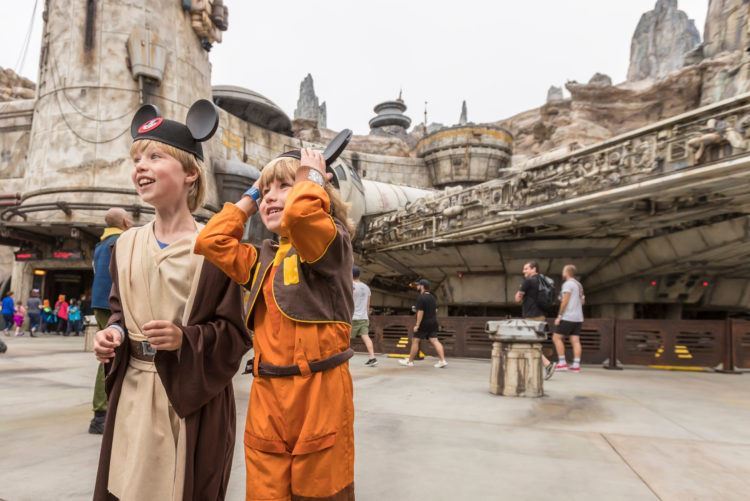 There is no public doubt about one fact: The Walt Disney Company's launch of the Star Wars: Galaxy's Edge attraction at its California and Florida parks had a negative effect on overall park attendance.
But, The Hollywood Reporter took the fallout from Galaxy's Edge one step further this week when it reported the imminent departure of Catherine Powell, the senior-most executive who oversaw the U.S. and Paris theme parks, and was in charge of the two new Star Wars lands grand openings this year.
The Hollywood Reporter said that sources at Disney said Powell's post has been eliminated.
During a recent earnings call, Disney CEO Bob Iger reported that "guest satisfaction, interest in the attraction and in the land, is extremely high," and that for the long term, "we have no concerns whatsoever" about the attractions.
He added: "It's just going to take some time for things to work themselves out in terms of how the marketplace is reacting."
Travel advisors reported opposing views about long-term impacts on interest in bookings in Disney park vacations.
"Our Disney business is down. We believe it is in large part due to the overhype," said Scott Travis, CEO at Globe Getaways, in McKinleyville, California. "People want to visit the new attractions, but they are waiting until after the new attraction opens and after the perceived lines die down."
Colleen Kelly-Wardle, owner of Iron Sherpa Travel, in Winnipeg, Manitoba, said: "I think that people got 'gun shy' from the huge lines for Avatar and are afraid of going soon after it opens. My husband is a huge Disney park junkie, and is waiting to go."
Many Star Wars fans (particularly in a local group that travel agent Stef Katz is a part of), were always planning trips well out into 2020, "because the anticipation was that the land would indeed be as crowded as Avatar was," said Katz, of The Travel Superhero, in Lake Mary, Florida.
Katz noted two core reasons: "One, Galaxy's Edge is not going anywhere, so why not go when the weather and crowds are 105% more pleasant? My perfect Disney visits involve walking on rides over and over, as I did back in the eighties; and two, for those who don't live local as I do, why come before the second ride has even opened?"
Said Kelly O'Brien Ortiz, owner of Guru Travel, in Elgin, Illinois, and a big Disney fan: "In my opinion, I think Disney overdid it in their attempt to be organized with lines and crowds. I do think that that scared people off."
Travis related his own personal experiences as an example: "I read about the bathroom passes and the staged opening, and I put off a trip this summer for my own family. After talking to my agent, I learned that I was at least wrong about the lines."
Rita Perez, owner and travel advisor at RitaVentures, in Orlando, Florida, puts partial blame on Disney World's Galaxy's Edge August opening date. "Summer vacation had already finished for about half of the country by the end of August, and especially for the locals," Perez said. "Poor planning."
Hurricane Dorian also didn't help, O'Brien Ortiz said. Disney had to shut down the park for one day. "A lot of clients had to push off their vacations to later in the year or early 2020."
"I don't think the excitement is what they were expecting," said Crystal Crouse Burriss, DWB Vacations, in Raleigh, North Carolina. "We have not had any huge rush to visit from our clients. In fact, our fall is down compared to years past, partially because we had clients move their dates up to avoid the opening."
The future looks bright, though
Margie Lenau', of Wonderland Family Vacations, in Walker, Michigan, believes the modest initial attendance is a result of good planning, and not lack of interest. She noted how pre-opening visits for cast members and annual passholders may have tamped down surging crowds during the premier opening events and weeks after.
"Spreading out the opening of the attractions, and opening during the months when attendance at the parks are lower helped to keep the crowds more manageable. Plus, they used 14 acres for this park, so it is large enough to accommodate large crowds," she said.
Lenau' said: "I applaud Disney for the way they tried to manage the crowds and give my clients a better experience. I do not see excitement waning in the slightest. I see the opposite. Our Disney bookings are climbing."
"I still saw huge excitement from my clients, and continue to see lots of excitement for future trips. I do have some clients that want to go now, and later, so they don't miss anything," Lenau' said, adding that the ability to build droids and lightsabers at the attraction "is a huge draw. The immersive atmosphere is attractive. I have some clients that only want to visit the Star Wars Land portion of the park."
Lenau' is looking forward to the impact on interest after the phase two opening of Star Wars: Rise of the Resistance, on Dec. 5, 2019, in Walt Disney World and on Jan. 17, 2020, in Disneyland, as well as the Star Wars: Galactic Starcruiser hotel.
O'Brien Ortiz concurred: "Many people are waiting for the rest of the land to be completely open. Rise of the Resistance is supposed to be the best attraction in the land, and it's not open until December," she said.
"Galaxy's Edge is fantastic, and it's only going to get more crowded as the months and years go on," Katz said. "Whoever is calling it a bust was looking at is as a movie premiere or something similar that has massive demand upfront and then dies off. As a Disney fan, and the biggest Star Wars fan east of the Mississippi, I can assure you that Galaxy's Edge's popularity will only grow."