We had a great time in Toronto last week, and we learned a great many things. Here's just a taste of the facts and stories and news.
On marketing in a digital age
"Our most successful agents prefer walk-ins and telephone conversations hands-down, but our customers are moving online. We've noticed over time that where we used to take 3,000 calls on a busy Monday, this year it was down to around 2,400—but still our sales are up and our web traffic is up. It's almost like tectonic plates are shifting in the travel industry; the change is so slow you don't really notice until you look closely. We've also noticed that younger agents have this aversion to the telephone—and yet we know that the more follow-up calls we make, the more sales we get. We're struggling with how to engage people in chat as well. Right now the average chat takes 12-15 minutes, where a call takes 3-5—we're learning as we go how to make chat more efficient. There's a commonality of communication style between introverts and Millennials—less direct, less on the phone, less in person. They're very time consuming, but they are more loyal. We use the four-second test for the web page: it's got to be clear what it's about and have a clear call to action in the first four seconds or you lose them."
-- Richard VanderLubbe, president, tripCentral.ca



tripCentral.ca's Richard VanderLubbe.
"The average customer books just once every year or two. You want to be sure yours is the name that pops up when they think 'travel.' You need professional marketing and a process to follow so you don't have to think about it. And you need a booking engine on your website; clients want to do research and you want them to do that with you. You will probably lose 30% of your customers when you switch from working in an agency to working home-based, but if you do it right, you will make more money."
--Flemming Friisdahl, founder, The Travel Agent Next Door
On working at home
"You will probably lose 30% of your customers when you switch from working in an agency to working home-based, but if you do it right, you will make more money."
-- Flemming Friisdahl, founder, The Travel Agent Next Door
"Building your own brand isn't as easy as putting some posts on social media platforms. The downside of building your own brand is that you have to do all of the heavy lifting, it's on you. In terms of marketing and your brand presence, you have to go out and create that brand awareness for your own company and you have to be consistent and you have to be congruent across all social channels."
-- Vanessa McGovern, EVP of strategic partnerships and business develop for the Global Institute for Travel Entrepreneurs (GIFTE)

Vanessa McGovern.
"How much should you be able to sell? If you have a strong business plan, it's not unrealistic to sell $750,000-$1.3 million."
-– Kimberly Wood, TransAt Agent at Home
On growing your revenue
"Instead of quoting your customers a price that includes a night pre or post, quote them one that includes three nights. Use the 50%-30%-20% rule of social media: 50% asking questions, 30% giving useful information, showing your expertise (and use the word expert), and 20% promotion. A Harvard Business School study says 69% of customers will pay more if they have a personal relationship with you."
-– Ron Cates, international director of digital marketing education, Constant Contact

Ron Cates.
"The word 'sell' tends to have a negative stereotype but it doesn't have to. If you just take your time and really get to know somebody on a more personal basis, it's not selling anymore, it's a conversation, it's an interaction."
-- Cheryl Gregory, chief strategist, Strategies4Travel
"Sell luxury and river cruises on value rather than on price. In river cruising a big issue for a lot of people is that they're afraid to say what the price is. You have to sell them on the value that they are receiving."
-- Beverly Vickers, director of sales and marketing for Eastern Canada, Regent Seven Seas

"When selling cruises, the best place to start is your own personal contact list. Everyone has this huge network of people…trust me when I say you do. If you make a list of all the people you are in touch with every day and then those your spouse is in touch with every day, it's such a big list. It's your comfort zone. Start there."
-- Dana Gain, national director of sales in Canada, Norwegian Cruise line
On why we need trade associations like ASTA and ACTA
"We have more regulations than almost any industry trying to take money out of our pockets. We need to work together to pressure the government, which is trying to come into our space, and the airlines."
-– Greg Luciani, president and CEO, TravelOnly
"We do have an organization that all of us need to get involved with and that's ACTA. If you think we need a stronger voice, get involved."
-– Mike Foster, president, Nexion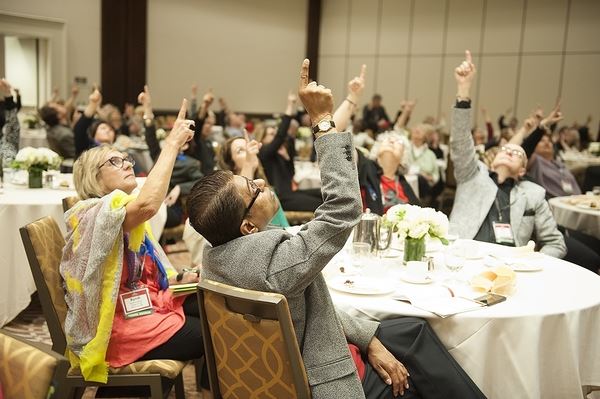 Attendees at Travel Marketplace.
On what's new at our suppliers
Marriott is considering an all-inclusive brand. "We do have some properties that are all-inclusive: St. Thomas, St. Kitts, and Curacao. It's not really our realm, but our customers are looking for it. Our all-inclusives are a little more expensive than many of our competitors, as you are eating Marriott dining a la carte."
Marriott's Virtual Reality room service program lets you order VR experiences in your room, so you can visit Chile or Beijing. The new Moxy Hotels brand, where you check in at the bar, is coming to eight U.S. locations. Also new from Marriott: the number of MClub Lounges for its most loyal customers is growing from the current 19 to 70, and the Hotel Excellence program, the industry's first dedicated training program for travel professionals, now requires annual recertification.
Atlantis Paradise Island this month will launch a new Rewards website where travel professionals can log their bookings and earn rewards. On the consumer side, it will be launching a 50% off special on dining plans for the first time. "We're inclined to provide greater value as more competition comes into the market," said leisure sales director Melissa Alexander.
Expedia's TAAP program lets agents who do not have access to a GDS make bookings and earn commissions with one click.
China Star has a two-for-one cruise special going on right now on its 14-day China Star Holiday, which covers all the key China destinations.
"We are seeing that people are tired of all-inclusives and are focusing more on villas and boutique properties like Jakes Resorts, a kind of bohemian-chic hotel where you can walk down to the beach and tell the fishermen you want snapper or lobster for supper and they will catch it for you."
-– Racquel Queensborough, Jamaica Tourist Board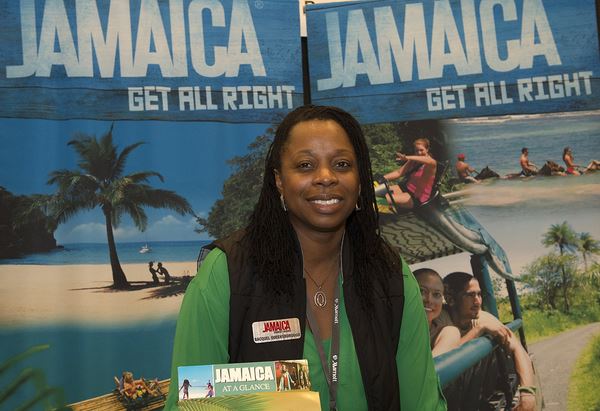 The Jamaica Tourism booth at TMP's trade show.