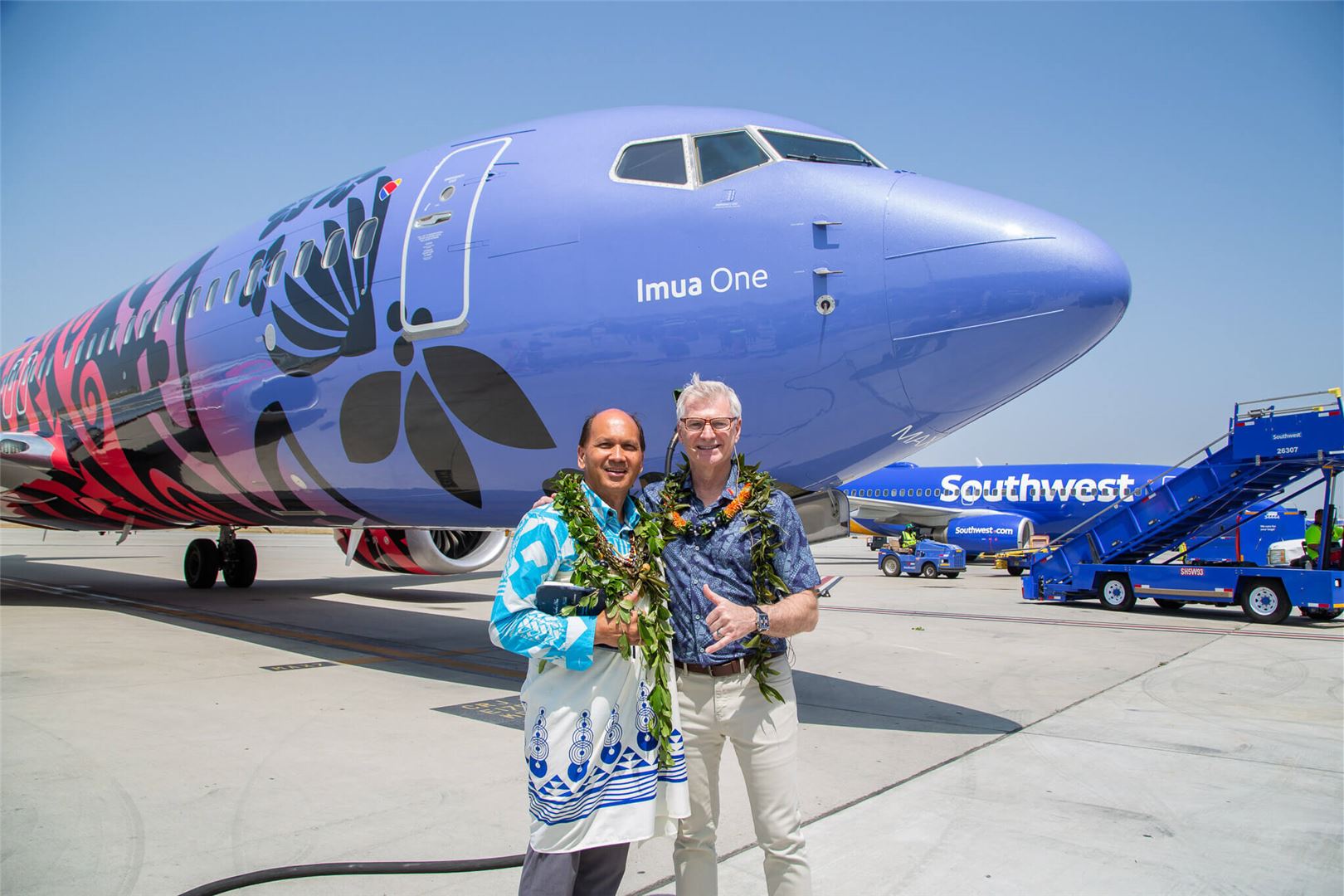 Southwest Airlines is marking five years of flying interisland flights within Hawaii with a new Hawaii-theme aircraft called Imua One. The livery debuted this week at Long Beach Airport, one of eight mainland gateways from where Southwest offers nonstop service to Hawaii.
The plane's livery was designed by Oahu-based Osaki Creative Group under the guidance of Herman Piikea Clark, a Kanaka Maoli/indigenous Hawaiian artist, designer, and researcher. The design features eight elements that represent concepts in Hawaiian culture, along with a star for each of the five airports in Hawaii that Southwest serves— Honolulu, Lihue (Kauai), Kahului (Maui), Kona (Island of Hawaii), and Hilo (Island of Hawaii).
Imua One is dedicated to Southwest Employees and the communities that Southwest has been serving since landing on the island five years ago.
"When we dedicate an airplane, it's not only a symbol of gratitude but also of a promise we've made," said Bob Jordan, president and CEO at Southwest Airlines.
"Hawaii welcomed Southwest with warm aloha, and we approached serving the people of Hawaii with an earnest desire to connect them with important moments, places, and the people who matter most in their lives. We've grown since our first arrival on the Islands four years ago, to 90 departures a day, thanks to the support of Island communities. Each flight is filled with—and powered by—an essence of aloha, combined with the Heart of Southwest and our People, all working together and moving forward."
Aside from the special livery, Imua One also debuts as the first Southwest aircraft with in-seat power at every seat. It is the third Boeing 737 MAX 8 that Southwest has launched with a special livery, following Herbert D. Kelleher, which is dedicated to Southwest's founder, and the Heroine of the Heart, a tribute to Southwest President Emeritus Colleen C. Barrett.