Celebrity Cruises Announces Two New Iconic Partnerships
by Stacey Zable /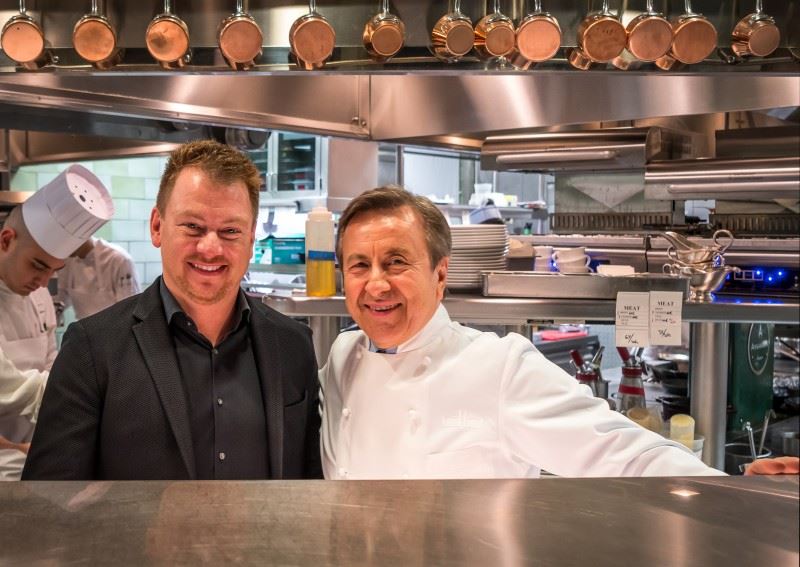 Celebrity Cruises has added partnerships, with the American Ballet Theatre and Michelin-starred Chef Daniel Boulud, offering guests new experiences when they sail with the cruise line.
The acclaimed American Ballet Theatre, established in 1939, has performed in all 50 states and in 45 countries. The exclusive partnership with Celebrity is a first in the industry, with 12 American Ballet Theatre guest performances that blend ballet and modern pieces scheduled on select ships for 2019 and six slated for 2020, according to Brian Abel, senior vice president, hotel operations, Celebrity Cruises.
In addition, guests onboard will be able to take ballet barre classes and get a behind-the-scenes look at the life of the dancers in intimate talks. There will also be opportunities to take excursions to American Ballet Theatre performances around the world in select ports.

Celebrity's partnership with American Ballet is a first for the industry. Photo: Celebrity.
Another new partnership heightens Celebrity's already high culinary standards. Chef Daniel Boulud, founder of an award-winning restaurant group with locations throughout the world including Michelin-starred flagship, DANIEL and Café Boulud, in New York City, has now been dubbed Celebrity's Global Culinary Brand Ambassador. He joins Celebrity and Cornelius Gallagher, the line's Michelin-starred chef and associate vice president of food and beverage operations, who actually once worked as a sous-chef to Boulud and was integral in convincing the legendary chef to take part in the partnership. Gallagher stressed the relationship is "more than the food onboard; it is a lot deeper than that."
Onboard, guests will find signature dishes designed by Boulud for Luminae, the exclusive restaurant for suite class guests. A new Chef's Table by Daniel Boulud will feature a private galley tour and a five-course dining experience paired with wines. There will also be guest chef appearances onboard. A culinary mentorship program will have the most talented chefs extending their knowledge in the kitchens of Boulud and Celebrity.