Disney Cruise Line Unveils New Design Concept for the Disney Wish
by Jessica Montevago /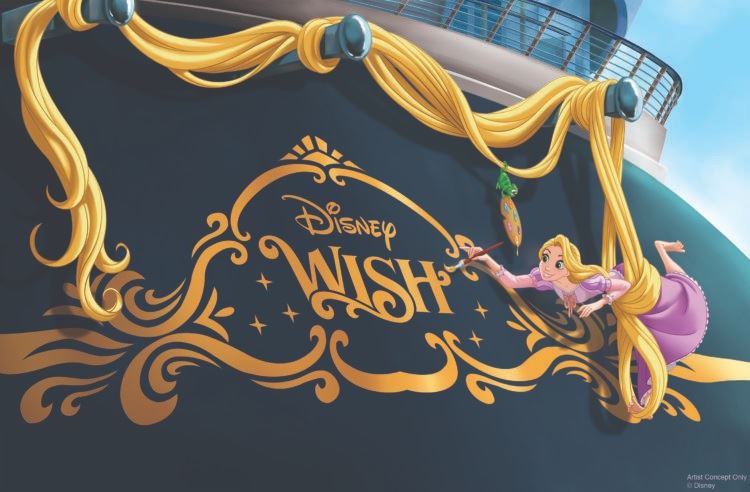 Disney Cruise Line unveiled the look for its fifth ship, the Disney Wish, introducing a new design concept.
The vessel's motif is enchantment inspired by nearly a century of Disney fairytales. Translating this concept into a design theme, Walt Disney Imagineers have captured the essence of enchantment through three design lenses: fairytale castles; forests and animals; and spirit of the sea.
Stories represented onboard range from Disney and Pixar to Marvel and Star Wars.
Like other Disney Cruise Line ships, Disney Wish will feature two character art pieces on the hull of each ship. A scrollwork pattern reminiscent of the classic ocean liners of the 1930s will feature Captain Minnie Mouse for the first time. The stern of the vessel will have a custom sculpture Rapunzel. Suspended by her golden tresses, this artistic Disney Princess will appear to be "decorating" the exterior of the ship with her trusty paintbrush and the help of her chameleon pal, Pascal.

The Grand Hall
The Grand Hall is a fairytale castle-inspired atrium, with Gothic, Baroque and French Rococo design influences including columns, carvings, trimmings and adornments.
At the base of a grand staircase will be a bronze statue of Cinderella. Disney said there are other tributes to the princess, including railings with stained glass in her signature colors, carpeting embellished with icons from the film, and nods to her carriage and glass slipper in the metalwork and light fixtures.
The Disney Wish is the first of three new Disney Cruise Line ships to be built at the Meyer Werft shipyard in Germany through 2025. All three ships will be powered by liquefied natural gas and, at approximately 144,000 gross tons, will be slightly larger than the Disney Dream and Disney Fantasy.
New information on the experiences, itineraries and booking dates for the Disney Wish will be revealed on April 29, 2021.