Five Things to Know About the Debut of Scarlet Lady, the First Ship from Virgin Voyages
by Daniel McCarthy /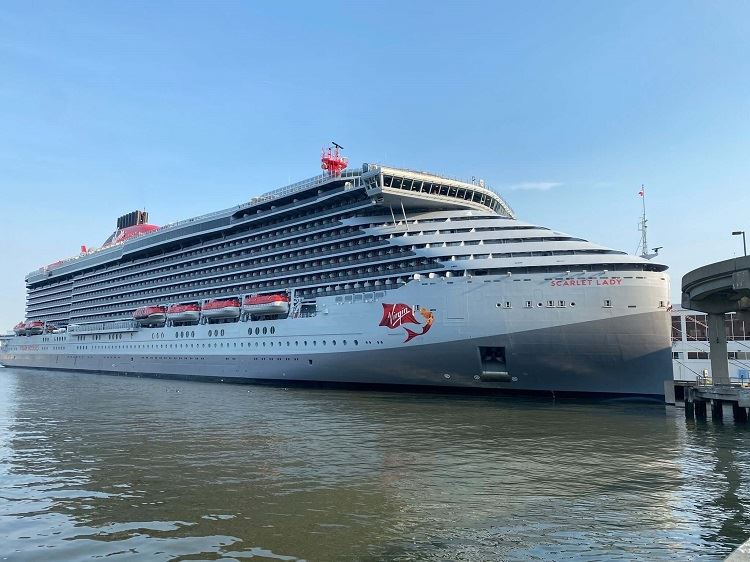 Virgin Voyages this week made its long-awaited U.S. debut when Scarlet Lady, the brand's debut ship, welcomed media and travel advisors aboard in Manhattan.
The adults-only ship, which is set to officially launch with a sailing on Oct. 6, is the first of four ships from Virgin, a brand that is set to make huge waves across the cruise industry with unique experiences, all-inclusive fares, and an adults-only flare.
Here are five things that travel advisors should know about Virgin Voyages and its debut vessel:
1. Numbers do not do it justice.
Scarlet Lady was built to a little over 900 feet long with a gross tonnage of 110,000 tons. To put that in perspective, Royal Caribbean's Symphony of the Seas, the largest cruise ship in the world, sails at about 228,081 gross tons and is close to 1,200 feet long.
In terms of size, Scarlet Lady won't land in the top 50 of the world's largest cruise ships, but the sheer variety and scale onboard make it feel like it does. The spaces that span the 17 decks onboard, from the 20-plus eateries to two distinct fitness spaces and more, are all small and unique enough to break up the ship into seemingly different worlds.
There are no massive atriums or giant dining halls onboard. Instead, there are distinct spaces, each with its own unique identity, like the Brighton Beach-inspired Loose Cannon eatery, the Sip Lounge champagne bar, the Korean BBQ eatery Gun Bae, and much more, with all the eateries available either for reservations or for walk-ins at mealtimes.
The largest venue on board, the Red Room, could host around 900 people pre-COVID, a number that is now capped at around 60% capacity currently. That philosophy makes it so the guests onboard never feel overwhelmed by the size and spaces onboard.

The Korean BBQ tables at Gun Bae. Photo: Daniel McCarthy
2. Socializing is still at the heart of the brand
Since word came out that Richard Branson was first planning on entering the cruise market more than five years ago, the Virgin Voyages brand has had to deal with a number of changes as anticipation grew over its debut.
In June of 2019, Virgin was forced to change its inaugural itineraries in response to new Cuba restrictions—Scarlet Lady was set to be the largest and newest ship to ever sail into Havana Harbor but had to shift course after the U.S. government moved to reinstate travel restrictions on Cuba.
Scarlet Lady was then set to be one of the highlights of an impressive set of new builds entering service in 2020, but COVID-19 had other plans. Virgin, just on the cusp of the ship's debut, was forced to delay Scarlet Lady's long-awaited arrival in North America to 2021 and then to May 2021, and then, finally, to October.
While a lot has changed since that original debut date, one thing that has not for Virgin is its focus on facilitating a vibrant, social experience onboard. Guest beds turn into couches during the day to allow for gatherings inside staterooms and the variety of public spaces, from Korean BBQ to nightclubs and more, all lend themselves to a social group experience.
COVID-19 might have changed things. Large gatherings are more avoided than ever and the brand has had to reflect that in changes onboard, including cutting capacity in some of the larger venues, changing some onboard programming, and creating a contactless drop-off and pick-up points for food and drink.
However, Virgin's health and safety standards on board were built to facilitate that social aspect of sailing even during a pandemic. The goal for Virgin is to prevent viruses from getting on board in the first place.
Vaccinations are required for both Virgin's crew and sailors and Virgin is employing contract tracing via its Sailor App if the virus does get onboard. The crew is also tested biweekly and, for the initial Scarlet Lady sailings, guests will be asked to provide a negative COVID-19 test prior to boarding.
Virgin has also adopted to add cleaning tools like fogging luggage coming onboard, providing sanitation stations around the ship, and disinfectant high-touch areas on a regular basis.

Windows in the Sip Lounge. Photo: Daniel McCarthy
3. Everything is about the sea.
No matter where you are onboard, from indoor spaces to outdoor spaces, from a standard cabin to the ship's Massive Suite, Virgin wants you to know you are out at sea.
Everything is designed to celebrate the sea, with windows adorning the outside of all inside spaces, all designed to draw your eyes out to the sea.

Convertible beds in the ship's staterooms. Photo: Daniel McCarthy
4. Every sailor will have a distinct, unique experience
The array of distinct experiences onboard means that guests, or "sailors" as Virgin refers to them, will each have their own unique experience during the sailing. There's simply too much on board, too many single experiences, for sailors to do it all.
The brand instead invites guests to have their own journey, from choosing which of the 20-plus eateries they'll experience each day to exploring onboard spaces like the ship's vinyl record store (the only one at sea) to its tattoo parlor (another first at sea).
There's also no single cruise director onboard, another move that breaks the mold. Instead, Virgin employs a 13-member-or-so team called the Happiness Cast who hosts guests and helps them make the most out of their sailing.

Loose Cannon. Photo: Daniel McCarthy
5. 'First Mates' are still getting the celebrity treatment
Being a new brand and breaking into the cruise industry is a tall task, even for a brand as globally recognized and celebrated as Virgin. That's why Virgin Voyages is relying on the most dependable distribution channel in the industry—travel advisors.
On Wednesday, Virgin welcomed about 500 travel advisors onboard to see the ship, many for the first time ever.
Going forward, Virgin will continue to cater to its travel advisor partners with 16% commission, earnings on all pre-voyage sales, and no NCFs. The brand most recently announced that any future sailings booked by guests onboard a cruise will be credited to their advisor's First Mates account. And, should sailings again be disturbed or a guest cancels, 100% of commission on the original fare paid will be protected.
Virgin is also offering a flexible booking policy for any booking made on or before Sept. 30, for sailings through May 2, 2022. That will allow guests to cancel up to 15 days in advance and receive a 100% FCC.
Also, for those advisors who want to get non-cruisers converted, Virgin's all-inclusive fare gives them an opportunity, according to a recent report from TMR.
According to TMR's latest Outlook on New to Cruise, the biggest questions coming from first-time cruise guests pre-COVID-19 all revolved around pricing. (The report, sponsored by Royal Caribbean Group, which includes Celebrity Cruises, Royal Caribbean International, and Silversea, is now live on TMR here).
Virgin's all-inclusive fare makes it easier to answer those questions.