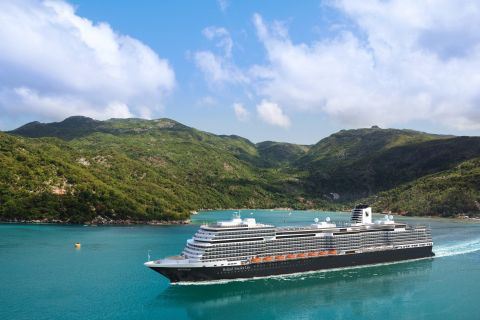 In a nod to its past, Holland America Line is bringing back the Rotterdam name.
The line on Thursday announced that its newest ship, which was set to come into service under the name Ryndam, will now be called Rotterdam.
Rotterdam is a historic moniker for Holland America—the first ship in the line's history was called Rotterdam and the new ship will be the seventh in its history to sail under that name. Holland America has also spent a number of years headquartered in the city of Rotterdam.
The current Rotterdam, which has been sailing in Holland America's fleet since 1997, is being sold to Fred. Olsen Cruise Lines, one of four ships set to leave Holland America's fleet by the end of 2020.
"With the current Rotterdam leaving the company, we knew we had a unique opportunity to embrace the name as our flagship and carry on the tradition of having a Rotterdam in our fleet. Seven is a lucky number, and we know she's going to bring a lot of joy to our guests as she travels the globe," Holland America president Gus Antorcha said.
The new Rotterdam is currently in construction at Fincantieri's Marghera shipyard in Italy. It was originally scheduled to enter service in May 2021, but has been pushed back to July 30, 2021 because of delays at the shipyard stemming from the impact of COVID-19. Travel advisors and guests on impacted sailings were notified on Thursday.
"We ask everyone, though, to please bear with us for just a few weeks for all of the details as we rebuild itineraries and put the finishing touches on several desirable alternatives. We will follow up with specific details very soon so everyone knows their options," Antorcha said.
The ship, which will sail with 2,668 guests, will be Holland America's 10th ship and newest in its Pinnacle Class and will feature a lot of the same features of its sister ships including the World Stage, Rudi's Sel de Mer, Grand Dutch Café, Lincoln Center Stage, B.B. King's Blues Club, and more.
When it enters service, it will sail a seven-day Premiere Voyage from Trieste, Italy to Rome on Aug. 1 and then a 14-day western Mediterranean sailing from Rome to Amsterdam on Aug. 8.
The ship will then sail Baltic and Northern Europe sailings from Aug. 22 through Oct. 10 before heading on a 14-day transatlantic sailing from Amsterdam to Fort Lauderdale.